Choosing a condominium management software – The cost of free of charge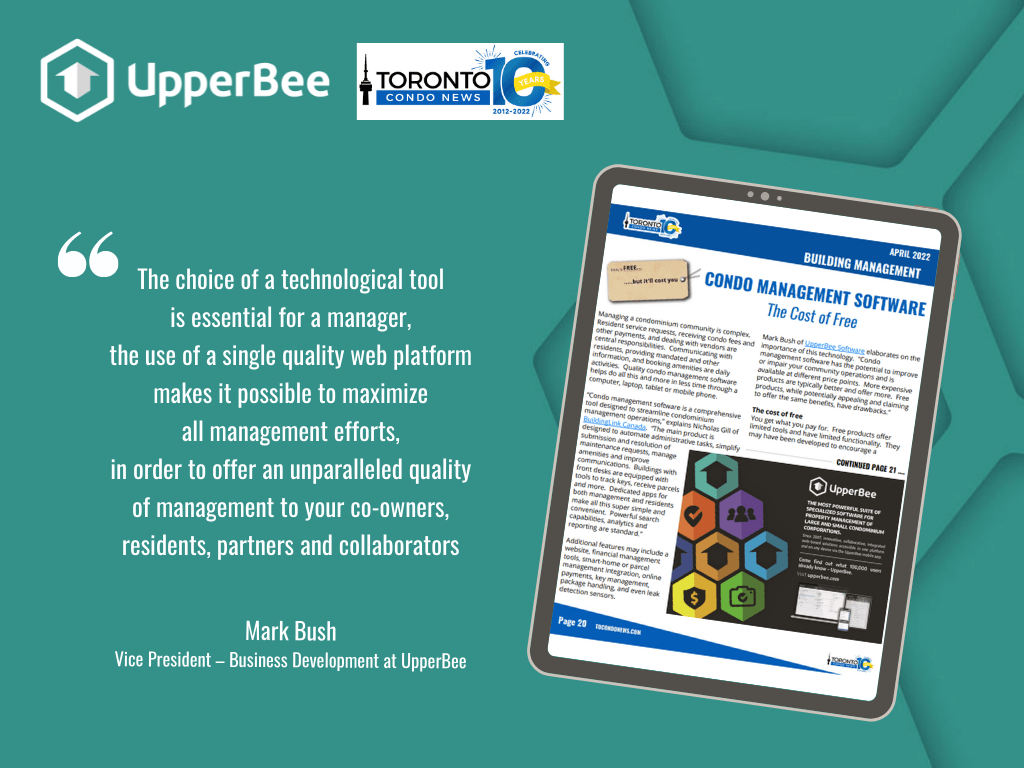 13 April 2022 | Copropriété, Gestion immobilière, logiciel, Proptech, Proptech, software | Condo, UpperBee
Read: This new article from the Toronto Condo News, published in the last edition of April 2022, which returns to the importance of choosing a condominium management software with the contribution of UpperBee.
The Toronto Condo News recalls that "condominium management is complex. Residents' requests for services, payment of condominium fees and other payments, relationships with suppliers are essential features. Communicating with residents, providing mandatory or other information, and booking amenities are daily activities. Quality condominium management software can do all of this and more; saving time from a computer, laptop, tablet, or mobile phone."
Mark Bush, Vice President – Business Development at UpperBee, recalls the importance of choosing the right technology tool for condominium management:
"Condominium management software has the potential to improve or harm the operations of your community and is accessible at different price levels.
The more expensive software is usually the better and offers more tools. Free products, while potentially attractive and claiming to offer the same benefits, have drawbacks."
That is for sure, he says, "You get what you pay for. Free products offer limited tools and limited features. They may have been developed to incentivize a more expensive subsequent purchase in order to get features you will need.
To be really useful, freeware usually requires adding additional paid options as your needs increase. They can "discourage" conversion to another, possibly higher quality product, by making it difficult to transfer data or information from the system.
Free solutions are also a known way to get individuals to give up ownership or control of their personal information and eventually sell it to a third party.
These property management software products may lack security or require a subsequent purchase to get all the features you need on a daily basis as a condominium manager. The automation they offer is often limited.
Freeware can also display ads that cannot be disabled and usually offers extremely limited or no support."
Mark Bush reminds us that the choice of a technological tool is essential for a manager, the use of a single quality web platform makes it possible to maximize all management efforts, in order to offer an unparalleled quality of management to your co-owners, residents, partners and collaborators:
"With UpperBee, it is no longer necessary to subscribe to many software products with limited functionalities. You can keep the accounts, but also manage reservations (e.g., reception rooms, gym equipment, barbecues, guest suites, etc.), the delivery of postal parcels, all the many records (owners, tenants, agents and powers of attorney, visitors, the dates of installation of private water heaters, individual insurance policies, disputes, etc.), customer requests and requests for services,  maintenance logs, including purchase orders and work orders, tenders and quotes, debt collection, speeding up the collection of your rents and condo fees with a simple and integrated payment solution, simplifying payment for suppliers and other stakeholders and much more! »
It is therefore possible to centralize all your management activities in a single tool, in order to make you more productive, compared to accounting software packages and traditional business software.
» Read the article on the Toronto Condo News website "CONDOMINIUM MANAGEMENT SOFTWARE – THE COST OF FREE" or download the pdf file.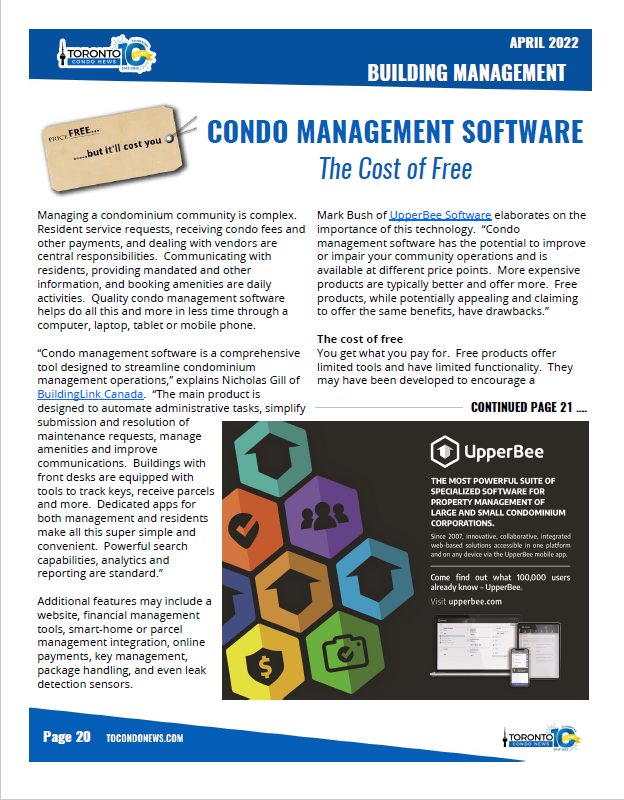 You can use your demo now to learn more about the features and benefits of using UpperBee for your property management or contact us.
The UpperBee team will be happy to organize a personalized demonstration according to your needs.
---
Comments
---
Do you like this news?
Don't hesitate to share it!