Congratulations to Gestion VSP for obtaining the management of the syndicate of co-owners Les Cours Mirage in Lasalle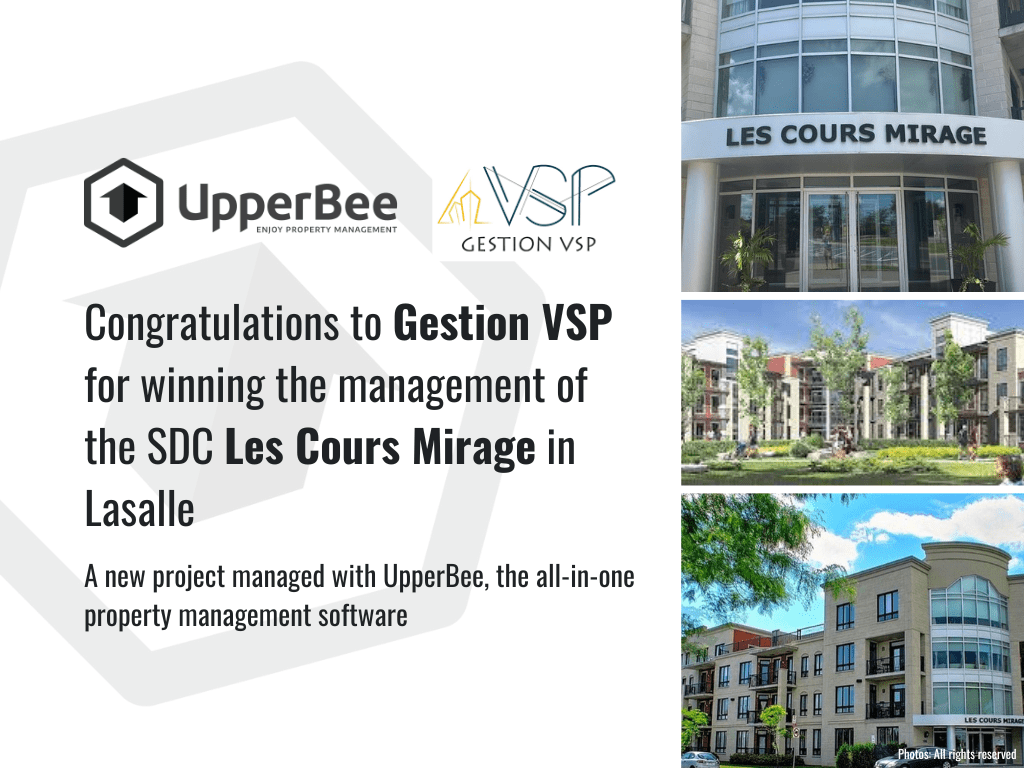 24 October 2022 | condominium, property management, property manager, software | Condo, Manager, UpperBee
UpperBee congratulates Gestion VSP for obtaining the management of SDC Les Cours Mirage in Lasalle, a condominium building of more than 50 condominiums that will be managed with UpperBee, the only all-in-one property management software.
VSP Management offers a full range of property management services: Complete management (administrative management, financial management and building management), Major Works Management and Special Services as a consultant specializing in condominiums. The VSP Management team is a qualified team, with enviable experience in condominium management, and offers a personalized approach to provide exceptional service.
Les Cours Mirage is located at the entrance of the La Salle borough, 10 minutes from downtown Montreal and close to Angrignon Park and metro, close to Cégep André Laurendeau and Boulevard de la Vérendrye, with direct access to Highways 20 and 15.
The four-story building has more than 50 units, from 3 1/2 to penthouse, with an 1800 square foot rooftop terrace. It provides for an inner courtyard with a pergola and a large private park at the back of the building.
Cours Mirage offers several services to residents: indoor parking, reception room with kitchen, workshop for do-it-yourselfers, exercise room in the basement, secure storage lockers, intercom system, surveillance cameras… Many services are nearby, such as the Carrefour Angrignon, the Aquadôme, the Jean-Grimaldi theater or the Angrignon park and access to a bike path.
To manage SDC Les Cours Mirage, Gestion VSP will rely on its teams of property management professionals, and on UpperBee's innovative technological solutions adapted to the management of today's condominiums.
Congratulations to the entire VSP Management team!
---
Comments
---
Do you like this news?
Don't hesitate to share it!