DevMcGill, a division of Cogir Real Estate, chooses Track&Fix to deliver their Alvéo project in Mirabel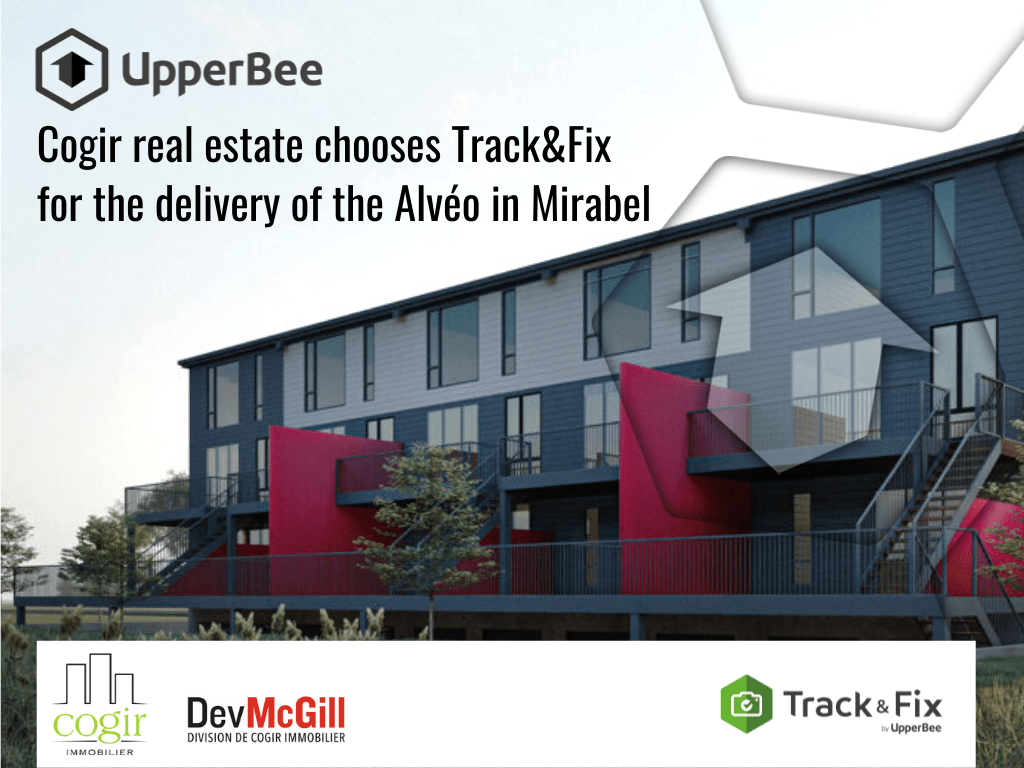 27 April 2022 | Co-ownership, Copropriété, Innovation, Inspection, Inspection, logiciel, préréception, software | Track and Fix
The UpperBee teams are proud to support DevMcGill in currently delivering the first phase of the Alvéo project in Mirabel with  UpperBee's Track&Fix software.
Alvéo is a project of Cogir real estate and the Fonds immobilier de solidarité FTQ. It includes 56 condominiums, divided into 5 buildings along a forest and a stream. Alvéo includes landscaping and snow removal.
Each unit has two or three bedrooms and a bathroom with ceramic shower and freestanding bath. The ground floor has an open concept and has an island kitchen. A large terrace located at the back allows you to arrange a dining area and a relaxation area. A garage is located in the building at the back and a parking space is located at the front.
Alvéo also offers common areas that include a training room, with yoga area and cloakroom, a recreation room with a large TV and lounge-type sofas, and a well-equipped kitchen.
Why did you choose the Track&Fix solution by UpperBee?
Work receptions are often a source of stress, and it is a step not to be neglected in any real estate project. Track&Fix, the software for real estate inspections, inventory and monitoring allows a rigorous follow-up of the problems to be solved. It allows you to have control over management operations and improve communication between stakeholders in order to accelerate corrective work and ensure customer satisfaction.
This makes on-site inspections simpler and easier to perform. No need to print inspection lists since all the information is in your mobile device. During inspection, everything is done directly with the Track&Fix application: photos, annotations, comments, and signatures! Once the visit is over, the inspection report and official documents are automatically transmitted to the clients and designated recipients (general contractor, notary, guarantee plan, etc.). Lists of deficiencies and inspection reports will be instantly accessible to teams and the resolution of service calls can begin immediately. Your subcontractors will have access to their to-do list in real time. They will be able to tell you the expected date of the work, generate purchase orders, enter notes or comments, and tell you when the work is completed.
Track&Fix not only allows you to identify the elements to be corrected, but the application also allows you to identify that an area has been inspected and that no element is to be corrected. This ensures your protection in the event of a future problem and avoids any possibility of ambiguity with the customer if the relationship with him deteriorates. You are thus better protected by using our real estate inspection tool.
Track&Fix asserts itself as the essential inspection tool for construction: for real estate developers, general contractors, home builders, site superintendents, or project managers, but also for property management, in order to support real estate owners, property managers, real estate brokers, rental agents in all their projects.
Plan your custom demo!
Our team can easily organize a demonstration tailored to your needs and introduce you to integrations that save significant time on construction sites.
Learn more about Track&Fix.
? Discover the pre-reception inspection with Track&Fix in video (in french) 
---
Comments
---
Do you like this news?
Don't hesitate to share it!