DevMcGill, division of Cogir Immobilier, chooses Track&Fix for the delivery of their Tak Village project phases 2 and 5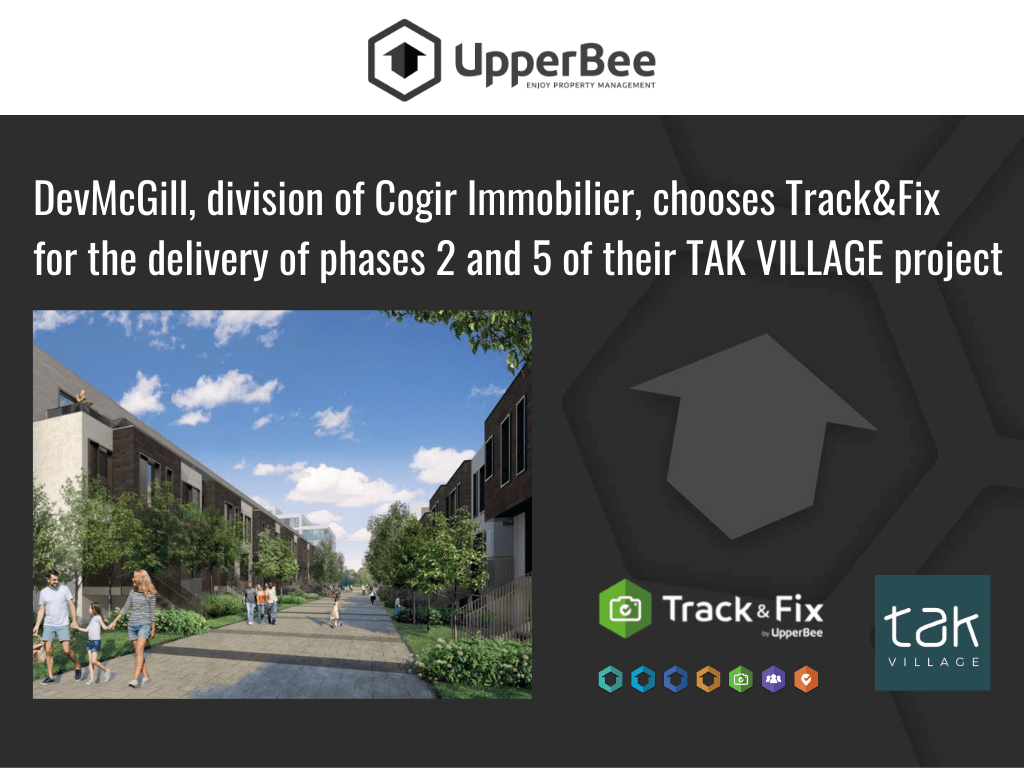 17 January 2022 | Track and Fix
The UpperBee teams are proud to support DevMcGill, which is currently delivering phases 2 and 5 of the Tak Village project (townhouses) with  UpperBee's Track&Fix software. 
 DevMcGill (a division of Cogir Real Estate) is a renowned developer, based in Montreal, which carries out many residential projects. 
Tak Village* is a major project that includes condominiums and townhouses. It is developed in the city, in the heart of the Rosemont-Angus district, and is positioned as a family neighborhood that offers a quality of life and access to all services nearby: parks, daycares, schools, medical clinics, pharmacies, supermarkets, shops, cafes, bars, restaurants… 
It allows you to enjoy an urban life while living in a peaceful and natural living environment, of Scandinavian inspiration, which brings together families as well as single people or couples and which places human, social and environmental values at the center of concerns. This district was designed with the objective of reducing the environmental footprint. 
Tak Village's townhouses and stacked houses are part of this green village: green spaces and landscaping, pedestrian track in front, a 16,150 square foot linear park, an inner courtyard in the form of a green alley, a small plaza, many games for children, and a full four-season spa on the roof, as well as a gym, in the condominium building. 
These townhouses have been designed with a Nordic-inspired approach: 
Wooden structure with concrete screed on 4 floors including the basement

 

Private garage or indoor parking in the basement (some garages are ready to accommodate an electric car charging station.)

 

Private terraces for each unit: terrace on the ground floor with planting bins and wooden privacy screen and terrace on the third floor with planting bins

 

Proven superior insulation and soundproofing

Abundant windows for maximized brightness

 

Low-e windows that optimize solar gains according to the season

 

High 9′ ceilings in the main living area

 

Smart locks at the main entrance

 

Air conditioning system and individual air exchanger

High-end interior finishes

 

A construction aimed at LEED certification®

 
Why did you choose the Track&Fix solution by UpperBee? 
Work receptions are often a source of stress, and it is a step not to be neglected in any real estate project. Track&Fix real estate inspection, inventory and monitoring software allows a rigorous follow-up of the issues to be solved. It allows you to have control over management operations and improve communication between all stakeholders in order to accelerate corrective work and ensure customer satisfaction. 
On-site inspections are simpler and easier to perform. No need to print inspection lists since all the information is in your mobile device. During inspection, everything is done directly with the Track&Fix application: photos, annotations, comments, signatures! Once the visit is over, the inspection report and official documents are automatically transmitted to the clients and designated recipients (general contractor, notary, guarantee plan, etc.). 
Lists of deficiencies and inspection reports will be instantly accessible to teams and the resolution of service calls can begin immediately. Your subcontractors will now have access to their to-do list in real time. They will be able to tell you the expected date of the work, generate purchase orders, enter notes or comments, and notify you when the work is completed. 
Track&Fix not only allows you to identify the elements to be corrected, but the application also allows you to identify that an area has been inspected and that no element is to be corrected. This ensures your protection in the event of a future problem and avoids any possibility of ambiguity with the customer if the relationship with them deteriorates. You are thus better protected by using our real estate inspection tool. 
Track&Fix asserts itself as the essential inspection tool for construction: for real estate developers, general contractors, home builders, site superintendents, or project managers, but also for property management, in order to support real estate owners, property managers, real estate brokers, rental agents in all their projects. 
Please note: Track&Fix is accepted by all warranty plans
Our real estate inspection application also integrates with leading construction software like Procore and BIM360. 
The information entered in Track&Fix, during your inspections, is directly transmitted to Procore  and  BIM 360. So when a ticket is closed, it is also automatically closed in Procore or BIM 360. 
Plan your custom demo! 
Our team can easily organize a demonstration tailored to your needs and introduce you to integrations that save significant time on construction sites. 
Learn more about Track&Fix. 
*TAK n.m. Swedish Roof, comfort, sanctuary, home. 
---
Comments
---
Do you like this news?
Don't hesitate to share it!