Devmont is currently delivering Phase 3 of the Westbury Montreal project with Track&Fix software by UpperBee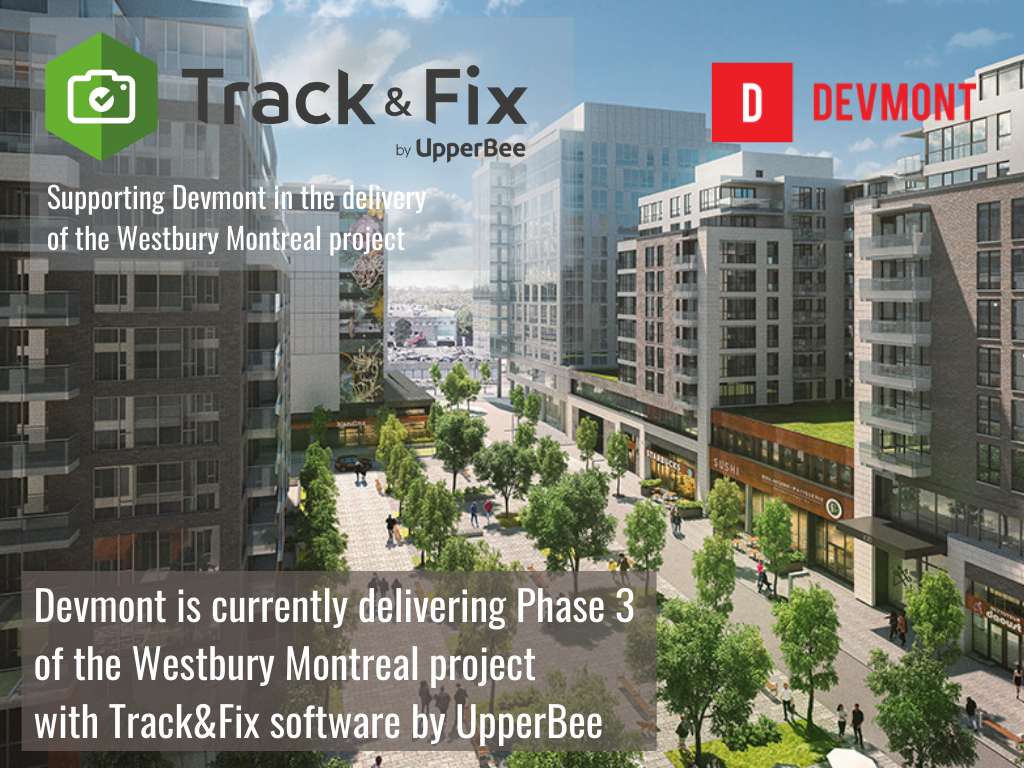 25 October 2021 | Inspection | Track and Fix
Devmont is currently delivering Phase 3 of the  Westbury Montreal project with Track&Fix  software  by UpperBee and on-site support for the teams. 
Devmont is a renowned real estate developer, based in Montreal, which carries out numerous residential and commercial projects, and contributes to urban development with the creation of new neighbourhoods.  
Westbury Montréal is an ambitious project located in the heart of the Côte-des-Neiges–Notre-Dame-de-Grâce borough. This urban development will bring together 550 residential units divided into four towers, an office tower, commercial spaces, local shops, several restaurants as well as a central park and recreational infrastructure, in an environment designed according to sustainable development standards. It also includes a hotel. 
The project is located near downtown Montreal, major arteries, the Montréal-Trudeau airport, and the metro. It is designated a Transit Oriented Development area (TOD) because it is structured around the Namur and Plamondon metro stations. Schools and universities are located within a perimeter of 4 km. The condominium project has several phases and is built on a 370,000 square foot site in the middle of an urban oasis, surrounded by modern buildings with a sophisticated architectural style. 
The 4 phases of the project offer condos with high-end finishing as well as common areas including: outdoor terraces, a rooftop lounge, and an outdoor pool with a panoramic view of Montreal. Phase 3 includes a full gymnasium on the ground floor, which will open directly onto the garden.  
The new Westbury Montreal district includes several businesses (PA Supermarket, Starbucks®…), a park of more than 40,000 square feet is located just in front of the project, a Hilton Garden Inn hotel including two restaurants. 
Why did Devmont choose Track&Fix software from UpperBee to deliver this project? 
The reception of works can represent a source of stress, it is a step not to be neglected in any real estate project. The Track&Fix real estate inspection, inventory and monitoring software allows a rigorous follow-up of the problems to be solved. It allows you to have control of your management operations and improve communication between stakeholders to accelerate corrective work and ensure the satisfaction of your customers. 
Our scope of intervention 
With Track&Fix,  on-site inspections are simpler and easier to carry out. No need to print inspection lists since all the information is in your mobile device. During inspection, everything is done directly with the Track&Fix application: photos, annotations, comments, signatures! Once the visit is over, the inspection report and official documents are automatically transmitted to the clients and designated recipients (general contractor, notary, guarantee plan, etc.). Lists of deficiencies and inspection reports will be instantly accessible to teams and the resolution of service calls can begin immediately. Your subcontractors will now have access to their to-do list in real time. They can tell you the expected date of the work, generate purchase orders, enter notes or comments, and let you know when the work is completed. 
Track&Fix not only allows you to identify the elements to be corrected, but also, the application also allows you to identify that an area has been inspected and that no element is to be corrected. This ensures your protection in the event of a future problem and avoids any possibility of ambiguity with the customer if the relationship with them deteriorates. You are thus better protected by using our real estate inspection tool. 
"Track&Fix asserts itself as the essential software for construction: for real estate developers, general contractors, home builders, site superintendents, or project managers, but also for property management, to support real estate owners, property managers, real estate brokers, rental agents in all their projects." 
Please note: 
Track&Fix is accepted by all warranty plans: 
Our real estate inspection application also integrates with leading construction software such as Procore and BIM360.  
The information entered in Track&Fix, during your inspections, is  directly transmitted to  Procore  and BIM 360. So when a ticket is closed, it is also automatically closed in Procore or BIM 360. 
Plan your custom demo!  
Our team can easily organize a demonstration tailored to your needs and introduce you to integrations that save significant time on construction sites. In this demo, we will go over the most popular features to get a good look at the power of the inspection application and the full customer service portal. 
To learn more about Track&Fix,  visit our website. 
---
Comments
---
Do you like this news?
Don't hesitate to share it!