Domis Property Management wins the management contract for Spark in Ville-Marie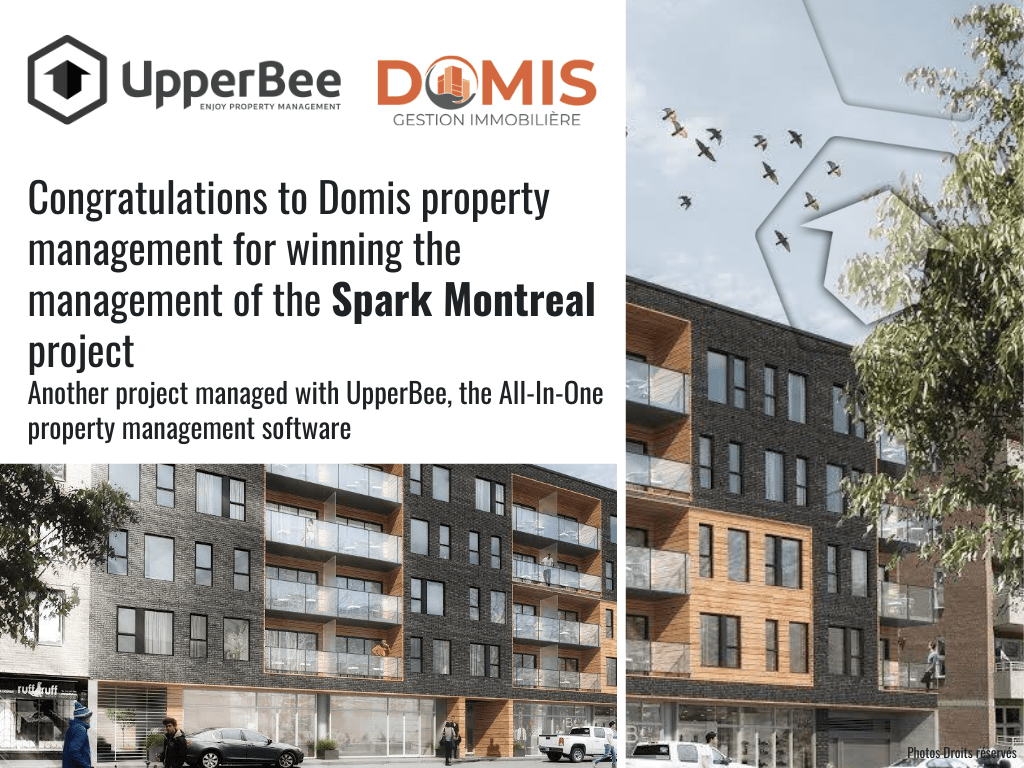 17 February 2022 | property management, property manager, Société de gestion immobilière | Condo, logiciel
UpperBee congratulates Domis Property Management for obtaining the management of the Spark project in the Ville-Marie borough of Montreal, managed with UpperBee, the only all-in-one property management software.
Domis is a property management company based in Montreal. The management team's mission is to establish and maintain a management structure that ensures building integrity, compliance with regulations, rigorous management of finances, projects, and assets, while ensuring the harmony of residents in a healthy environment.
Domis property management has a team of experts in condominium and income property management. Their know-how is recognized as well as their proactivity in the industry, and the team is a valuable source of support for syndicates of co-owners and real estate investors.
The Spark, developed by Mondev, is located in the Ville-Marie borough on Ste-Catherine Street at the corner of Parthenais and Fullum. With fifty-five lofts and urban condominiums in the heart of the quartier des spectacles, Spark condominiums are ideally located, and less than a 10-minute walk from Papineau and Frontenac metro stations, the National Library, and UQAM.
To manage Spark, Domis relies on its professional and experienced teams in property management, and on UpperBee's innovative technological solutions specifically designed for the management of today's condominiums.
UpperBee, particularly renowned in North America, is the only all-in-one property management platform recognized for the breadth of its functionalities, both financial and operational, its expertise, its ease of use, its transparency, and the quality of its information.
UpperBee congratulates the entire Domis Property Management team on this new project!
---
Comments
---
Do you like this news?
Don't hesitate to share it!