Fraud prevention, internal control and conflict of interest. How to prevent the irreparable?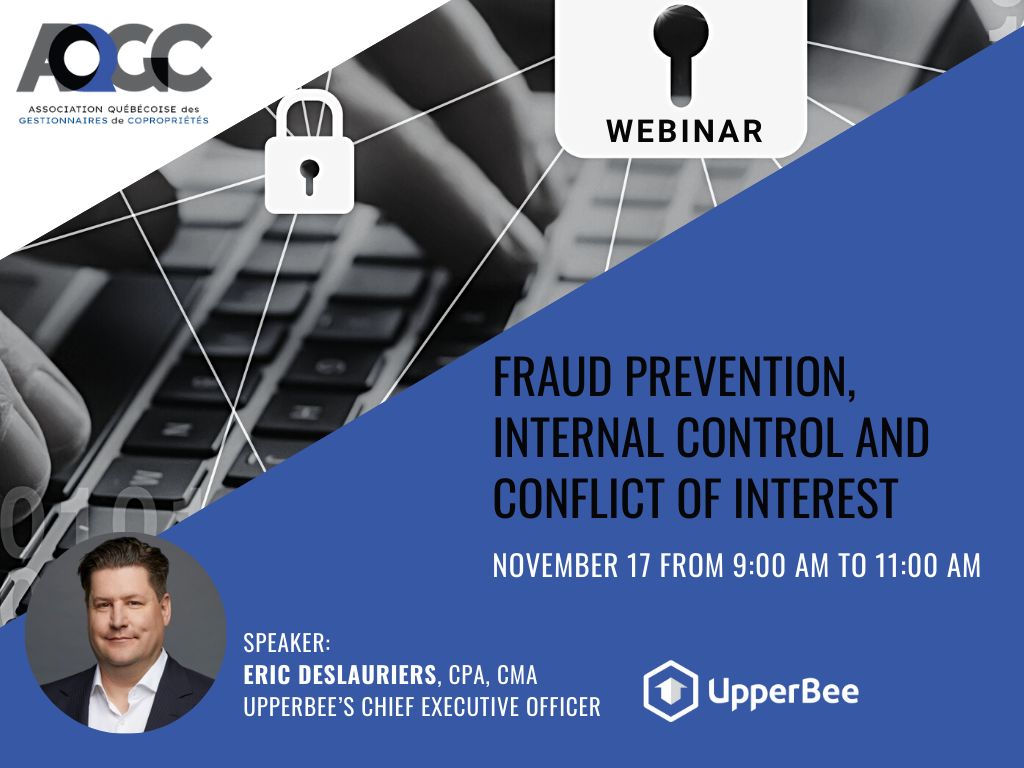 1 November 2021 | Conflict, property management, Sécurity |
UpperBee's Chief Executive Officer, Mr. Eric Deslauriers, CPA, CMA will be the guest of the Association Québécoise des Gestionnaires de Copropriétés – AQGC  to present the next training webinar on Fraud Prevention, Internal Control and Conflict of Interest. 
 As a business owner and manager, how can you prevent fraud, ensure internal control, and avoid conflicts of interest? 
Date: November 17 from 9:00 AM to 11:00 AM 
This event is accessible to all.  
It is free for AQGC members and $150 + taxes for non-members. 
Places are limited, register now online on the AQGC website: https://www.aqgc.org/event/prevention-de-la-fraude-le-controle-interne-et-le-conflit-dinteret/ 
Eric Deslauriers is one of the founding partners of Solution Condo and has served as Chief Executive Officer of UpperBee since 2013. He actively involved in the development of the Canadian and international markets served by UpperBee. 
Until 2013, Eric Deslauriers was Senior Director in Organizational and Financial Services at Demers Beaulne, a member of the BHD and IAPA networks. Since 1999, he has worked as a specialist in litigation analysis, forensic accounting, and business valuation. 
In this capacity, he participated in litigation mandates in both expertise and counter-expertise, in the following specialties: breaches of contract, torts and insurance claims. In addition, Eric has conducted various financial investigations in the area of financial fraud. He has been involved in several business valuation files, both in contentious and transactional contexts.
He holds a Bachelor of Business Administration from the Université du Québec à Montréal (1999) and has been a Chartered Professional Accountant (CPA, CMA) since 2001. He also completed the university education program offered by the Canadian Institute of Chartered Business Valuation (ICEEE) in collaboration with the Division of Continuing Education at Atkinson College, York University (2005). 
---
Comments
---
Do you like this news?
Don't hesitate to share it!