Gestion immobilière Provision obtains the management of the syndicate of co-ownership Cité Cosmo in Laval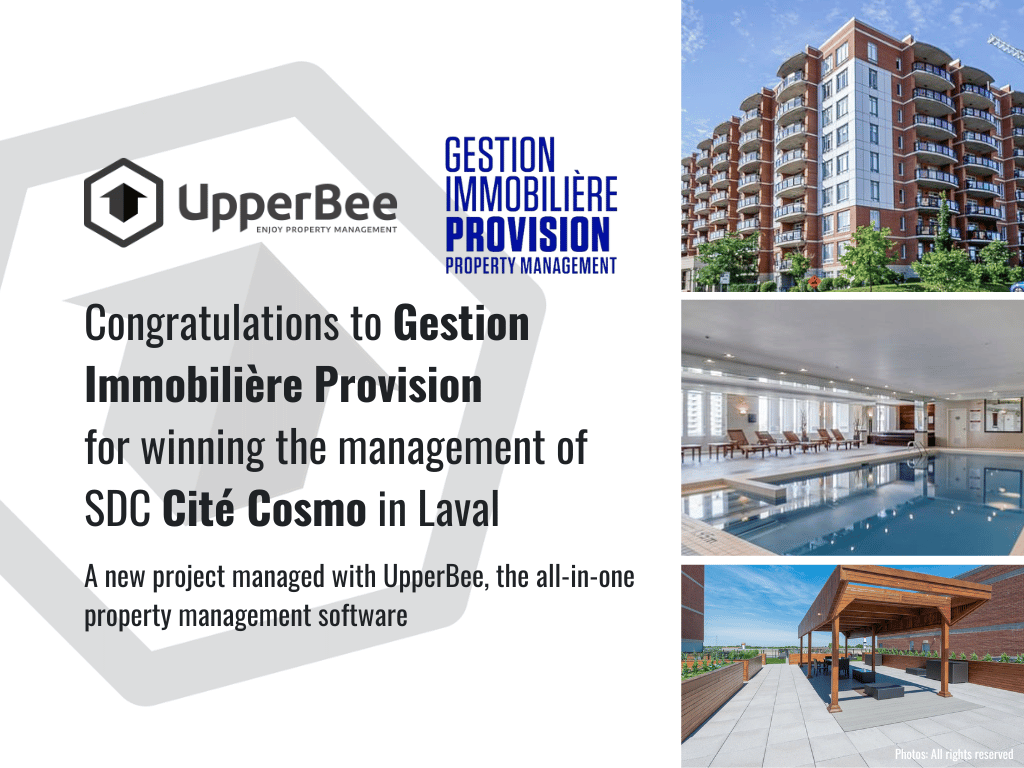 19 January 2023 | Co-ownership, condominium, property management, property manager | Condo, Manager, UpperBee
UpperBee congratulates Gestion immobilière Provision for obtaining the management of the Syndicate of co-owners of Cité Cosmo, located in Laval.
Gestion immobilière Provision is an experienced and forward-thinking property management company that serves Greater Montreal and its surroundings. The team, led by the two co-founders: Marc Morin, CPA, Co-founder, President and Senior Manager and Angie Pelonis, Notary, Co-founder, Vice-President and Senior Manager, is distinguished by its professionalism and by an approach focused on highlighting values such as transparency, honesty, communication and integrity.
Gestion immobilière Provision offers a complete range of property management offers adapted to all needs: whether your syndicate only needs financial or accounting expertise, or simply administrative support for the day-to-day management of the building or a complete management solution… More than 3,000 co-owners already benefit from their advice and leadership.
Gestion immobilière Provision brings together a team of professionals, mainly from the business and real estate communities, trusted property managers with extensive experience in accounting and notarial work.
Cité Cosmo has more than 220 urban condominium units, built by Groupe Cholette, ideally located in Laval, in the heart of Centropolis. They offer a perfect balance between urban and neighborhood life, business center and leisure center, offices, a cinema, a food market, a training center, the Carrefour Laval, Close to all services: shops, restaurants, and public transport: bus shuttles, metro station and expressways. This residential real estate development was built in compliance with the LEED standards.
Cité Cosmo has an urban chalet with a swimming pool, sauna, panoramic terrace, lounge and fitness room, community room, indoor and outdoor parking spaces.
To manage Cité Cosmo, Gestion immobilière Provision relies on its property management teams, and on UpperBee's innovative technological solutions adapted to the management of today's condominiums.
Congratulations to the entire Provision Property Management team on this project!
We are proud to support the most important asset management companies in their development on a daily basis.
---
Comments
---
Do you like this news?
Don't hesitate to share it!