HPDG Associates win the management of the Westbury phase 4 project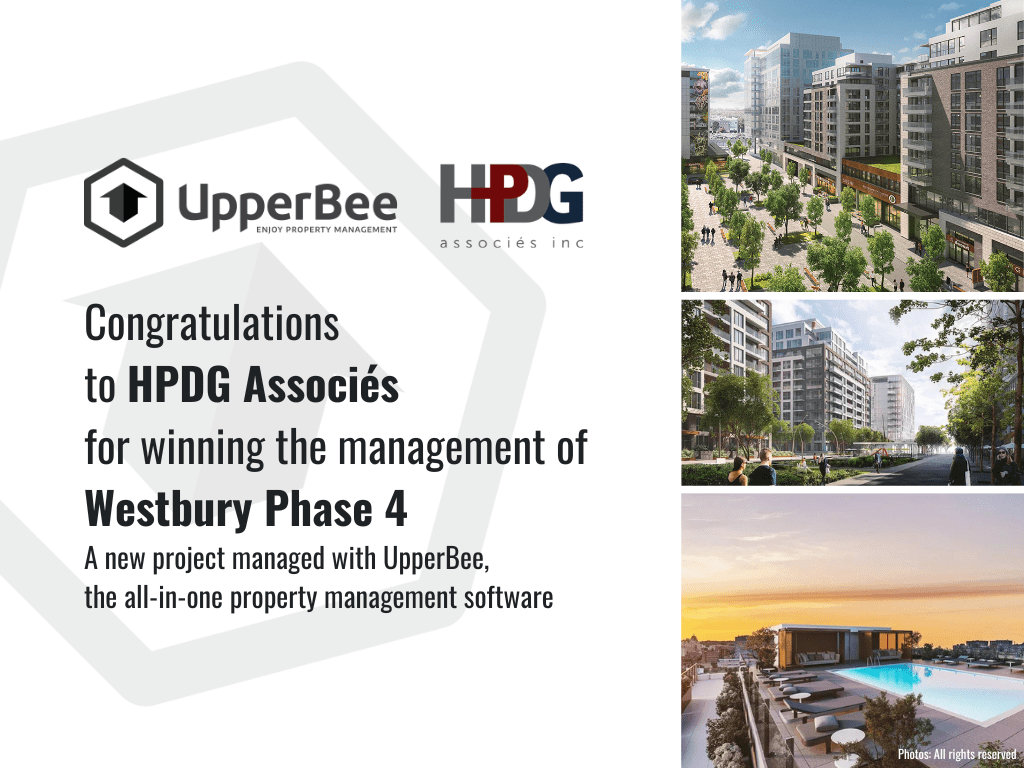 12 July 2022 | Co-ownership, property management, software | Condo, Manager, UpperBee
UpperBee congratulates the entire HPDG Associates team  on securing the management of the final phase of the Westbury project, Phase 4, managed with UpperBee, the only all-in-one property management software.
To manage this last phase of the project, HPDG will count on its team of more than fifty experienced professionals and on UpperBee's innovative technological solutions adapted to today's property management.
The HPDG team works with rigor and integrity and annually manages more than 3000 rental and condominium units, with these objectives:
Ensure effective management of financial and physical assets.
Maintain the competitiveness of its clients' properties in their market.
Guarantee the daily management of its clients' properties that meets their expectations.
Westbury is a major real estate project in Montreal, developed by Devmont and structured in 4 phases that offers luxurious condominiums with high-end finishes as well as extensive common areas: outdoor terraces, rooftop lounge and outdoor pool with panoramic views.
This is a major urban development, located at the crossroads of the Côte-des-Neiges–Notre-Dame-de-Grâce borough and the cities of Mount Royal and Hampstead, which has many advantages:
550 residential units in four towers,
an office tower,
commercial spaces,
local shops directly located in the project (PA supermarket, Starbucks®…),
a Hilton Garden Inn hotel with restaurants,
as well as a huge park of more than 40,000 square feet located just opposite,
modern recreational infrastructure, in an environment designed according to sustainable development standards.The project is located near downtown Montreal, major arteries, the Montréal-Trudeau airport, and the metro. It is designated transit-oriented development area because it is structured around the Namur and Plamondon metro stations.
There are many schools and universities within a perimeter of 4 km. The condominium project is built on 370,000 square feet of land in the middle of an urban oasis, surrounded by modern buildings with a sophisticated architectural style.
Phase 4 has an outdoor pool, arranged on the roof, which will be accessible to the owners of both phases 3 and 4.
Congratulations to the entire HPDG Associates team for this new project!
We are proud to support the most important management companies in their development on a daily basis.
---
Comments
---
Do you like this news?
Don't hesitate to share it!