HPDG Associés obtains management of SDC Terra, townhouses, in Sainte-Anne-de-Bellevue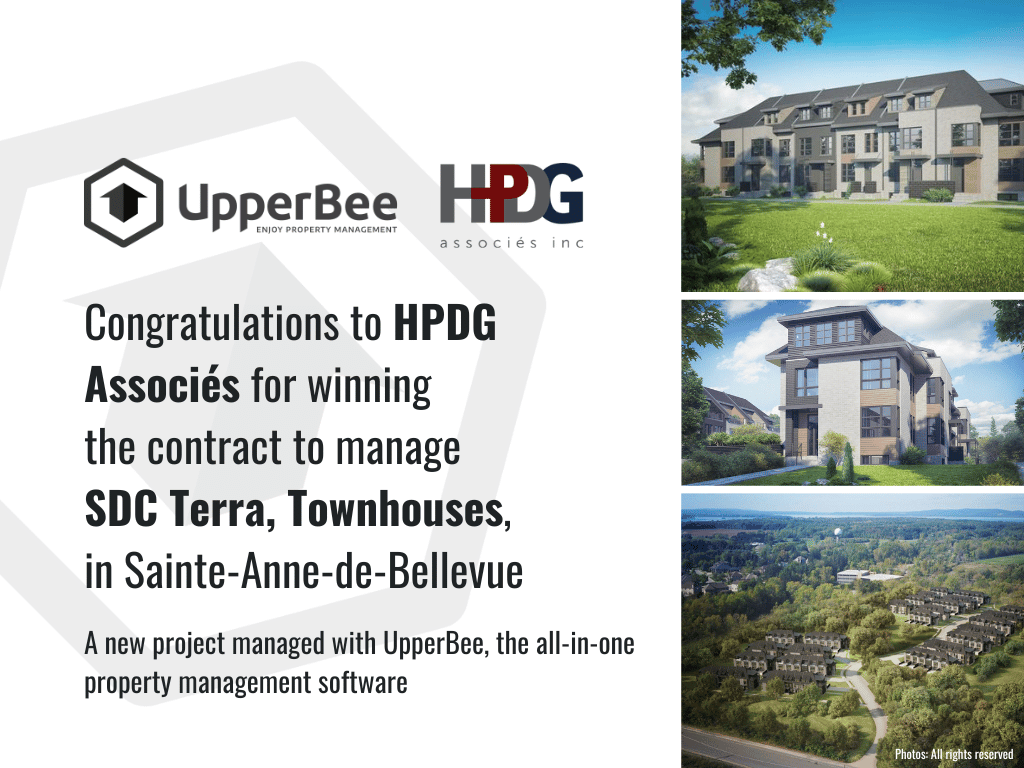 21 February 2023 | condominium, property manager, software | Manager, UpperBee
UpperBee congratulates the entire HPDG Associés team for obtaining the management of the Terra Syndicate of Co-ownership, managed with UpperBee, the only all-in-one property management software.
HPDG's management team includes more than fifty experienced real estate professionals who work with rigor and integrity.
HPDG Associés' property management team administers more than 2,000 rental and condominium apartments annually and has set itself the following missions:
Ensure effective management of financial and physical assets.
To maintain the competitiveness of its clients' properties in their market.
To guarantee a daily management of its clients' properties that meets their expectations.
Terra brings together 130 townhouses, designed by Broccolini, in Sainte-Anne-de-Bellevue. It is a multi-phase green residential project in which the houses are held in divided co-ownership.
All house models include a large terrace, private yard, double garage, and offer high-end finishes.
The future REM station in Sainte-Anne-de-Bellevue will be located only 1,000 m from the Terra project. Residents will be able to get to downtown Montreal in less than 35 minutes. Terra also offers direct access to highways 40 and 20.
Terra is located a few minutes from the Morgan Arboretum, a forest eco-territory of more than 245 hectares, in the heart of the Senneville forest eco-territory, the largest wooded area in the agglomeration of Montreal. The Terra site reflects this natural environment as vast tracts of intact natural woodlands have been preserved.
To manage the Terra SDC, HPDG relies on the expertise of its property management teams and UpperBee's innovative technological solutions adapted to the management of today's condominiums.
UpperBee, particularly renowned in North America, is the only all-in-one property management platform recognized for the breadth of its financial, accounting, and operational features, its expertise, ease of use, transparency and quality of information.
UpperBee congratulates the entire HPDG team on this new project!
---
Comments
---
Do you like this news?
Don't hesitate to share it!