Prepare and hold your virtual assembly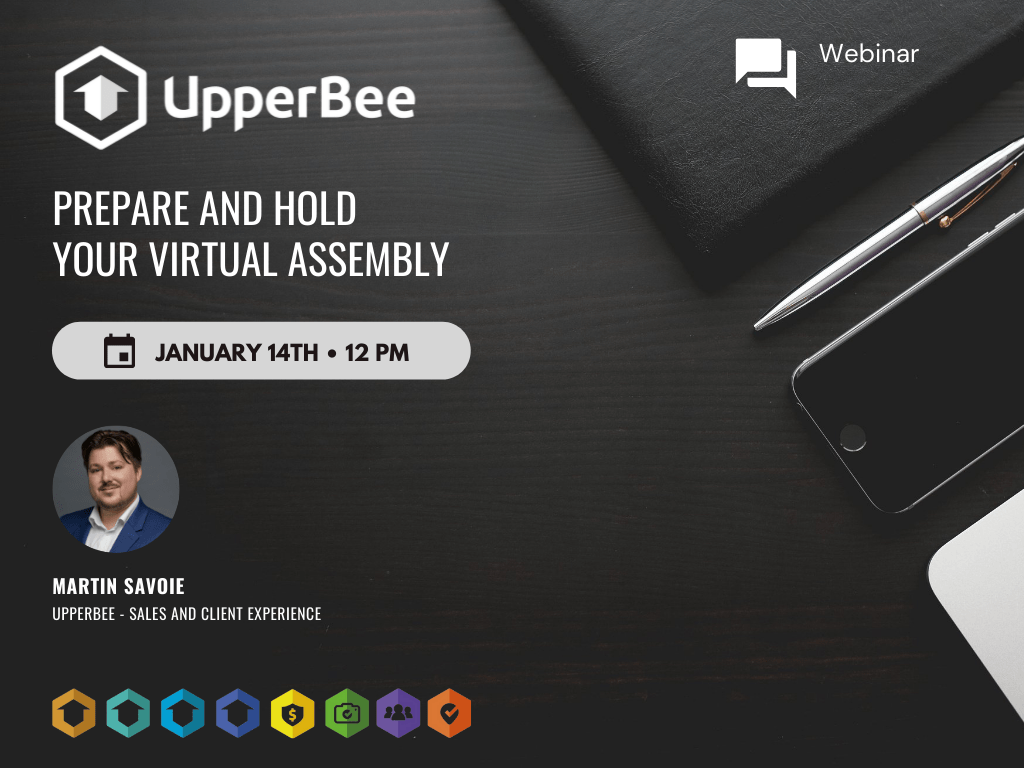 12 January 2022 | Meeting
The UpperBee team invites you on January 14th for the 1st online training of 2022, which will focus on the preparation and holding of virtual meetings.
Our goal is to always better support you in the context in which we work: ever-increasing demands, ever-increasing regulatory requirements… 
We therefore regularly offer information sessions on various topics in property management, current topics, or regulatory changes so that you can save time and benefit from more efficient and transparent management more quickly.
It's now official: virtual assemblies are here to stay!
Indeed, several amendments were adopted, during the work of the Committee on the Economy, for the study of Bill 103 amending various legislative provisions mainly for the purpose of reducing the administrative burden, presented by Lucie Lecours, the Minister for the Economy. This bill was finally adopted on December 7th, 2021, by the Assembly and the law came into force on December 9th, 2021.
Good news for co-owners, administrators and managers, virtual meetings are therefore permanently authorized by the government. The pandemic context has made virtual meetings a new norm in the condominium world, which has not been spared.
Are you ready for this new reality?
See you on January 14th at our UpperBee Facebook page
Join us this January 14th, at noon, for this webinar  "Preparing and holding your virtual assembly like a pro"  which will be broadcast via Facebook live.
We will present you the best practices to organize and hold your Assemblies:
which tool to choose to hold your meeting;
the creation of the agenda;
sending convocation documents;
compliance with deadlines;
reminders by email, SMS, or posters on bulletin boards;
the start of the Assembly;
assigning speaking rights
handling difficult attendees;
anything that makes it much easier to obtain a quorum, and prepare the minutes…
It will be led by Martin Savoie, in charge of Sales and Customer Experience, in the UpperBee team.
Register, come, and learn and exchange with our experts. This webinar is free. Please note that this webinar will be presented in French.
We look forward to having you with us for these next sessions!
» Read also Detail of the programming of the UpperBee Webinars for this winter.
---
Comments
---
Do you like this news?
Don't hesitate to share it!