Save a quote with our partner Sonnet and receive a $10 Amazon gift card*.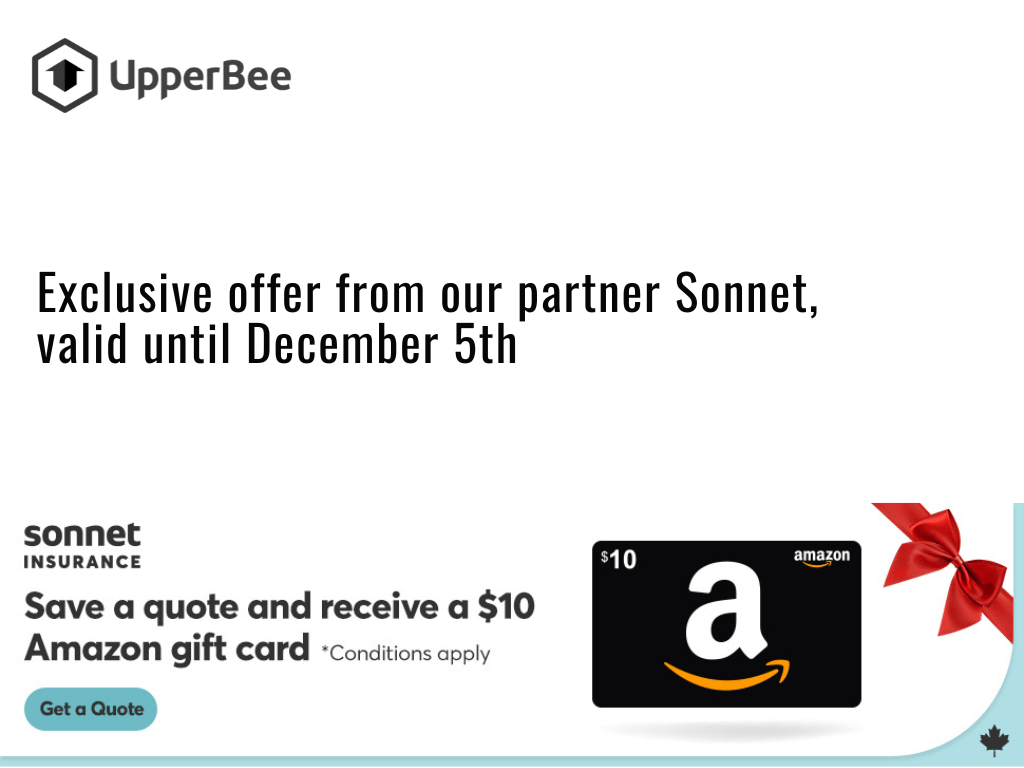 22 November 2022 | Assurance, Fournisseurs, Insurance, Partenaire, Partnership, Suppliers | UpperBee
UpperBee is proud to partner with Sonnet to provide our clients with a fully digital insurance experience and save time and money.
Until December 5, get your personalized insurance quote from Sonnet and receive a $10 Amazon gift card*.
Sonnet, Canada's first fully online insurance company has simplified the customer experience to get and buy a home and auto insurance quote online in just five minutes.
Just answer a few simple questions, and we'll provide coverage options and a price built just for you!
With this new partnership, UpperBee users can save with an exclusive discount for Sonnet!
Landlord and tenant insurance options make it easy to get the most out of what Sonnet has to offer. Whether you're a renter looking for coverage or an owner of revenue properties, you can get a quote quickly and easily online.
If you bundle your home and auto insurance, you could save even more.
UpperBee users get plenty of benefits out of a partnership with Sonnet:
Exclusive group discount, competitive rates, home and auto bundle savings
Quote, buy and manage your policy online 24/7
Access to advice from our licensed Insurance Advisors
Flexible limits, customized coverage and secure payment options
Exclusive Sonnet Connect partner advice, discounts and promotions
To participate and get your personalized insurance quote, in just a few minutes, click on the banner below:

* Contest details:
Campaign runs November 21 – December 5, 2022.
Amazon gift cards will be emailed out by Monday, December 19, 2022.
Participants must save a quote.
---
Comments
---
Do you like this news?
Don't hesitate to share it!