SolutionCondo in 15th Place! in terms of the main players and portfolios of the Canadian condominium industry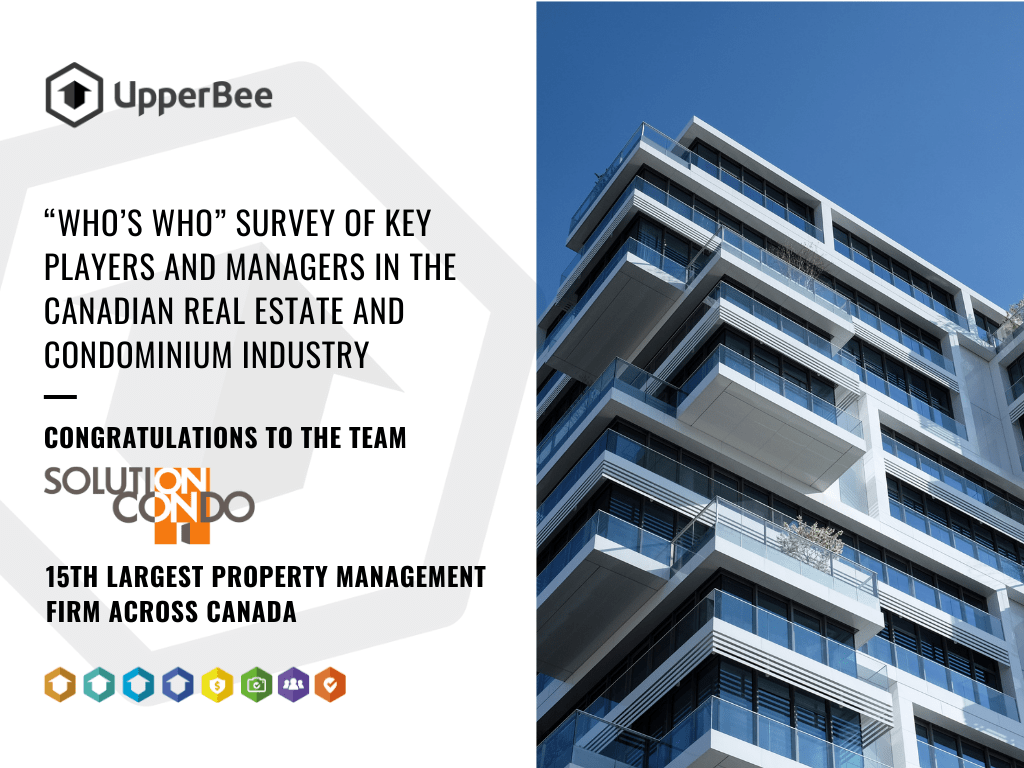 16 June 2022 | Co-ownership, Condo, condominium, Copropriété, Gestion immobilière, logiciel, property management, property manager | UpperBee
UpperBee is pleased to highlight SolutionCondo's ranking in the 8th edition of the "Who's Who" survey of key players and managers in the Canadian real estate and condominium industry published in the June CondoBusiness Magazine published by REMI Network.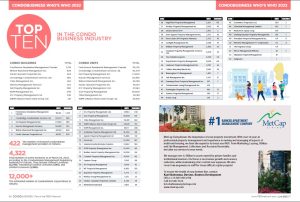 This annual ranking represents the most comprehensive list of owners and managers of commercial and multi-residential properties in Canada. This survey is a reference in the market, used and consulted by more than 100,000 owners, developers, and real estate professionals every year, and SolutionCondo is mentioned twice!  
 
Indeed, SolutionCondo is ranked 15th among the leading players and portfolios in the Canadian condominium industry, and the 62nd largest property management firm across Canada.  
 
Congratulations to Élise Beauchesne, President and Founder of SolutionCondo and her team, for achieving 15th position in the condominium sector in all of Canada! 
UpperBee is proud to be associated with SolutionCondo, which relies on its teams of property management professionals and UpperBee's innovative technology solutions adapted to today's property management for managing their portfolio. With this ranking, SolutionCondo confirms its leading position in the industry, providing complete management services adapted for simple, complex, medium, and large condominiums, and who specializes in multiple phase shared service projects. Not to mention Rentalys Solution, SolutionCondo's sister company specializing in the management of rental properties. 
This new ranking confirms that UpperBee is already making a difference in the digitalization of real estate in North America, and we are proud to support the most important management companies in their development on a daily basis! By listening to the demands of their customers, UpperBee is constantly innovating to offer integrated, collaborative, and accessible property management solutions on the same platform. 
Why choose UpperBee, the most powerful property management software? 
The largest asset management companies already use UpperBee, the only platform developed by expert managers for managers. Since today more than ever, the owners count on you to assist them in their daily lives, to optimize their investment and to create living environments appreciated by all residents, owners, and co-owners. 
Did you know? More than 100,000 users have already chosen UpperBee! 
''Depending on your needs, the software will adapt to you. Whether you are small or large manager, UpperBee has the solution for you. UpperBee's strength is to provide small management companies with the management tools usually reserved for large management companies in North America. UpperBee adapts to your reality, it can be customized. It is simple, UpperBee follows your development. If you are a rapidly developing management company, UpperBee has all the tools to grow with you and meet your needs. UpperBee can support you in your growth,''
said Eric Deslauriers, CEO of UpperBee.
UpperBee, enjoy property management 
To learn more about UpperBee and discover all the features of the software suite, contact us! We can arrange a demo or offer you a free trial. 
---
Comments
---
Do you like this news?
Don't hesitate to share it!