SolutionCondo obtains management of Nobel Condominiums and Oria Condominiums, phase 1, developed by Devimco in Solar Uniquartier, Brossard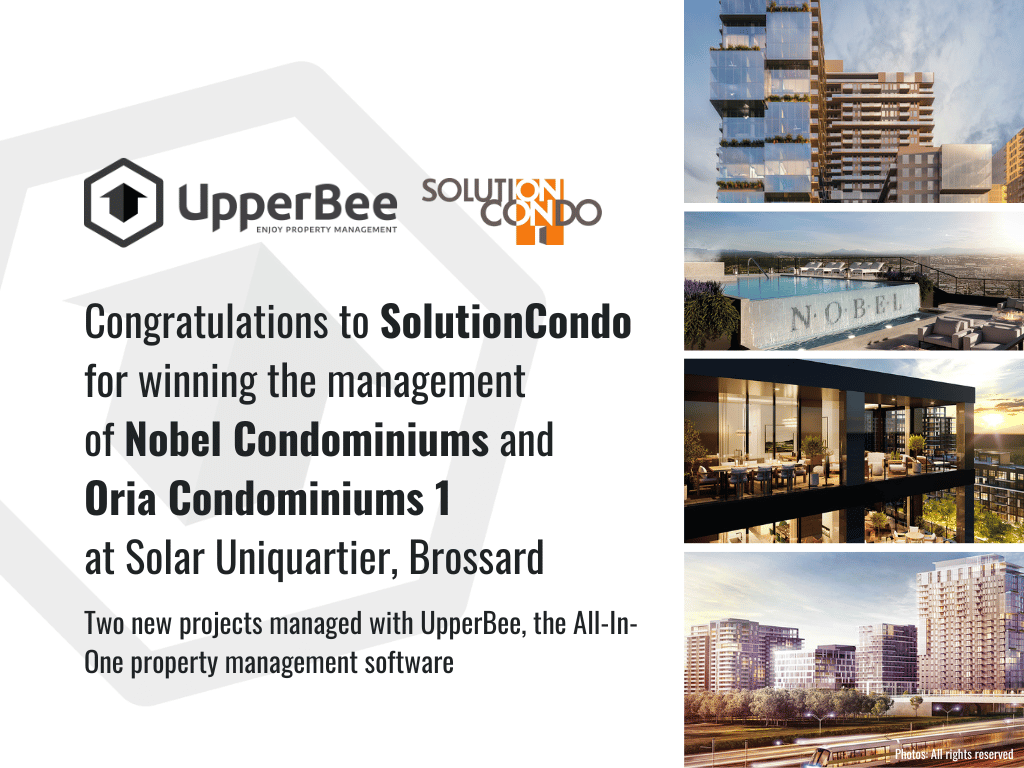 31 January 2023 | Co-ownership, condominium, property manager, software | Manager
Congratulations to SolutionCondo for obtaining the management of Nobel Condominiums and Oria Condominiums, Phase 1, which are currently managed with UpperBee.
SolutionCondo is now the largest condominium management firm in Quebec and manages different types of condominiums, simple condominiums, large buildings, condominiums that bring together several syndicates… The SolutionCondo team's mission is to ensure the sustainability of buildings, and to encourage effective and efficient management of Quebec condominiums.
Oria Condominiums, phase 1, and Nobel Condominiums, designed by Devimco, are two emblematic buildings in the heart of the new Solar Uniquartier district. Composed of residential complexes, multiple local shops, innovative business offices and vast green spaces, Solar Uniquartier is emerging as a major attraction on the South Shore of Montreal, the largest Transit Oriented Development (TOD) project in Quebec.
Leader in real estate development in Quebec, the Devimco Group is a pioneer in the development of innovative real estate projects, true unique living environments and mixed-use, in the heart of integrated, innovative and sustainable environments, such as District Griffin and Quartier DIX 30, TOD complexes combining commercial components,  Business, leisure and residential.
Oria Condominiums offers sumptuous residential spaces (studios, condos from 1 to 3 bedrooms, penthouses and townhouses) in the heart of Solar Uniquartier's green spaces and close to the REM. At the heart of the project, there is a private courtyard hosting a dog park exclusive to residents as well as a collective vegetable garden. Common areas offer gardens, green spaces, extensive coworking space, rooftop and indoor pool, Scandinavian spa and hydrotherapy circuits, BBQ areas, urban chalet, Sky lounge, gym, full fitness center and more.
Nobel Condominiums is a project of more than 270 residential units (studios and apartments 3 1/2 to 5 1/2), inspired by the Scandinavian style. This is the 1st rental condo project connected directly from the inside to the REM, in the Montreal area (Du Quartier station). The Nobel overlooks the Place des festivités of Solar Uniquartier, and offers many amenities ideal for students and professionals.
Since the fall of 2022, it has been offering direct access to the brand new Université de Montréal campus. High-end common areas, spaces for teleworking, studies or business are perfectly furnished. There is a vast lobby with a dedicated coworking area, a gym, as well as a fitness room, a terrace in the inner courtyard, a swimming pool with waterfall and integrated spa as well as a rooftop terrace with fireplace and urban lounge and sublime views of the metropolis and the Montérégie. Travel to downtown and the Montreal airport will be facilitated thanks to access to the future REM.
To manage these two new large-scale projects, SolutionCondo relies on its teams of property management professionals and UpperBee's innovative technological solutions adapted to today's condominium management.
Élise Beauchesne, President of SolutionCondo: "To manage these two new emblematic buildings of Devimco, SolutionCondo relies on the UpperBee platform, the best tool to meet all the requirements of the new laws and which helps our management teams succeed despite the increasing volume of work in co-ownership. The management platform has all the features we need in one tool and allows teams to do quality management and consistently deliver superior services. In addition, the UpperBee team is constantly listening to our needs and our reality in the field, to innovate and evolve its platform, and it regularly launches new "features" that really save us precious time. »
Indeed, UpperBee is the only all-in-one property management platform that integrates bookkeeping, management of your maintenance activities, payment of rents, condo fees and suppliers, manages or allows you to upload or produce various documents (invoices, contracts, purchase orders and work, etc.),  manages your administrative tasks and meetings, allows you to communicate and document all your exchanges with your owners, tenants and third parties (e.g. subcontractors, etc.), allows the management of room reservations and other facilities, and much more!
UpperBee congratulates the entire SolutionCondo team!
---
Comments
---
Do you like this news?
Don't hesitate to share it!