SolutionCondo obtains the management of phase 2 of the Esplanade Cartier from Prével, managed with UpperBee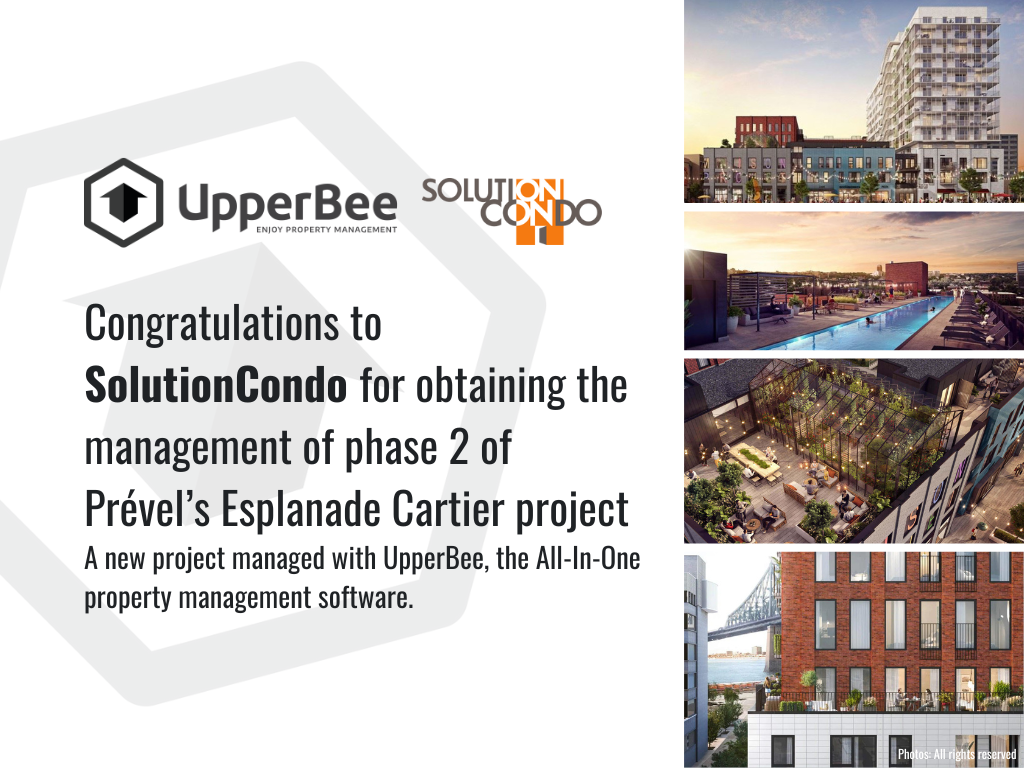 13 September 2022 | condominium, PropertyManagement, software | Condo, Manager, UpperBee
Esplanade Cartier, Phase 2: a major project for SolutionCondo's teams that is managed with UpperBee, the all-in-one property management software.
Esplanade Cartier is an emblematic project of Prével, located a few steps from downtown, in the immediate vicinity of the Jacques Cartier Bridge, and accessible in a few minutes by bike, metro or bus… Esplanade Cartier will eventually include 6 blocks and a central park, a public square, and shared streets.
Prével is a renowned builder with more than 40 years of projects and more than 11,000 housing units. Now an industry leader, Prével contributes to the evolution of the new construction market in Quebec, by seeking to reinvent and evolve the concepts of housing, mixed uses, common spaces, neighborhood life and urban lifestyle.
Renowned for proposing innovative concepts, Prével is a pioneer in the field of common spaces, which integrates public squares, green spaces, services and local shops into these projects, in order to create diversified living environments (homes, local shops, offices, public spaces, etc.), where urban planning and architectural design are harmonized. It has contributed to the emergence of several neighborhoods that are now popular.
Some details of the Esplanade Cartier project are a nod to the classics of Montreal architecture with its spiral staircases, a layout that highlights the Jacques Cartier Bridge or the red brick façade.
Phase 2 of 162 condos is spread over 7 floors. The units have been designed to offer bright living spaces. In addition to shops and public spaces, the co-owners will benefit from many common areas, local shops, restaurants, and shops that will be established in the different phases of the project.
For the management of this phase 2 of the Esplanade Cartier, SolutionCondo relies on its teams of property management professionals and on UpperBee's innovative technological solutions adapted to the management of today's condominiums.
UpperBee, particularly renowned in North America, is the only all-in-one property management platform recognized for the breadth of its functionalities, both financial and operational, its expertise, its ease of use, its transparency, and the quality of its information.
SolutionCondo, the largest condominium management firm in Quebec, manages different types of condominiums, single condominiums, large buildings, but also condominiums that bring together several syndicates…
Élise Beauchesne, President of SolutionCondo:
"SolutionCondo uses the UpperBee platform, the best tool to facilitate the management of condominium syndicates. This innovative management tool allows co-owners, in charge of administration, to ensure management quality and to consistently provide superior customer service, regardless of their level of knowledge. The integration of the various modules ensures that the information used by more than one module does not have to be entered in multiple places. The result is greatly accelerated management. »
Indeed, UpperBee is the only property management platform that integrates the management of your maintenance activities, the payment of rents, condo fees and suppliers, bookkeeping, manages or allows you to upload or produce various documents (invoices, contracts, purchase orders and work, etc.), manages your administrative tasks and meetings,  allows you to communicate and document all your exchanges with your owners, tenants and third parties (i.e., subcontractors), allows the management of room reservations and other facilities, and much more.
Congratulations to the entire SolutionCondo team for this new major project!
---
Comments
---
Do you like this news?
Don't hesitate to share it!