The Alta-Socam Group selected, for its Viva Condos project, the Track&Fix platform for several reasons: ease, professionalism and simplified follow-up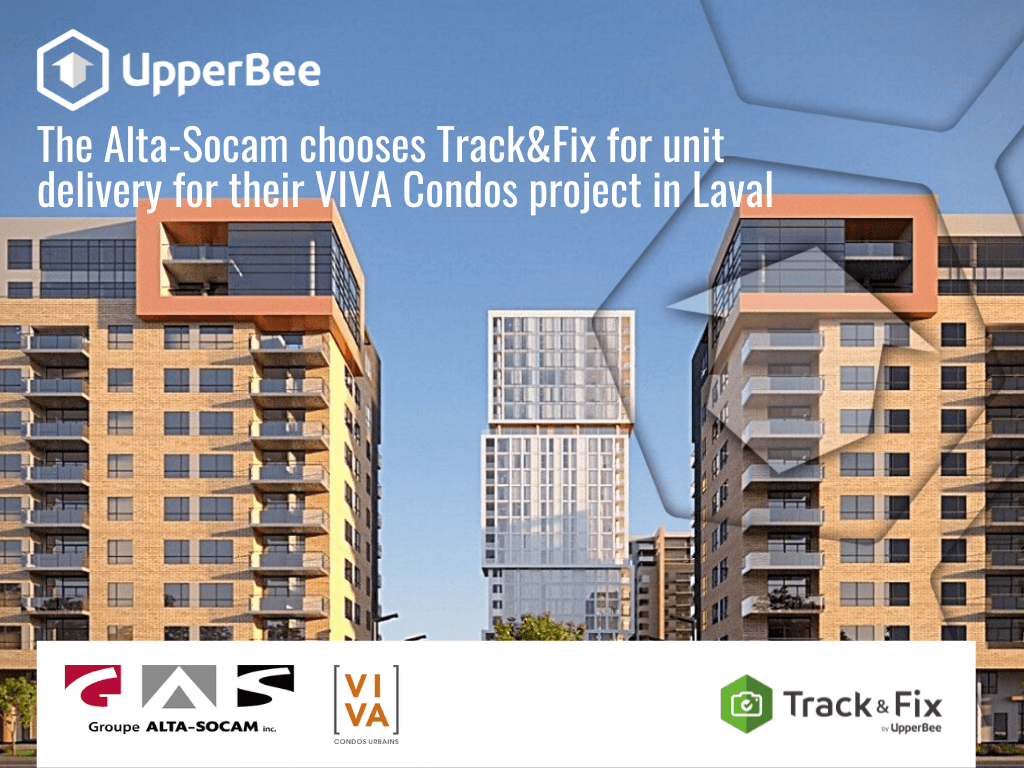 18 February 2022 | Co-ownership, Inspection | Track and Fix
UpperBee is proud that the Alta-Socam Group teams use UpperBee's Track&Fix software to conduct pre-acceptance inspections and deliveries of the Viva Condos project.
The Alta-Socam Group is a developer, and builder of multi-residential and housing complex projects. The Group is the result of the association of two recognized and experienced contractors and developers in Quebec, Construction Socam led by François Chevrier and Alta Limited led by Pierre Latreille. Active in the housing market since the 1990s, Alta-Socam has carried out several major projects including two major condominium projects in the Lachine Canal sector of Montreal. For several years, the Group has distinguished itself by innovation and quality in the creation and construction of its real estate projects and has received several awards and distinctions.
The Viva Condos real estate project is located in the heart of Laval's new downtown.
Launched in October 2010, this is a major project that will eventually have 8 phases of 12 to 25 floors each, representing more than 750 new urban-style condominiums with refined architecture and design. Arranged around an inner courtyard with walking paths, gardens, and small areas with fountains, The eight buildings also include a sunbathing area, golf practice green, and will be equipped with a private gymnasium.
This vast multi-residential complex is developed on a 485,000 square foot lot, close to Centropolis, Carrefour Laval and Cineplex Laval, with quick access to highways and public transit. In order to maximize green spaces, the condominiums' parking lots are all located in the basement and some of them equipped with power stations for charging electric vehicles.
"Sumum", phase 6 of Viva Condos in video (in french)
"Sumum" is currently under construction, located at the heart of the project, it will be deployed on 25 floors. It will offer condominiums with panoramic views, penthouses, and townhouses on 2 floors.
Why did the Alta-Socam Group choose the Track&Fix solution by UpperBee for the delivery of the VIVA Condos project?
Always attentive to our customers, we regularly give the floor to the users of our innovative inspection application. Here is the feedback from Ronald J. Panneton, Vice President Sales, Marketing & Customer Service of Alta-Socam Group:
''The Alta-Socam Group has selected for its VIVA Condos project, the Track&Fix platform for several reasons: Ease, professionalism and simplified follow-up.

The platform is easy to use by computer, phone, or tablet, can be customized for the specific needs of the project, and it automatically allows the sending of documents from taking possession to customers, the warranty plan and construction teams.

This very professional way of doing things for our customers (the co-owners), facilitates the follow-up of our customer service teams who can respond more quickly and efficiently to our customers.

Ronald J. Panneton, Vice President Sales, Marketing & Customer Service of Alta-Socam Group''
Work reception is often a source of stress, and it is a step not to be neglected in any real estate project. The Track&Fix real estate inspection, inventory and monitoring software allows Alta-Socam Group teams to rigorously monitor reception processes and correctly document the deficiencies to be ameliorated, in order to improve communication between stakeholders and thus accelerate corrective work and ensure full customer satisfaction.
Track&Fix asserts itself as the essential inspection tool for construction: For Real estate developers, general contractors, home builders, site superintendents, or project managers, in addition to property management.  Essential to support real estate owners, property managers, real estate brokers, and rental agents in all their projects.
📺 Discover pre-reception inspection with Track&Fix in video (in french):
» Learn more about Track&Fix
---
Comments
---
Do you like this news?
Don't hesitate to share it!