The SolutionCondo group ranked in Les Affaires' list of the 300 largest SMEs in Quebec 2022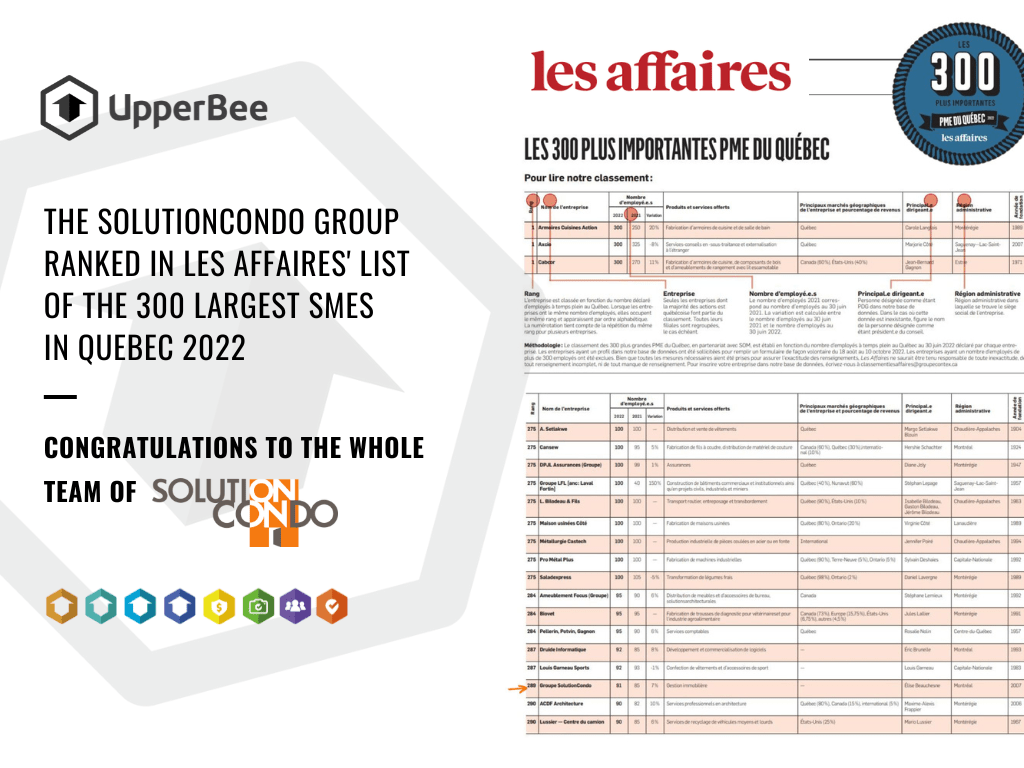 2 November 2022 | Gestion immobilière, Innovation, Innovation, property management, property manager, Société de gestion immobilière | UpperBee
UpperBee is proud to highlight the inclusion of Groupe SolutionCondo in Les Affaires' list of the 300 largest SMEs in Quebec.
The SolutionCondo Group thus enters this Ranking of the 300 largest SMEs in Quebec and occupies the 289th place. Each year, this list of the 300 largest SMEs in Quebec is a reference for the entrepreneurial community. Developed by Les Affaires in partnership with SOM, it is based on the number of full-time employees in Quebec reported by each company, in order to highlight companies that are showing growth.
Congratulations to Ms. Élise Beauchesne, President and Founder of SolutionCondo and her entire team for entry into this list.
This edition of the 2022 ranking highlights companies facing significant challenges, including labour shortages. 
In this context of a shortage of property management professionals, this is great recognition for the entire SolutionCondo team and for its leader, an innovative entrepreneur in the real estate sector, and in particular in condominium management. A visionary leader particularly committed to serving her industry and who also contributes to promoting condominium management through her involvement as President in the AQGC., and its members.
UpperBee is proud to be associated with SolutionCondo, which relies on its teams of property management professionals and UpperBee's innovative technology solutions adapted to today's property management for its portfolio of clients.
With this ranking, SolutionCondo confirms its position as a leader that offers comprehensive management services adapted to simple, complex, medium, and large condominiums that brings together several syndicates. Not to mention, Rentalys Solution, a sister company of SolutionCondo specialized in the management of rental properties.
This new ranking confirms that UpperBee is already making a difference in the digitalization of real estate in North America, and we are proud to support the most important management companies in their development on a daily basis!
By always listening to the demands of its customers, UpperBee is constantly innovating to offer integrated, collaborative, and accessible property management solutions on the same platform.
To consult the complete ranking, click here (in french)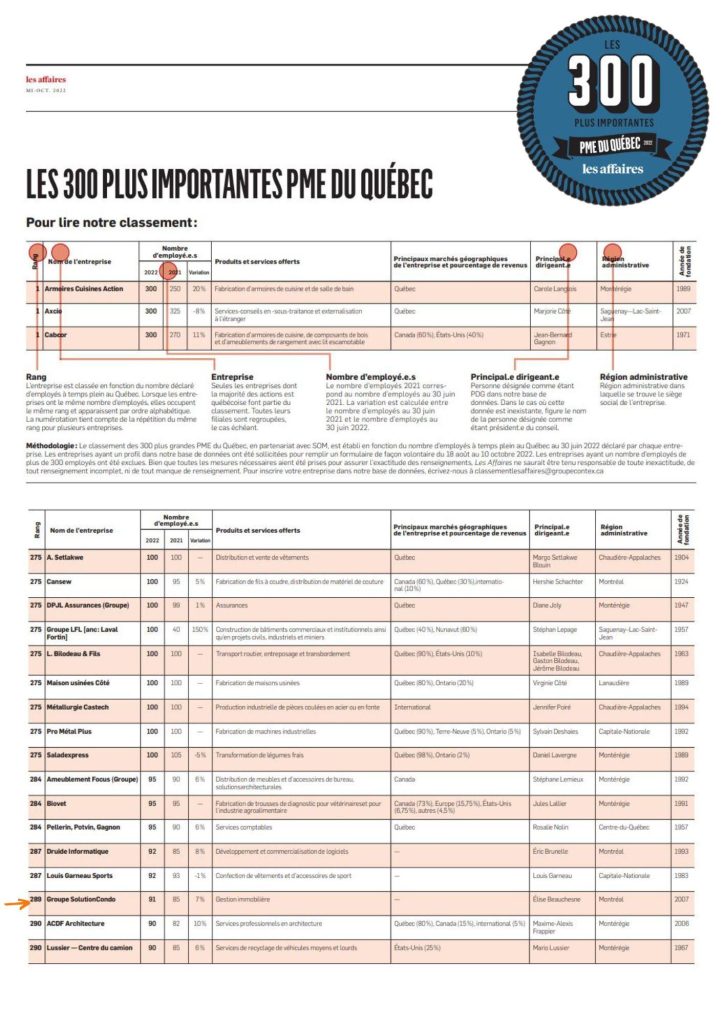 ---
Comments
---
Do you like this news?
Don't hesitate to share it!