Thinking of buying a condo?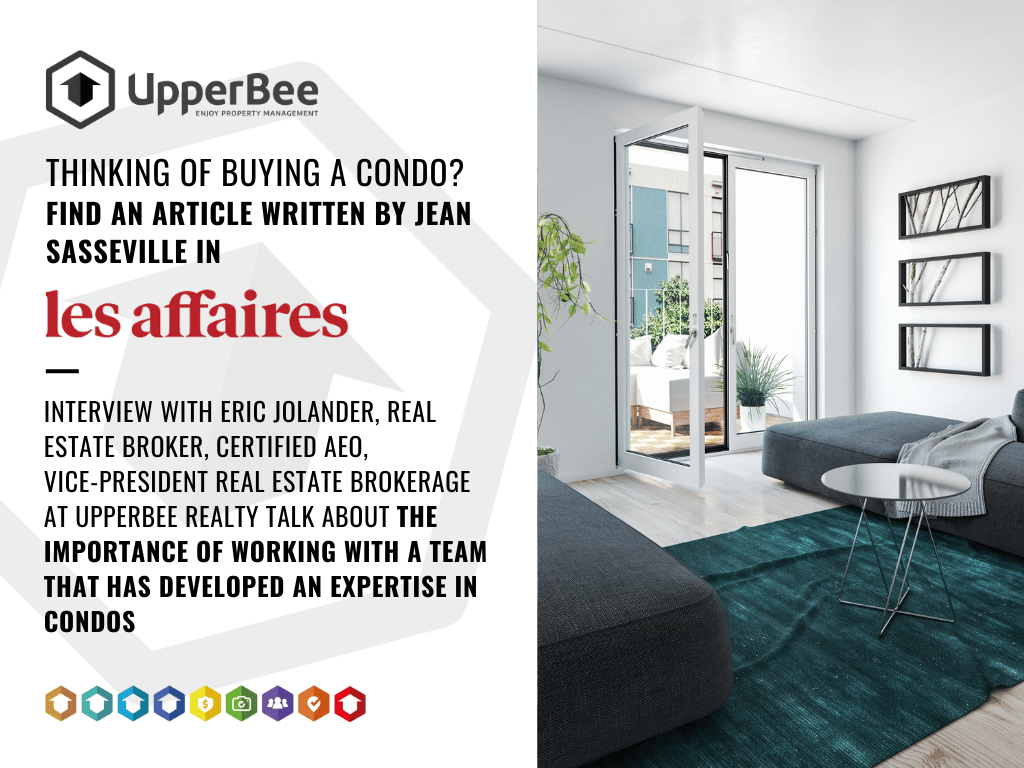 24 May 2023 | Co-ownership, Condo, condominium, Copropriété, Courtage immobilier, Gestion immobilière, Real estate brokerage | UpperBee
How to make an informed decision and avoid unpleasant surprises?
In his latest article in Les Affaires, Jean Sasseville reminds us that a real estate broker carries out a series of basic verifications for each transaction, but he also discusses situations in which it is particularly important to check before buying. A botched work could be very costly, especially in condos…
He discussed with Eric Jolander, Real Estate Broker, Certified AEO, Vice President Real Estate Brokerage at UpperBee realty who reminds us the importance of working with a team that has developed an expertise in condos: "When purchasing a condo, it might be more difficult to acquire the required documents than if you were buying another type of property."
"The most well-known documents such as the declaration of co-ownership's and co-ownership's rules with all their amendments, there are the annual general meeting and the financial statements, ideally those of the last three years. Request for information to the syndicate of co-owners allows the buyer to answer pertinent questions about the co-ownership such as unpaid condo fees, special dues to be expected (ex.: for major work on the building),  the contingency fund report, legal proceedings in progress against the board members, etc.
Eric Jolander told me that only a few brokers go further and ask for:
The basic finishes register to ensure that the building materials and finishes listed match those in his unit.
The latest contingency fund report. A review of this document should allow you to determine if the condos' contingency fund is properly contributed, or if there is a shortfall that owners will have to make up;
The list of claims for the last few years to give you an idea of the quality of the construction and management of the property. It's important to check for major disasters such as floods, fires or structural problems, and to understand how they were handled."
Are you thinking of selling or renting your condo? You just want to inquire and know the value of your property?
We invite you to contact the UpperBee realty team to discuss your project or your real estate needs.
You can contact them:

---
Comments
---
Do you like this news?
Don't hesitate to share it!