UpperBee is proud to partner with Snaile, the Canadian parcel locker company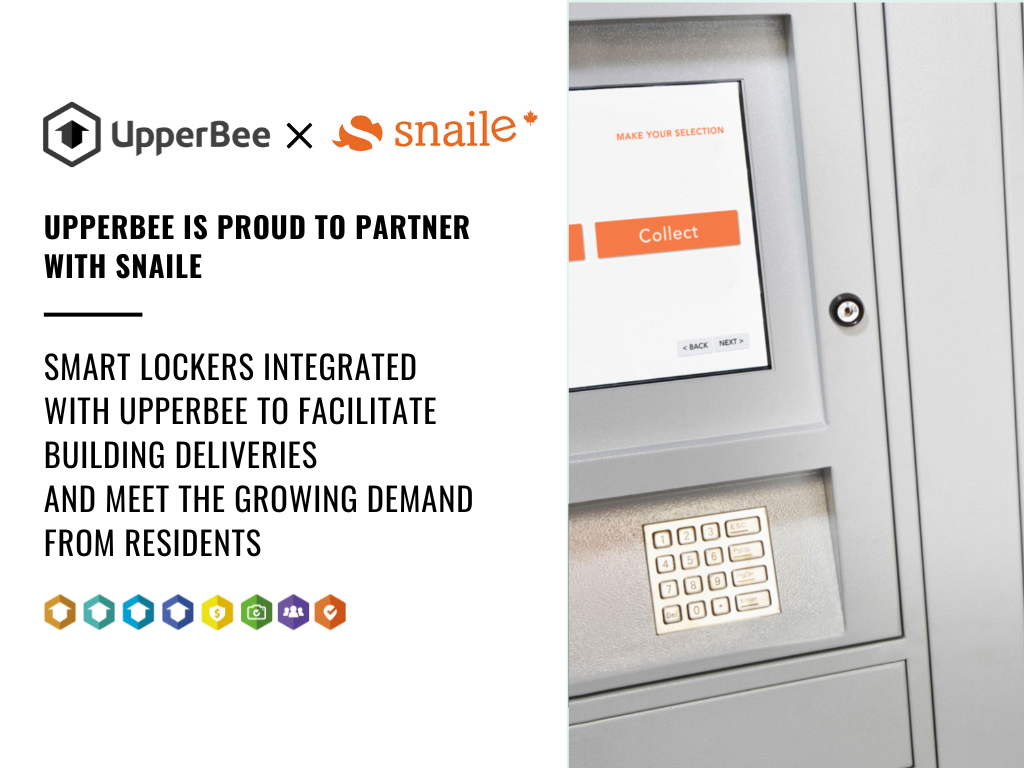 9 March 2023 | package lockers, parcel delivery, Partnership, property management | Condo, Manager, Rental, UpperBee
The constant increase in online sales volumes is real regardless of the causes. In Canada, in 2022, people placed an average of 26.4 orders online – a 60% increase since 2019*. 
The volume of parcel delivery and parcel theft have become an issue in many buildings that are not yet equipped with parcel lockers. 
UpperBee is proud to partner with Snaile to meet resident demands to provide fully intelligent parcel locker systems for use in multi-residential buildings. 
Snaile is an all-Canadian company and is proud to offer fully supported, installed, and maintained automated parcel lockers from within Canada. Snaile lockers are rugged (rated at -40C), electrically certified under Canadian regulations, compliant with the Personal Information Protection and Electronic Documents Act (PIPEDA) to ensure data security and certified to commercial standards for IT infrastructure and cybersecurity with their ISO 27001 certification. 
Snaile's smart parcel racks can be installed indoors or outdoors allowing all deliveries to be received automatically for residents.  Deliveries can be parcels, perishable goods, dry cleaning… 
Snaile provides on-site support with customer onboarding specialists who are on site for the first few days after installation. By helping delivery and parcel recipients become familiar with lockers and typical usage scenarios, nothing is left to chance. Call center support is typically initiated after Snaile installs the console and completes its unique on-premises implementation program. 
Why Snaile? 
We have direct contacts with the delivery company to manage the use, rectification of failed deliveries and responsibility for packages;
Amazon contact system to report delivery failure issues and fix future delivery issues in lockers; 
Resident Data hosted in Canada and governed by Canadian data privacy and security laws; 
Data system compliant with Canadian and international trade standards to minimize system breaches and failures; 
Canadian Cyber Insurance Policy to protect property management, Board of Directors, residents and Snaile;
Integration of Snaile lockers with UpperBee, eliminating data entry time on two platforms. It also helps keep the list of residents up to date;
Original equipment manufacturer that controls both hardware and software, we are not a reseller;
Complies with Canadian Electrical Code and fire rating.
UpperBee has developed a technological solution that integrates Snaile's smart locker solutions with UpperBee Condo and UpperBee Rental to simplify the delivery and notification of your packages in real time in your buildings. 
The integration of Snaile with UpperBee allows the automatic daily update of your lists of residents (owners and tenants). Everything is done automatically; you no longer need to update these lists manually or manage file exports. 
UpperBee is pleased to offer its customers an exclusive 7.5% discount on parcel lockers by mentioning UpperBee during consultation with a Snaile sales representative. 
To learn more, visit the "Your Offers" section of your UpperBee client platform.
*Canada Post data
---
Comments
---
Do you like this news?
Don't hesitate to share it!