UpperBee participates in Community Now in Dallas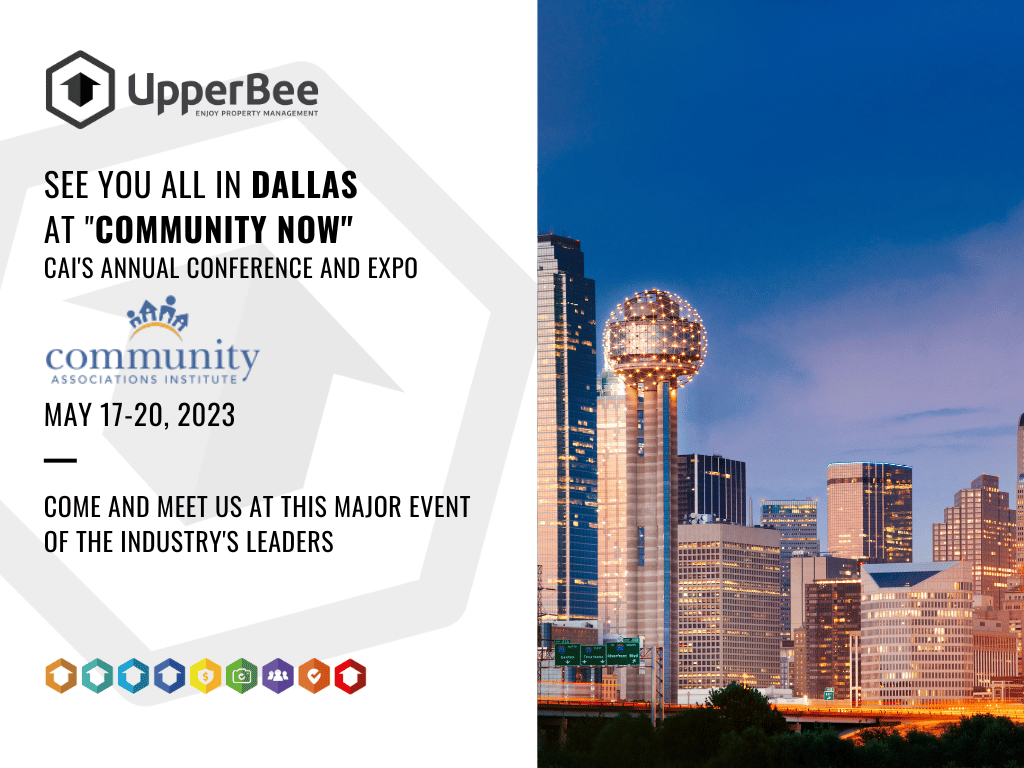 16 May 2023 | Manager, Pay, UpperBee
The Community Associations Institute is hosting "Community NOW", CAI's annual conference and expo, a premier event for homeowner associations, condominium association managers, board members, and owners, May 17-20, 2023 in Dallas, Texas.
Industry leaders will gather to discuss emerging trends in property management, new solutions and best practices for managing today's condominium communities, homeowner's associations, master planned communities and housing cooperatives.
As UpperBee continues to expand in the U.S. market with its flagship product UpperBee Manager and its electronic collections and payment solution UpperBee Pay, the team looks forward to meeting you.
The UpperBee team will be in Texas May 17-20 to meet with real estate and property management professionals, attend conferences, and training and networking sessions.
We are looking forward to catching up with industry colleagues, industry experts and meeting new people.
Following our recent trip to Florida, this will be another opportunity to exchange and share UpperBee's recognized expertise in innovative accounting and property management technology solutions.
Particularly attentive to the demands of its clients, UpperBee is already making a difference in the digitization of real estate in North America and is the most powerful suite of accounting and property management software, specializing in the management of properties of all sizes.
As an expert and leader, UpperBee is constantly innovating to provide integrated, collaborative, and accessible solutions in a single platform, tailored to the needs of our clients, real estate professionals, and the changing real estate market.
Our cutting-edge software suite is clearly part of the digital shift in real estate with its enhanced and innovative functionality.
UpperBee evolves to continuously meet the highest standards of quality and security in technology, and more new features will continue to be released in the days to come…
A good reason to meet the team at this event!
Want to know more?
Mark Bush, Vice President of Business Development, will be on hand to get to know you and share ideas.
We are happy to participate, so please send us a message to set up a meeting.
All information about the event can be found here: https://www.caionline.org/Events/2023Conference/Pages/default.aspx
---
Comments
---
Do you like this news?
Don't hesitate to share it!