What to look for in a condo management software?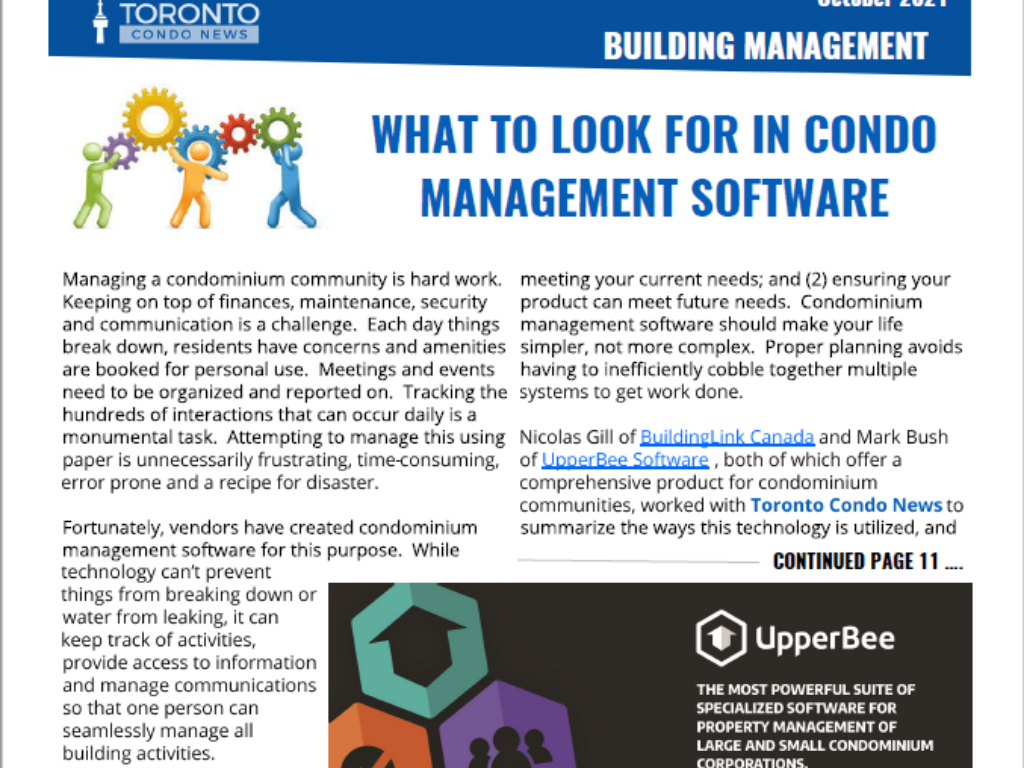 14 October 2021 | property manager, software |
Managing a condo community is hard work. Keeping on top of finances, maintenance, security, and communication is a challenge. Each day things break down, residents have concerns and amenities are booked for personal use. Meetings and events need to be organized and reported on. Tracking the hundreds of interactions that can occur daily is a monumental task.
Attempting to manage this using paper is unnecessarily frustrating, time-consuming, error prone and a recipe for disaster.
Fortunately, vendors have created condo management software for this purpose.  While technology cannot prevent things from breaking down or water from leaking, it can keep track of activities, provide access to information, manage communications, and help you organize and manage your workflow so that one person can seamlessly manage all building activities.
Condominium management software is an economical, efficient, and practical solution allowing complete management of all activities occurring in a condo community, simplifying communications, tracking, and organizing everything that needs to be done each day.
But which software to choose?
The two most important things to consider for evaluating condo management software are: does it satisfy all your needs; and will it grow with you.  If not, then you run the risk of having to cobble together multiple systems to get your work done that, by definition, is not the most efficient way to operate – remember condo management software should make your life simpler, not more complex.
Nicolas Gill of BuildingLink Canada and Mark Bush of UpperBee, both of which offer a comprehensive product for condominium communities, worked with Toronto Condo News to summarize the ways this technology is utilized, and what you should look for in terms of comprehensive functionality of an integrated system.
To read:
This excellent article from the Toronto Condo News on what to look for in a condo management software [see page 10 https://bit.ly/2ZFcEgi] or download the pdf file.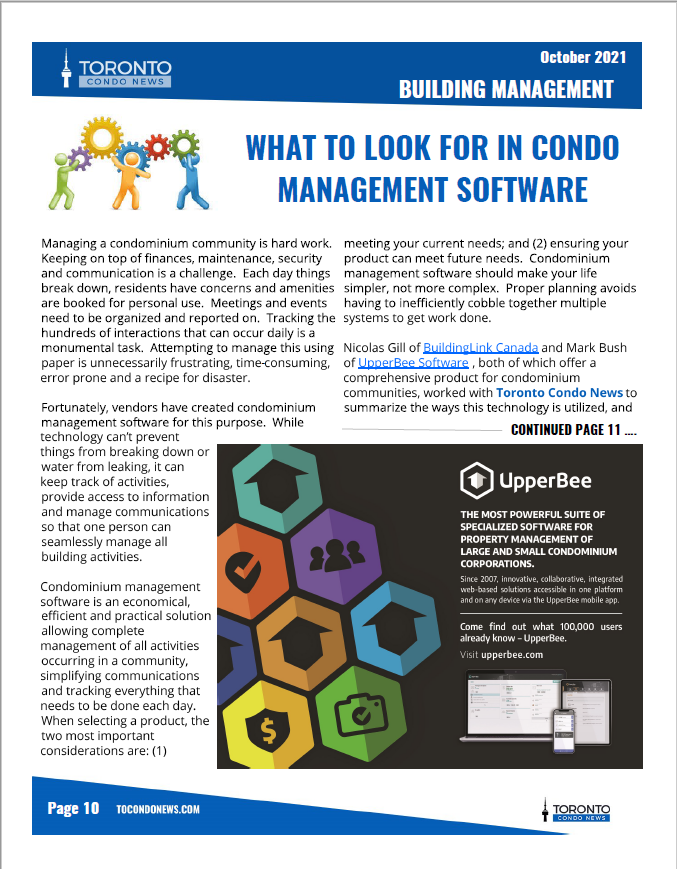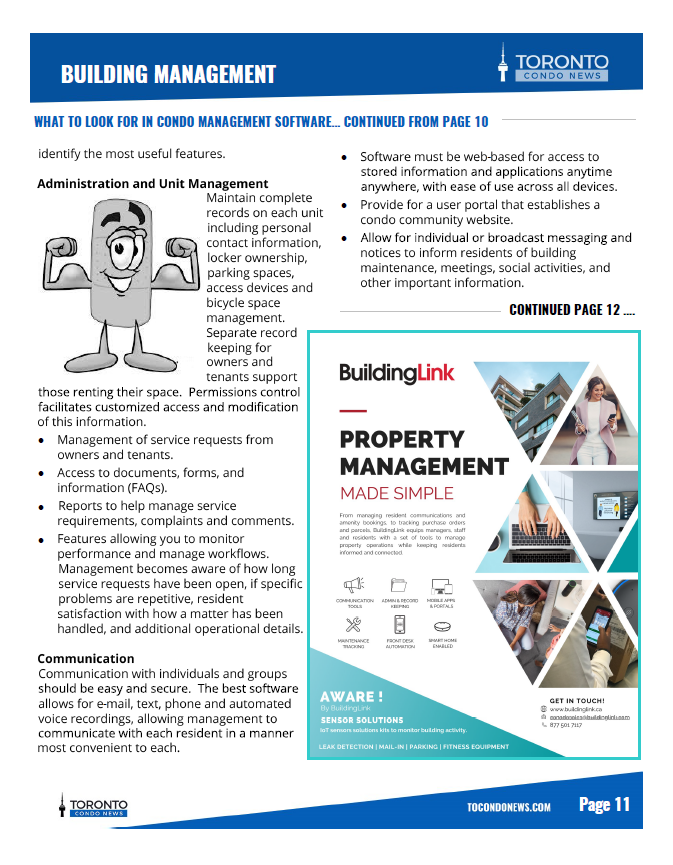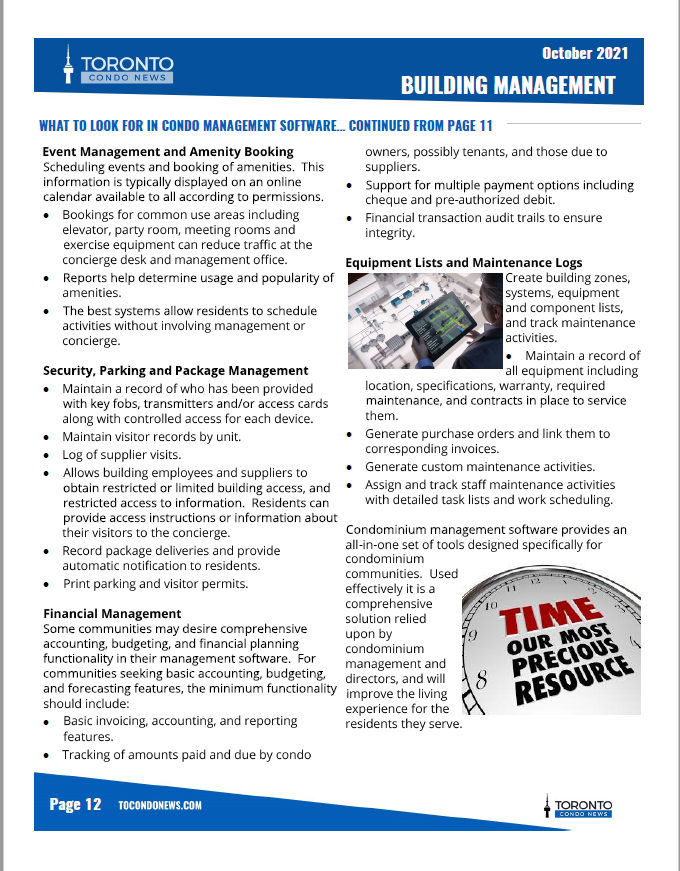 Schedule your demo now to learn more about the features and benefits of using UpperBee Condo for your property management.
The UpperBee team will be happy to set up a personalized demo based on your needs.
---
Comments
---
Do you like this news?
Don't hesitate to share it!