Wilkar wins the management of Cité Midtown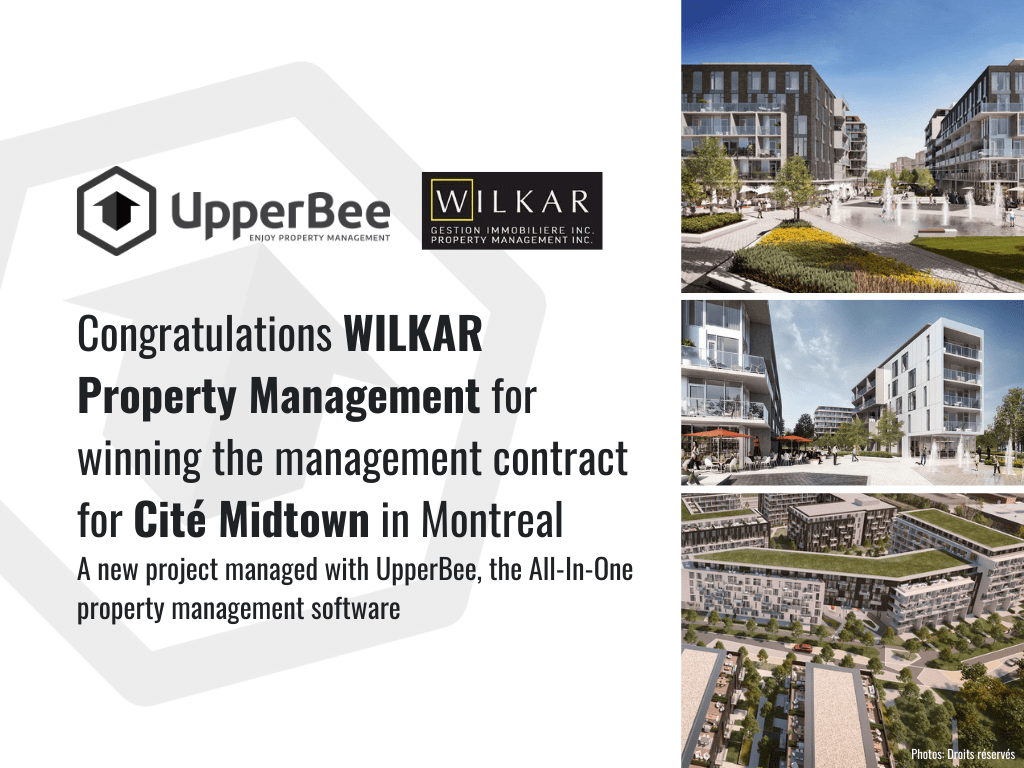 22 March 2022 | property manager, Resident | Condo, Manager
UpperBee congratulates Wilkar Property Management on securing the management of Cité Midtown, a major project of approximately 700 condominiums and 90 townhouses that will be managed with UpperBee, the only all-in-one property management software.
Wilkar offers a full range of property management services and specializes in the management of luxury condominiums in the Montreal area and offers personalized service.
Wilkar has a team of experienced and dedicated property management professionals who can manage both large and smallest properties.
Cité Midtown is located in Montreal, in the Saint-Laurent borough to the north and close to Royalmount at the south, a new commercial and cultural crossroads, located northwest of the intersection of highways 15 and 40, less than a 10 minute walk from the Collège metro station and a 10-minute drive from Montreal Trudeau airport.
It will be one of the first LEED AQ* neighbourhoods in Quebec with safe lanes for pedestrians and cyclists that connect the metro station to the project. Residents of Cité Midtown will benefit from an extensive network of public and green spaces, publicly accessible walking trails, a pedestrian plaza with access to services and amenities, a new large public park and numerous landscaping. The "shared street" running through the neighborhood was designed to allow for safe traffic and various activities. The project was also designed to be energy and water efficient. Cité Midtown will ultimately have about 700 condominiums in 4 buildings of 6 to 10 floors and 90 townhouses, various shops and amenities around a central square, an urban park of nearly one hectare, 6 groves of "edible landscape" and an outdoor swimming pool.
This project is carried out by Urban Capital. It will include all amenities: café, training and yoga room, recreation room with work areas and diverse tools, children's playroom, shared workspace with workstations, kitchenette and private meeting room, outdoor pool, a deposit of tools to borrow (steam cleaner or ladder, etc.), cleaning stations for dogs…
Around Cité Midtown, there will be orchards of fruit trees and shrubs, herbs, medicinal plants, and perennials to eat, together composing an "edible landscape".
To manage Cité Midtown, Wilkar will rely on its property management teams, and on UpperBee's innovative technological solutions adapted to the management of today's condominiums.  
Congratulations to the entire Wilkar team for this great project!
* LEED AQ is an evaluation system developed by the United States Green Building Council (USGBC) that integrates the practices of "smart growth", "new urbanism" and green building. This exceeds the performance of each building and recognizes the sustainable development of exemplary projects by taking into account the location of the site, urban planning, and construction techniques. LEED AQ serves to broaden the scope of sustainable development by addressing elements of urban planning and urban design to promote sustainable neighbourhoods.
---
Comments
---
Do you like this news?
Don't hesitate to share it!