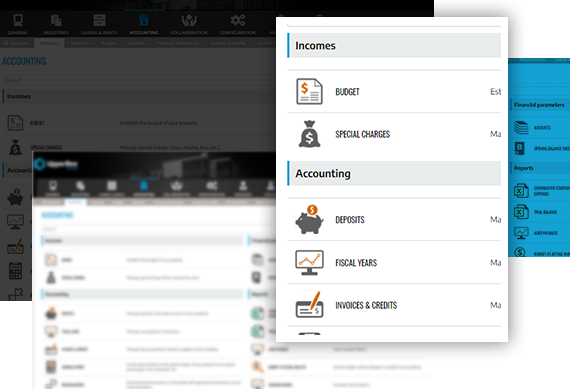 Fully featured accounting software
UpperBee includes traditional accounting features such as journal entries, bank reconciliations, accounts payable and receivable, financial statements, complete with a balance sheet, statement of earnings and accompanying notes. However, where UpperBee really shines is its specifically designed features for residential rental properties.
Manage your finances, assess and collect rents, pay bills, automatically invoice recurring charges, compare budget to actual results - And much, much more!
Invoicing and collection of rents
Bill your tenants and allocate these charges to their accounts automatically, according to the frequency specified in their lease. Automatically collect your rent or deposit checks using third-party integrated payment platforms.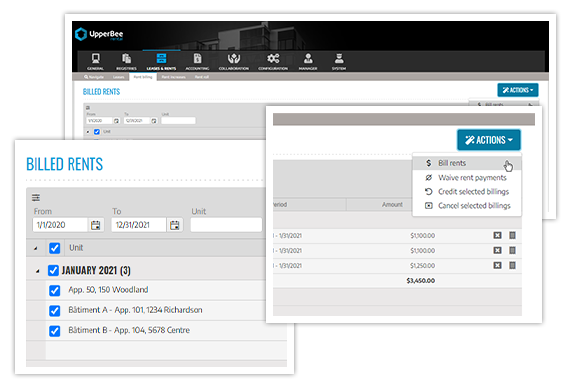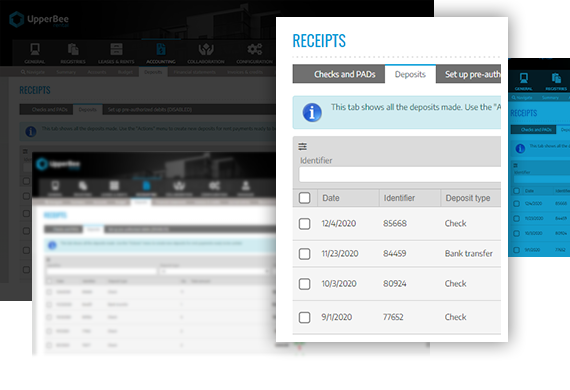 Rent deposits
Collect rent using UpperBee's 3rd party integrated pre-authorized debit features and let UpperBee automatically make all the required accounting entries for you.
Rent increase calculator
Do not leave money on the table. UpperBee Rental's rent increase calculator allows you to get the most out of your rental income and at the same time maximize the value of your properties.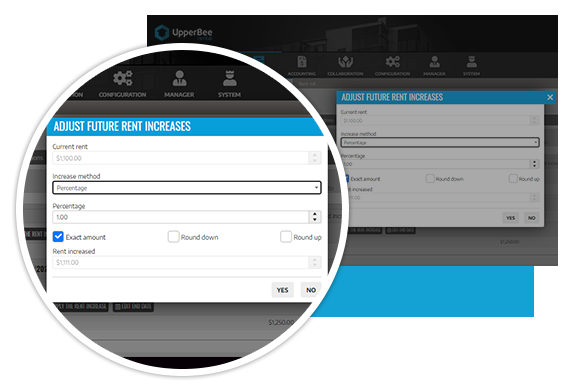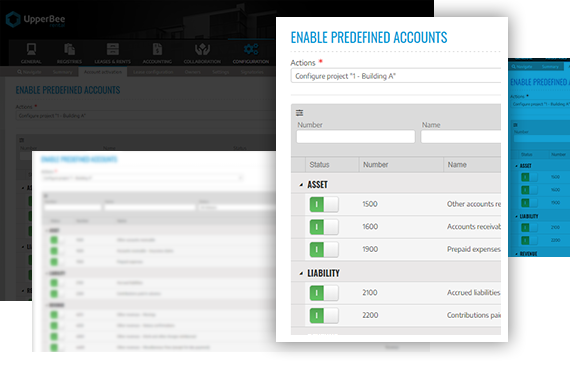 Customizable chart of accounts
You want more or less details? No problem, establish the chart of accounts that meets your needs. In addition, you can allocate to each of your accounts an IGRF code that allows you to quickly process your Canadian tax returns.
Invoices and credits
Go paperless - Keep all invoices and credit notes of your properties in electronic format for future reference.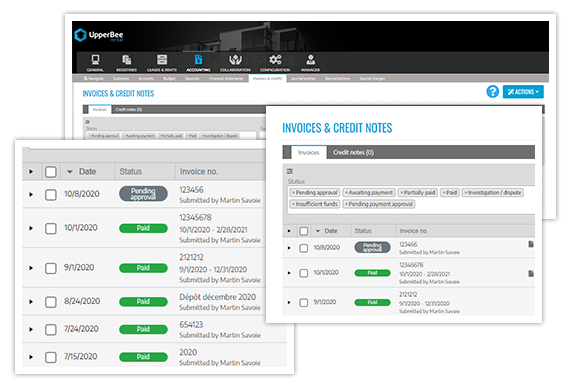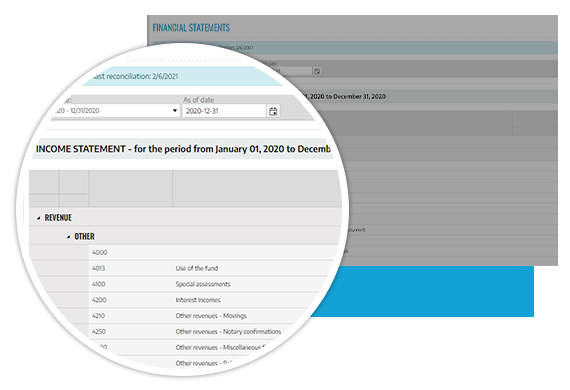 Customized financial statements
UpperBee Rental allows you to generate a complete set of financial statements that includes the balance sheet and income statement. Only the statement of financial position is not generated automatically. Group accounts automatically or create the chart of accounts that meets your needs, the flexibility of UpperBee's accounting tools make them adaptable to almost any situation.
Account grouping
Group similar revenue or expenses accounts in order to facilitate the analysis of the financial statements of your properties.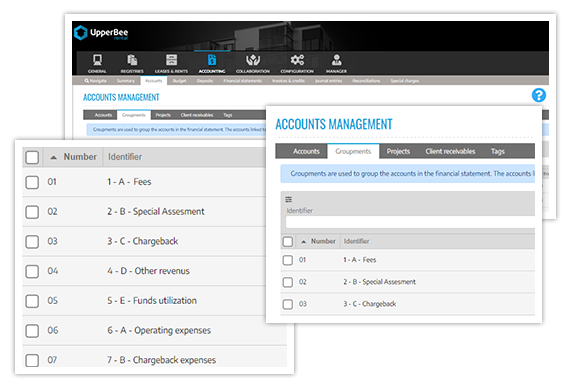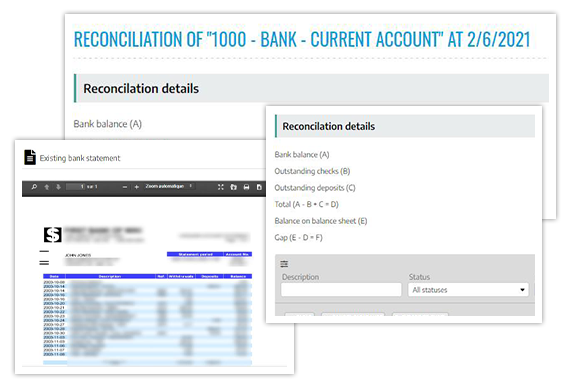 Bank reconciliations
Reconcile your accounts periodically to ensure the accuracy of your accounts.
Gain efficiency by switching to UpperBee Pay and simplify your bank reconciliations with automation!
Import your bank transactions in OFX (financial data interchange), QBO (Quickbooks®) or QFX (Quicken®) file formats and automate your bank reconciliations.
Special charges
Invoice special charges (fines, service fees, etc.) to one or more tenants from a predefined list, reducing both your processing time and the risk of errors.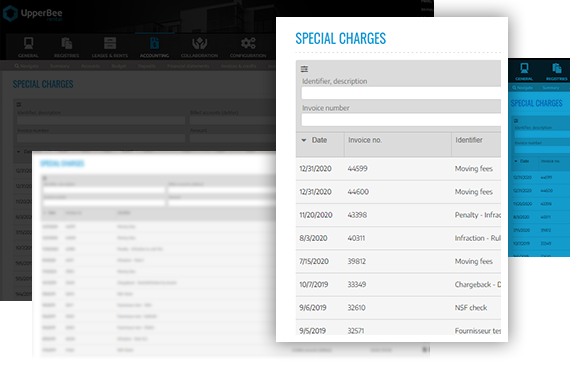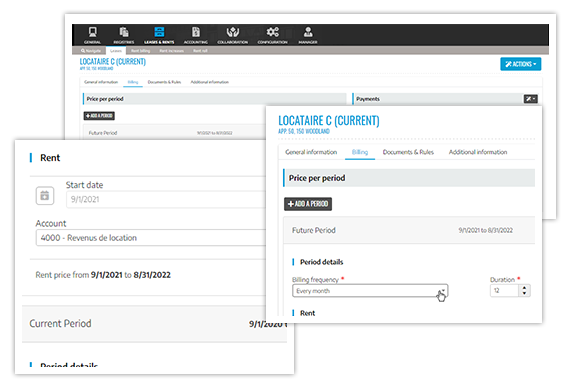 Recurring charges
UpperBee allows you to schedule charges outside a tenant lease to be billed at regular intervals (e.g., for cable access, etc.).
Payments & bills
Access your payment history and quickly view all your property's unpaid bills. Managers can grant access to the detailed statement of account of each tenant to their owners or investors. Each tenant can also access their statement of account. UpperBee can accommodate multiple sources of income other than standard rents - Finally, keep track of all your properties revenues using simple and intuitive tools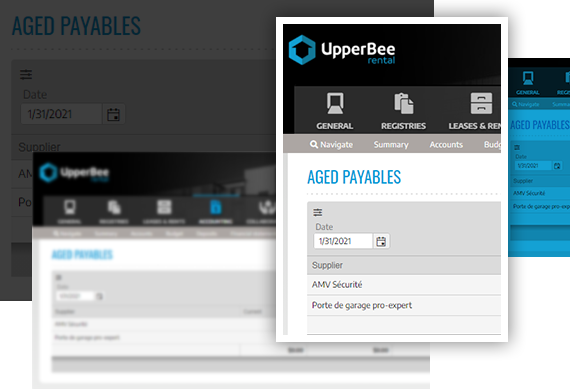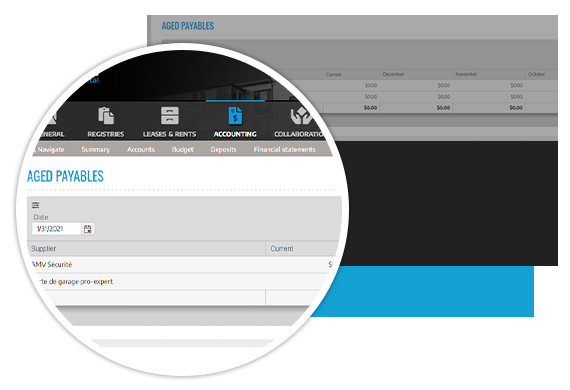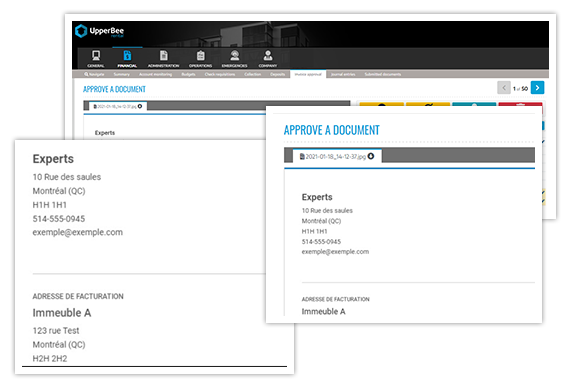 Paperless payment and approval process
UpperBee's paperless processes allow you to assign various task levels within your organisation to match the employee skillset with the task at hand. Such as: i) data entry by your accounting staff; ii) invoice review and approval by your building manager; iii) payment approval by your client; and iv) issuance of a cheques bearing electronic signature, etc.
Journal entries
Journal entries allow you to enter any transaction for which UpperBee does not offer an automated feature, so you are never left empty-handed. In addition, accrual reversals can be set to be automatic.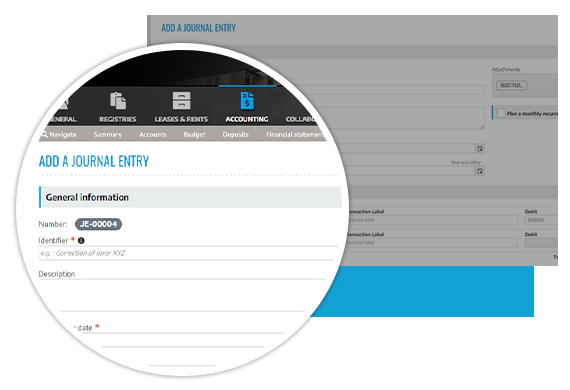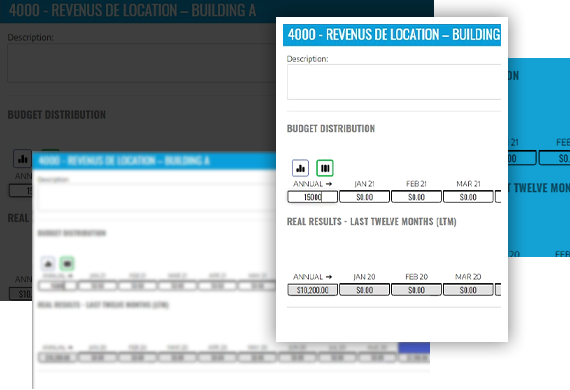 Budgets
Create annual and special budgets that include operating expenses and reserve funds, project contributions, and contributions to any number of personalized project funds. Enter your expenses directly or opt for an automatic periodic distribution of your expenses based on your past results. Reporting on the budget with UpperBee has never been easier.
Tax slips (Ontario in development)
Automatically generate tax forms such as Relevé 31, T776 and TP128 (available to users in the province of Quebec, Canada).
UpperBee is one of the software programs authorized by Revenu Québec for the production of statements 31 and their transmission via the Internet.