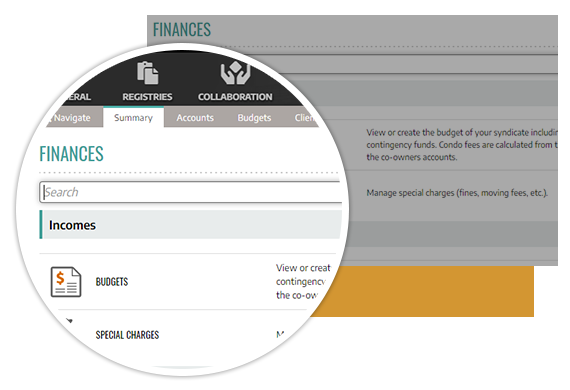 Fully featured accounting software
UpperBee includes fully featured accounting for your entire portfolio regardless of residential property type. Traditional functionality such as journal entries, bank reconciliations, accounts payable and receivable, financial statements, complete with a balance sheet, statement of earnings and accompanying notes. However, where UpperBee really shines is its specifically designed features for managing residential properties. Manage your finances, assess and collect rents, pay bills, automatically invoice recurring charges compare budget to actual results - And much, much more!
Automatic honoraries Payment
As a property manager you need to get paid - get paid faster with pre-authorised debit processing of your management invoices. UpperBee's integrated tools allow for set up your client accounts so that at time of billing the money is automatically taken. The same can be established for the collection of rents and condos fees for your clients.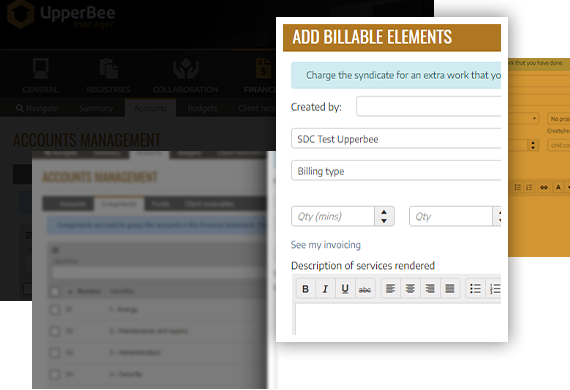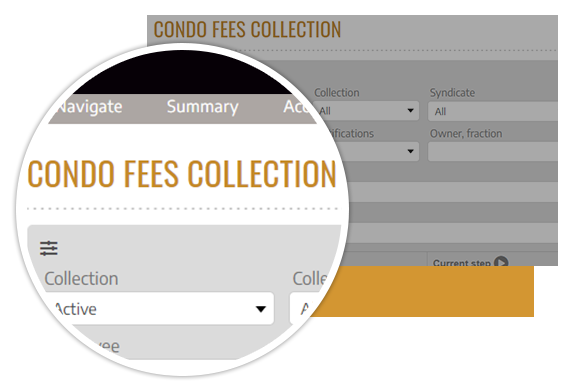 Invoicing and collection of rents and condo fees
Automatically bill your tenants, assess condo fees and allocate these charges to their accounts, according to the frequency specified in their lease or declaration of co-ownership. Automatically collect these payments or deposit checks using third-party integrated payment platforms.
Budgets
Create annual and special budgets that include operating expenses and reserve funds, project contributions, and contributions to any number of personalized project funds. Enter your expenses directly or opt for an automatic periodic distribution of your expenses based on your past results. Reporting on the budget with UpperBee has never been easier.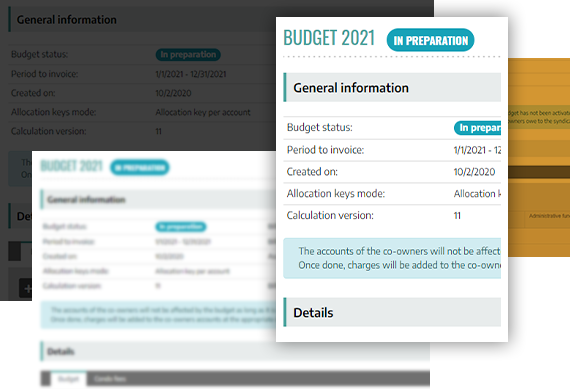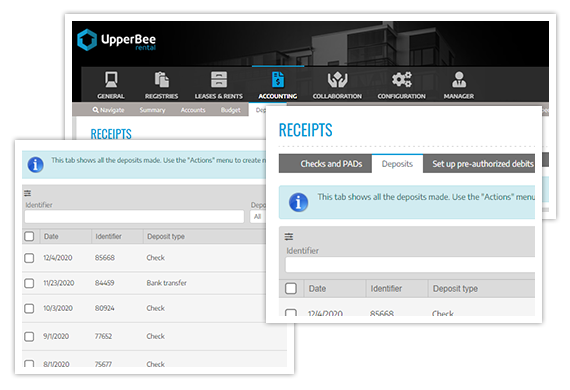 Rent & condo fee deposits
Collect rents and condo fees using UpperBee's 3rd party integrated pre-authorized debit features and let UpperBee automatically make all the required accounting entries for you.
Invoices and credits
Go paperless - Keep all invoices and credit notes for your properties in electronic format for future reference. Know in real time the volume of business achieved by each of your suppliers with your properties in order to maximize your discounts!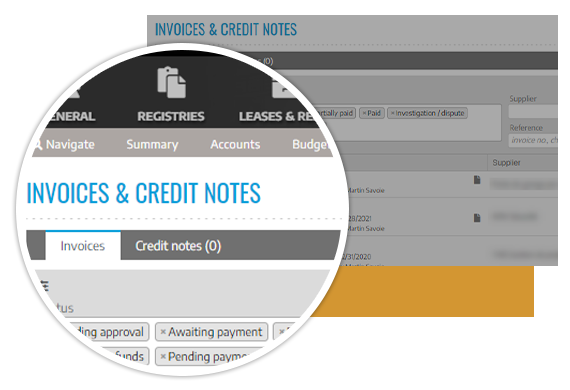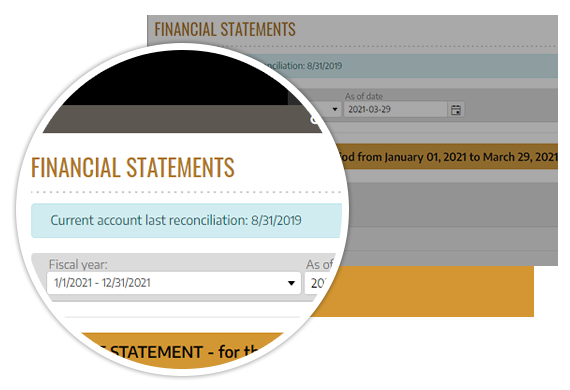 Customizable financial statements
Manager's accounting module allows you to define multiple financial statement formats to accommodate your differing requirements across your portfolio. Each property can have a financial state format that you require to track that asset. Paired with UpperBee's chart of account and account grouping feature you can tailor UpperBee to meet all your needs.
Customizable standard chart of accounts
You want more or less details, no problem, establish the chart of accounts that meets your company's needs, and reuse it in your various properties. In addition, you can allocate to each of your accounts an IGRF code that allows you to quickly process your Canadian tax returns.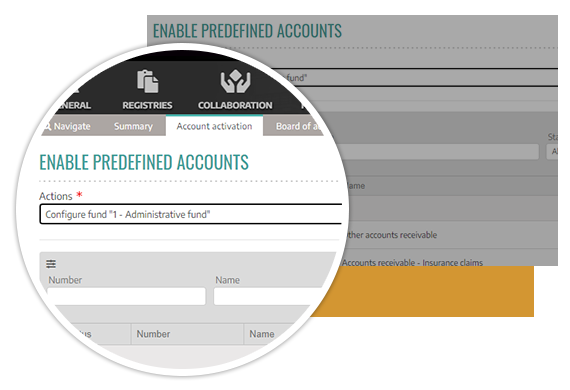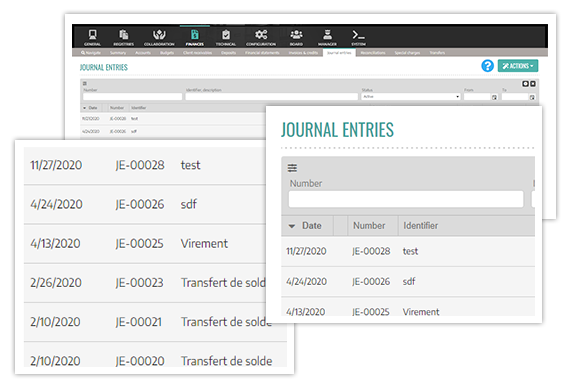 Journal entries
Journal entries allow you to enter any transaction for which UpperBee does not offer an automated feature, so you are never left empty-handed. In addition, accrual reversals can be set to be automatic.
Account reconciliations
Use Manager's upload facilities feed your banking information directly into the system. Reconciliations have never been easier, simply access the reconciliation module click of the transactions that have cleared the bank account and the system does the rest. Ensure the accuracy of your accounts and know the status of all of your properties bank accounts, all in one place.
Gain efficiency by switching to UpperBee Pay and simplify your bank reconciliations with automation!
Import your bank transactions in OFX (financial data interchange), QBO (Quickbooks®) or QFX (Quicken®) file formats and automate your bank reconciliations.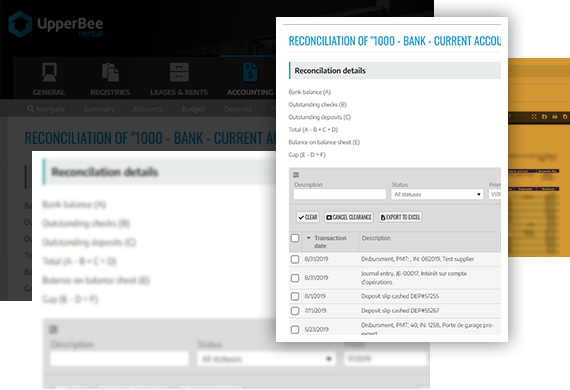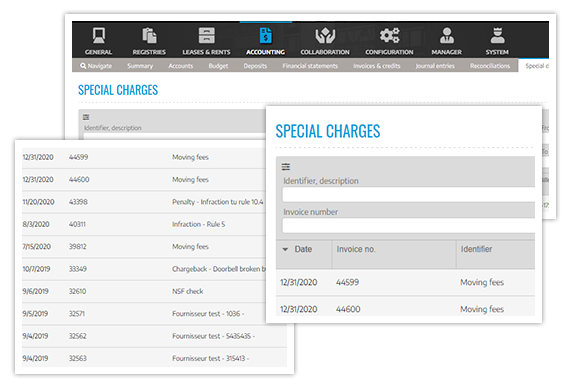 Special charges
Invoice special charges (fines, service fees, etc.) to one or more tenants from a predefined list, reducing both your processing time and the risk of errors. Process third party checks for insurance, supplier, owner and resident reimbursements. Just enter information directly from the check, select the appropriate accounts from drop-down menus and the system will automatically generate the required accounting entries.
Manage your receivables and payables
Manage all of your properties' account receivables and payables in a consolidated system that provides complete drill-down capability from the financial statement line item to the detailed account.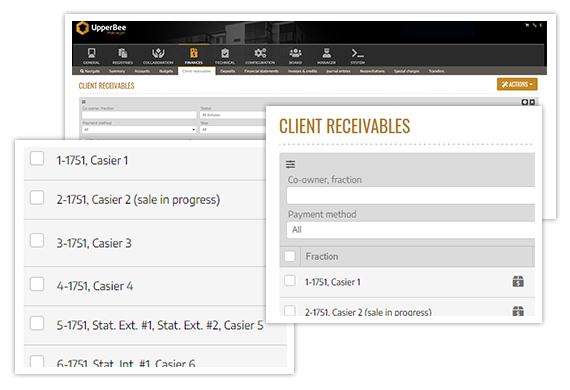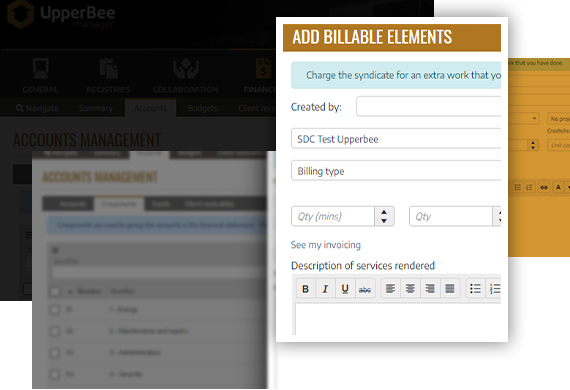 Time tracking and billing tools
As building management professionals, you need to keep track of your time and invoice all services rendered that are not included in your base contract. So, maximize your revenues with UpperBee integrated time tracking, work in progress (WIP) tracking and invoicing tools. Create billable projects and service requests, set standard billing rates, etc. Now you can seamlessly integrate your billing with your daily activities – Always get paid for the extra work you perform.
Track and invoice your consumables
Managing a building require more than your time. Ancillary items like printing, copying, mailing and postage add up and need to be invoiced to your clients. UpperBee has robust billing features that make it efficient to enter into the system these charge with pre-definable project and item codes and standard or variable pricing. Access through specific menu options or just click on the "$" Icon and you are ready to bill your incidentals.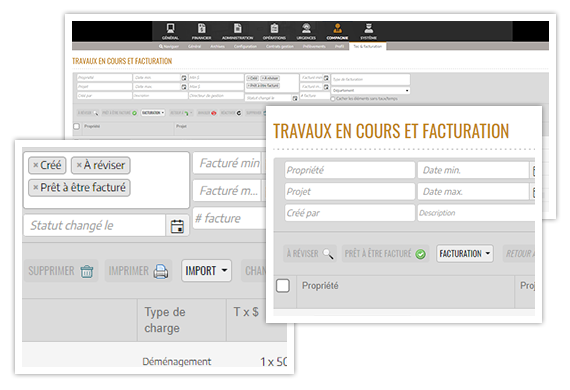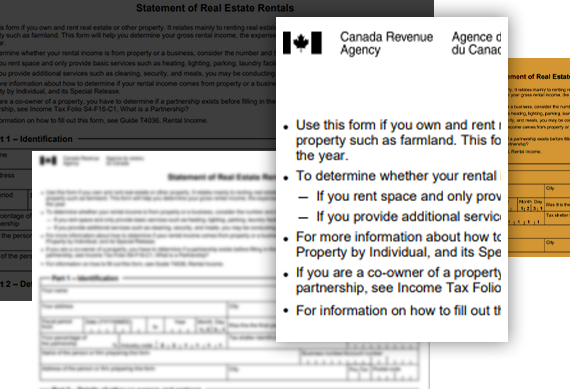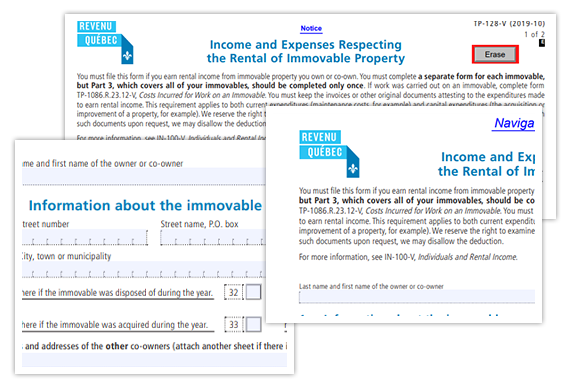 Tax slips
Automatically generate tax forms such as Relevé 31, T776 and TP128 (available to users in the province of Quebec, Canada).
UpperBee is one of the software programs authorized by Revenu Québec for the production of statements 31 and their transmission via the Internet.
Rent increase calculator
Don't leave money on the table. UpperBee Rental's rent increase calculator allows you to get the most out of your rental income and at the same time maximize the value of your properties.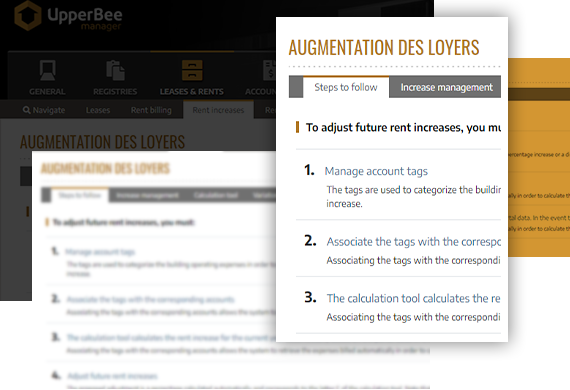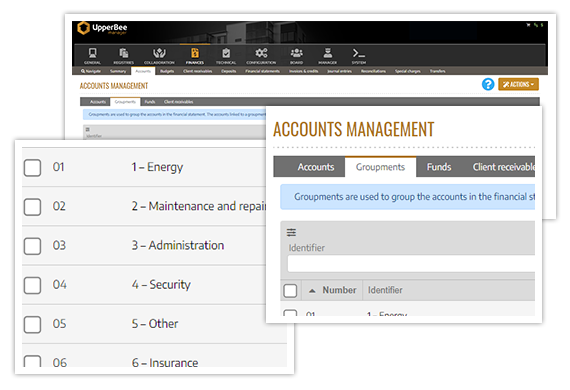 Account grouping
UpperBee allows the creation of a harmonized chart of accounts that includes account grouping. By creating a harmonized chart of accounts where similar revenue or expenses accounts are grouped, you standardize your financial statement presentation and increase their comparability.