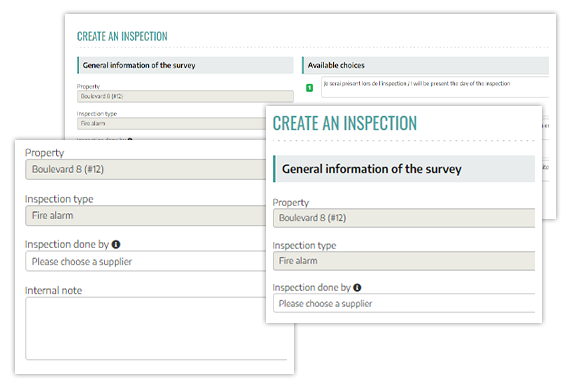 Manage access request for multiple units for periodic inspections
Anytime you need to coordinate an inspection of many or all of the units of a building (e.g.; fire alarm system inspection, etc.), you may find yourself spending a large amount of time obtaining access authorization from each individual unit owner or tenant. UpperBee's automated inspection tools lets you obtain these authorizations with just a few clicks.
Purchase orders
Stay in control of your spending. Constrain your staff to only buy from authorized suppliers. Link your purchase orders with your equipment, contracts or specific service requests in order to automatically link work orders and invoices to your maintenance log, and complete various reports and analyzes.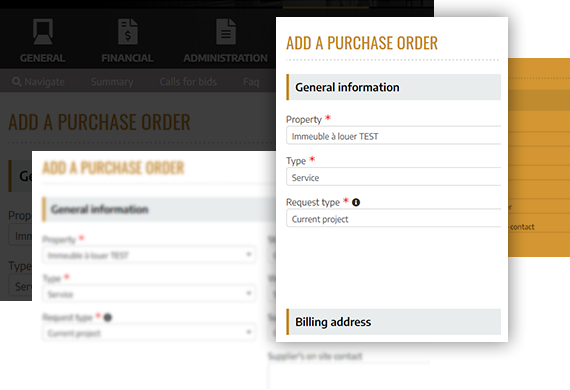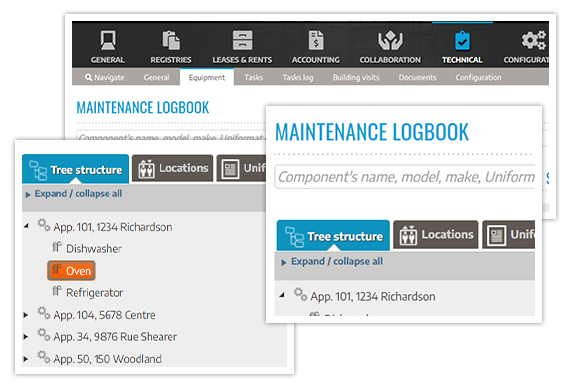 Equipment lists
We know that documenting a Computerized Maintenance Management System (CMMS) is no easy task. This is why UpperBee speeds up the integration of new properties by simplifying the equipment documentation process. Instead of completely documenting each piece of equipment found in a building at once, UpperBee includes an easy-to-use tool that allows you to configure and add required equipment according to its type (e.g., 2 elevators, 3 heat pumps, 1 outdoor swimming pool, etc.) by giving you the option of detailing them over time, without ever losing the advantages that arise from the use of the CMMS, which includes, among other things, the creation of equipment lists, systems, maintenance schedules, and being able to link your equipment to contracts, purchase orders, work orders, invoices, and more. Documenting large properties while managing them has never been easier.
Appliance and furniture lists
When renting furnished or partially furnished apartments, it is always a good idea to take an inventory of your furniture before the tenant occupies it. If you do not, you risk a tenant moving out and leaving you with different appliances or furnishings or worse yet without any appliances or furnishings at all. Unfortunately, these sad situations are all too common, leave you with expensive replacement bills and very little chance of getting your money back. For this reason, we designed into UpperBee the capability to create an inventory list specific to each of your apartments, complete with device models, serial numbers and photos. You can also document the condition, quantity and types of furniture in the same way. Finally, UpperBee allows you to manage your inventory of appliances and replacement furniture, if necessary.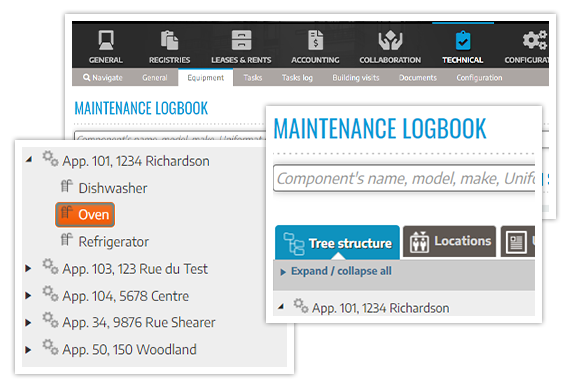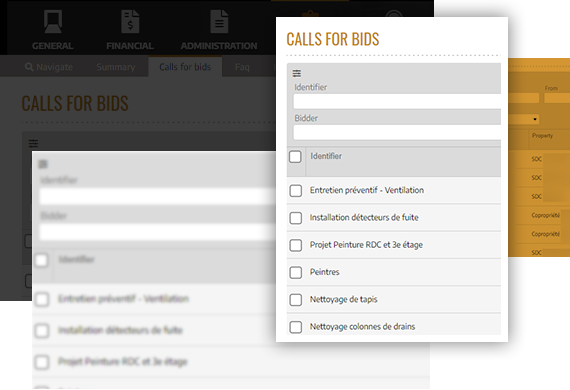 Request for proposal (RFP)
Calls for tender perfected! With UpperBee Managers call for bids module you define or attach your specifications, select suppliers you wish to bid through the supplier directory, or simply select a category and send the request to every supplier that performs that work, set start and stop date criteria and click on Save. The request and specifications are automatically sent to the selected suppliers via email with a link to UpperBee for them to ask questions via chat and post their submissions. System notices and reminders inform the manager of any questions or updates and when the biding has closed. With a push of a button Manager will create a comparative summary of the bids received for your analysis and decision. When the contract is awarded, the system will notify all losing suppliers and thank them for participating.
Parcel Management
Receive, inventory and inform residents by email or SMS that a parcel has arrived at the building for them and is awaiting their pickup at the front desk. Track parcel delivery and maintain a log for future reference. Also, UpperBee seamlessly integrates with 3rd party smart locker systems and allows for the secure delivery of parcels when a building does not have the staff required to handle parcel deliveries.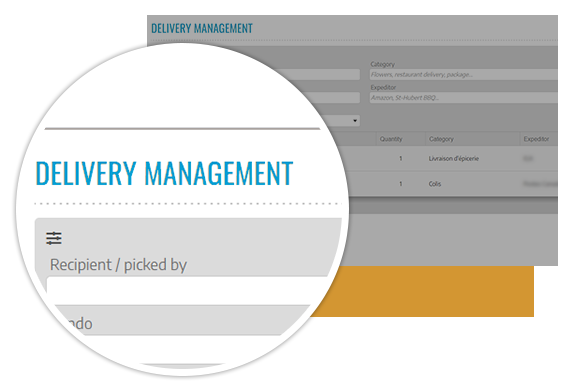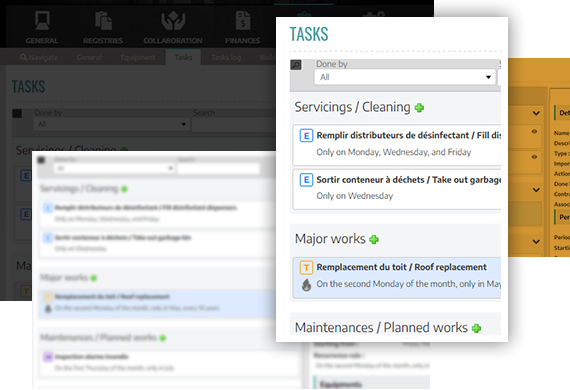 Recurring or periodic tasks
Manage your risks. Schedule and assign maintenance or regulatory compliance tasks to members of your team, including janitors, maintenance staff, building mechanics, managers, etc. and follow in real time the completion of assigned tasks.
Equipment locations
List the location of your buildings' equipment and engineering systems in UpperBee and access it anytime or place via UpperBee's mobile App. Problem with a building MUA (Make-Up Air) unit: Is it on the roof, the garage, or an outbuilding? With UpperBee's mobile App these answers are always at your fingertips.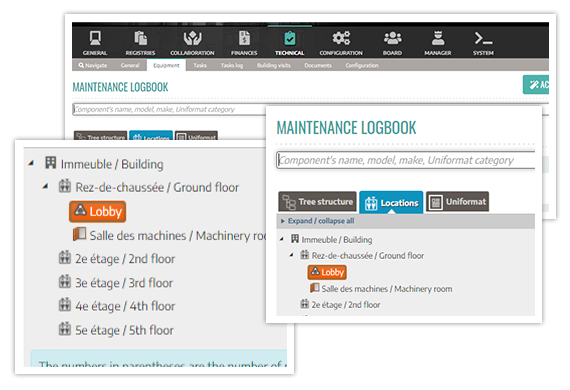 NFC tag and barcode integration
UpperBee Manager's automated time sheets, employee task assignment and time tracking features integrate with NFC tag technology to reduce data entry and effectively update work activity status. Gone are the days of filling out employee time cards or requiring an additional system to track time and ensure work is done. With a simple swipe of a smart phone the system knows, and now you do to, that employees have arrived, and work has been completed. Barcode functionality can also be used in place of NFC tags.
Timestamps
Track employee time: yours, your suppliers, etc. Set alarms to inform you of absences, late arrivals or when someone fails to scan "in" at the required time. UpperBee leverages NFC technology and lets you place NFC tags in your clients' properties. By using web enabled mobile phones (AndroidTM or iPhoneTM) with NFC capabilities, all onsite personnel can scan "in" and "out" of buildings.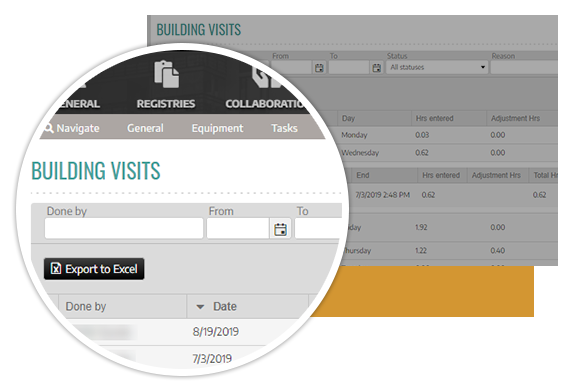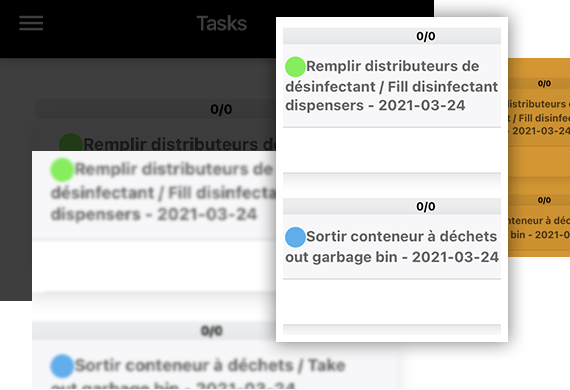 Assign Employee Task List
Manage your distributed work force of suppliers, employees, doorpersons and cleaners by establishing work schedules and task plans. Access, assign and monitor completion of these tasks. Received automatic updates using NFC technology integrated with your employee's smart phones. At the office or on the go with the mobile App.
Building maintenance logs
UpperBee simplifies the process to create an equipment list, track modifications, link purchase orders, work orders, invoices and warranty information, and set periodic maintenance reminders.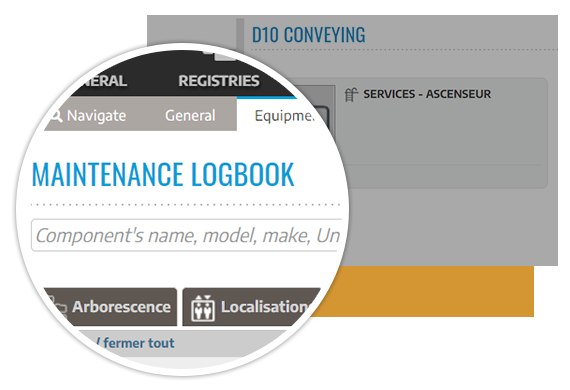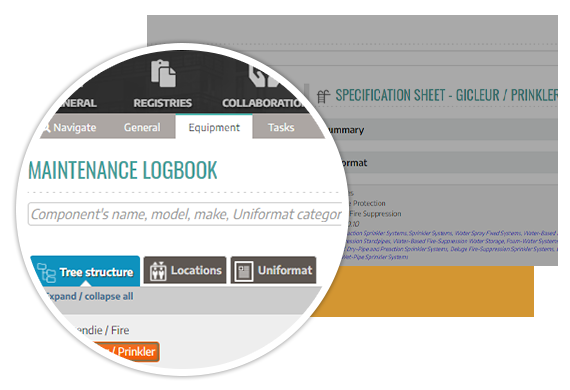 Manage Physical Inventories
When renting furnished or partially furnished apartments, take inventory of furniture and appliances to ensure nothing goes missing when your tenant moves out. With UpperBee Rental it is easy to create an inventory list specific to each of your apartments, complete with device models, serial numbers and photos. in addition, you can document the condition, quantity and types in the same way.
Automated Time Sheets
Using NFC or Barcode technology to track employee activity, UpperBee can produce automated timesheets that can be used for management, oversite, and payroll entry purposes.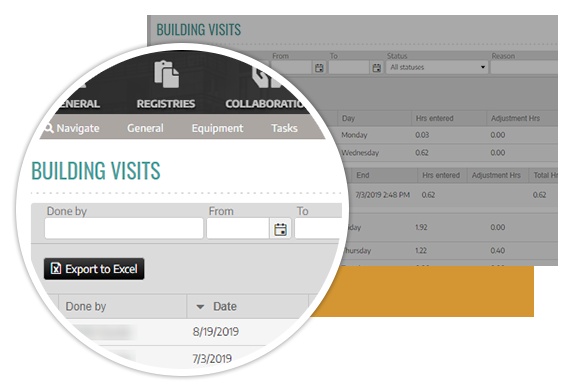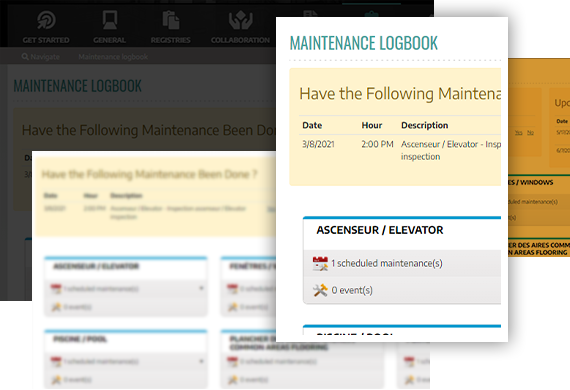 Basic Maintenance Log
Your building is smaller, and you do not need all the bells and whistles of a fully featured Computerized Maintenance Management System (CMMS), don't worry we got you covered. UpperBee Rental's basic maintenance log is tailor-made to meet the needs of small properties. Just add your equipment, required maintenance and record when maintenance activities are performed, it's that easy. Furthermore, UpperBee's maintenance log is optional, and not required to manage a building, so you can completely omit these steps and UpperBee won't mind!