A look at three renowned real estate projects recently delivered with the UpperBee inspection tool Track&Fix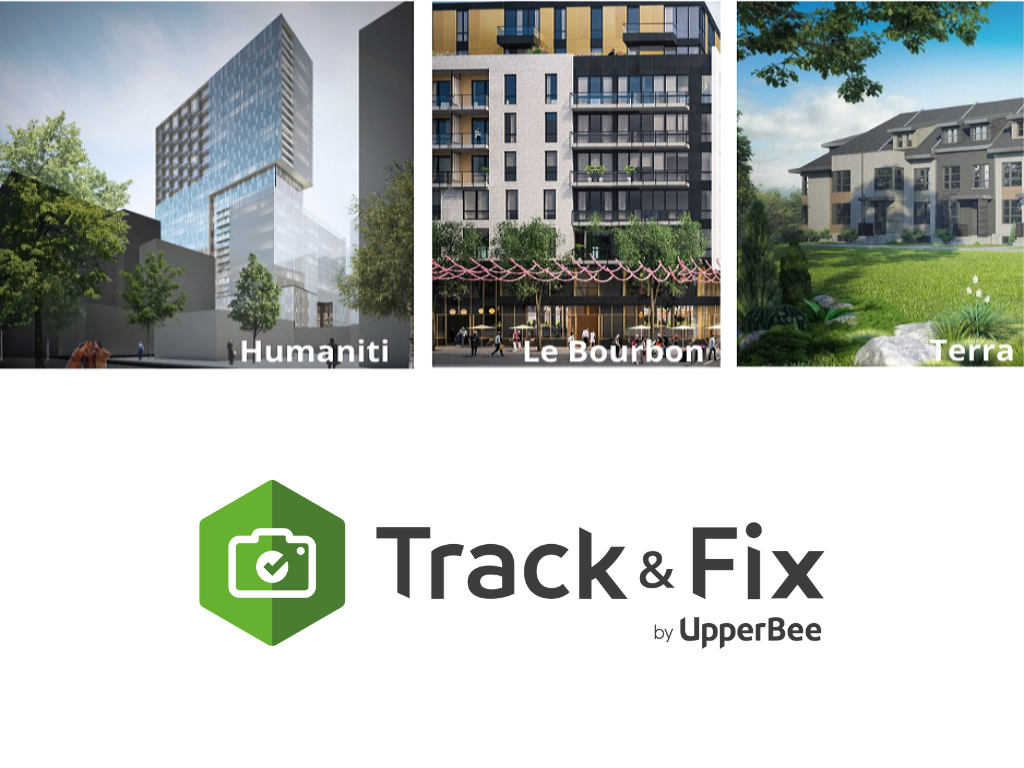 18 February 2021 | Property management, Track and Fix
It is the beginning of the year, and despite the unprecedented context of the pandemic, real estate project deliveries have resumed their pace, allowing the welcoming of new residents. The UpperBee Track&Fix team assists renowned developers in the delivery of three major projects: Terra (Broccolini), Le Bourbon (MTL Development) and Humaniti (Cogir) who are delivering their projects with the Track&Fix inspection service.
 
Our scope of intervention? And why chose UpperBee's Track&Fix?
Work deliveries and often stressful as this step is not to be neglected in any real estate project. The Track&Fix real estate inspection, inventory of fixtures and tracking software allows for a rigorous follow-up of the problems to be solved.
It allows you to have control over your management operations and improve communication between stakeholders to accelerate corrective measures and ensure costumer satisfaction.
On-site inspections are simpler and easier to complete. No more inspection list printed since everything is on your mobile device. During the inspection, everything is made with the Track&Fix app: picture, annotations, comments, signatures! Once the visit completed, the inspection report and official documents are automatically forwarded to the clients and designated recipients (general contract, notary, warranty plan, etc.).
The deficiency lists and inspection reports will be available instantly for your team and service call resolutions can begin immediately.
Your subcontractors will now have access to their task list in real time. They will be able to indicate when the work is due, generate purchase orders, enter notes or comments, and let you know when the work is completed.
Track&Fix does not only allow to identify items to be corrected; the application also allows you to identify that an area was inspected, and nothing needs to be corrected.
This ensures your protection in case of future problems and avoids any possibility of ambiguity with the customer if the relationship with them deteriorates. You are therefore better protected by using our real estate inspection tool.
Here are the three real estate projects: Terra (Broccolini), Le Bourbon (MTL Development), Humaniti (Cogir); delivered recently with the expertise of the Track&Fix team and software!
Terra project at Sainte-Anne-de-Bellevue by Broccolini  
This is a residential real estate project from the Developer Broccolini, currently under development, in the West Island of Montreal in Sainte-Anne-de-Bellevue.
Terra is a multi-phase, environmentally friendly, residential project that will include a total of 130 high-end townhouses held in divided co-ownership.
The project is ideally located a few minutes from services and businesses on the main principal arterial of Sainte-Anne-de-Bellevue as well as the soon to be REM station.
The project is located near to a close forest eco-territory of over 245 hectares with vast expanses of natural woodland that will be preserved and that surrounds and meanders through the neighbourhood.
Le Bourbon is a nine-storey luxury residential towed, built by MTL Development, comprised of approximately 100 units, indoor parking, electric vehicle charging stations, a rooftop pool and a private gym. It is located in the heart of Montreal's downtown at 1570 Sainte-Catherine East, in the Village, in the middle of the activities. In the summer, the street is converted into a pedestrian-only lane and becomes the main artery for activities around festivals, fireworks and nightclubs.
The building offers over 11,000 square feet of commercial space on the first floor. it is located near Beaudry, Papineau and Berri-UQAM metro station. Car-sharing vehicles will be housed in the garage and available to residents. The Bourbon overlooks a protected park.
Humaniti, the first "evolved vertical communityTM" is a high-end project with a bold and particularly distinctive architectural concept developed by COGIR. 
This mix project includes 151 condominium, 314 rental apartments, an hotel, two restaurants, a gym, two rooftop pools, two SkyLounges, a green roof, an office building and commercial spaces. Humaniti is a LEED project, with shared electric vehicles and bicycles, simplified recycling, and intelligent environment with an exclusive mobile application for occupants, home automation, remote management of heating and air conditioning system, etc.
A concierge service offers residents a wide range of benefits: door delivery of meals, swimming pools and relaxation spa, housekeeping or valet service.
Humaniti is located in the heart of the "Quartier international de Montréal", near the "Quartier des spectacles".
Track&Fix is proving to be an indispensable inspection tool for construction: for real estate developers, general contractors, home builders, site superintendents, project managers, and also property management to accompany real estate owners, property managers, real estate brokers, and rental agent, in all their projects.
To find out more, one of our specialists can give you a personalized demonstration according to your nears. You can plan your demo by clicking here or start a free trial period of 14 days here: https://app.trackandfix.com/account/register. 
---
Comments
---
Like this article?
Don't hesitate to share it!