Pur Immobilia wins 4 Grands Prix du Design for the Condos Market project in Laval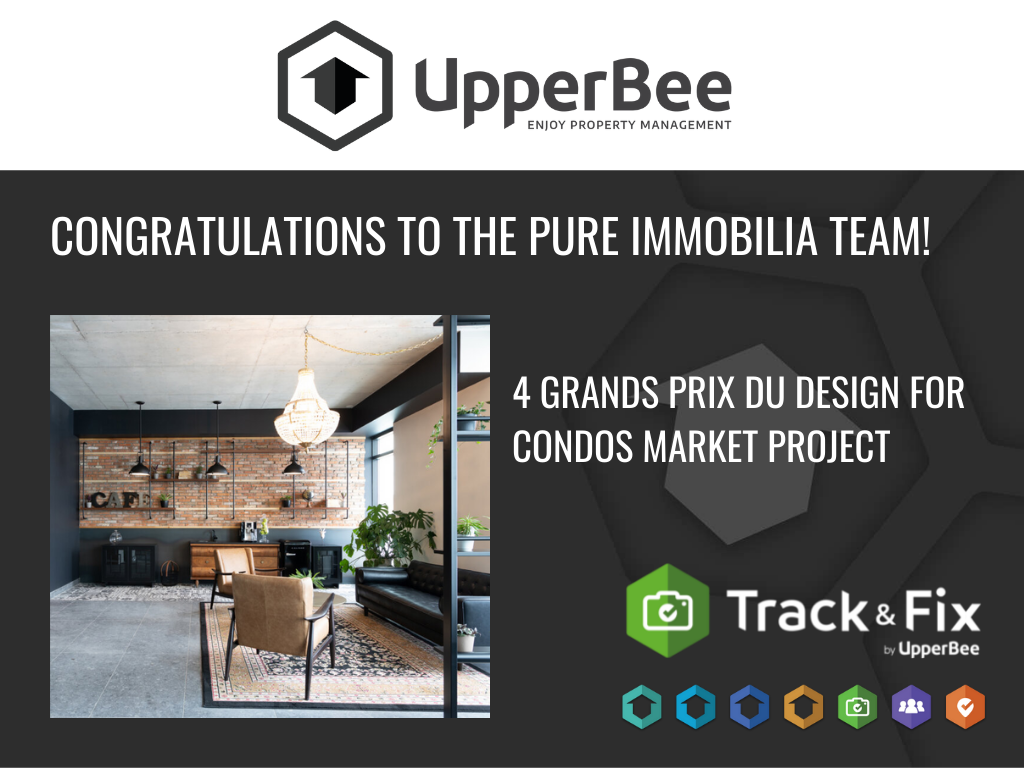 23 August 2021 | Inspection | Track and Fix
Congratulations to the Pur Immobilia team for winning 4 Grands Prix du Design for the Market Condos project in Laval!
Pur Immobilia receives 4 Grands Prix du Design for the Market project:
> Common Area: Silver Winner
> Interior Design Concept: Gold Award
> Residence / Residential Space: Gold Award
> Residence / High rise project – common area: Gold Award
The Track&Fix team is proud to accompany Pur Immobilia inc. in this real estate project of condos and rental housing with its innovative inspection application.
Thank you to the entire team for your trust!
A Montreal-based company founded in 2008, PUR IMMOBILIA specializes in the revitalization and development of important strategic sites.
The Condos Market project includes 436 rental units and 210 condos. It is located on the edge of Saint-Elzéar Boulevard, a few steps from Marché 440 in Laval.
This project focuses on human comfort and offers quality spaces designed for its residents.
It was designed in an ecological, local and nature-oriented spirit, using noble materials. Natural light is predominant in the common spaces.
The rooftop features an urban chalet, a large terrace with a swim spa, fireplaces, BBQ areas, pergolas and greenery offering unobstructed views. The lobby is spacious like a hotel with a coffee area exclusive to residents. The project offers many amenities: fully equipped workout room, 3 indoor lounge areas with fireplaces, billiard room, an indoor courtyard with a water feature, a conference room, an indoor pool and a package room.
---
Comments
---
Do you like this news?
Don't hesitate to share it!