The UpperBee Residents Mobile App gets a makeover! Here is your property's 24/7 virtual concierge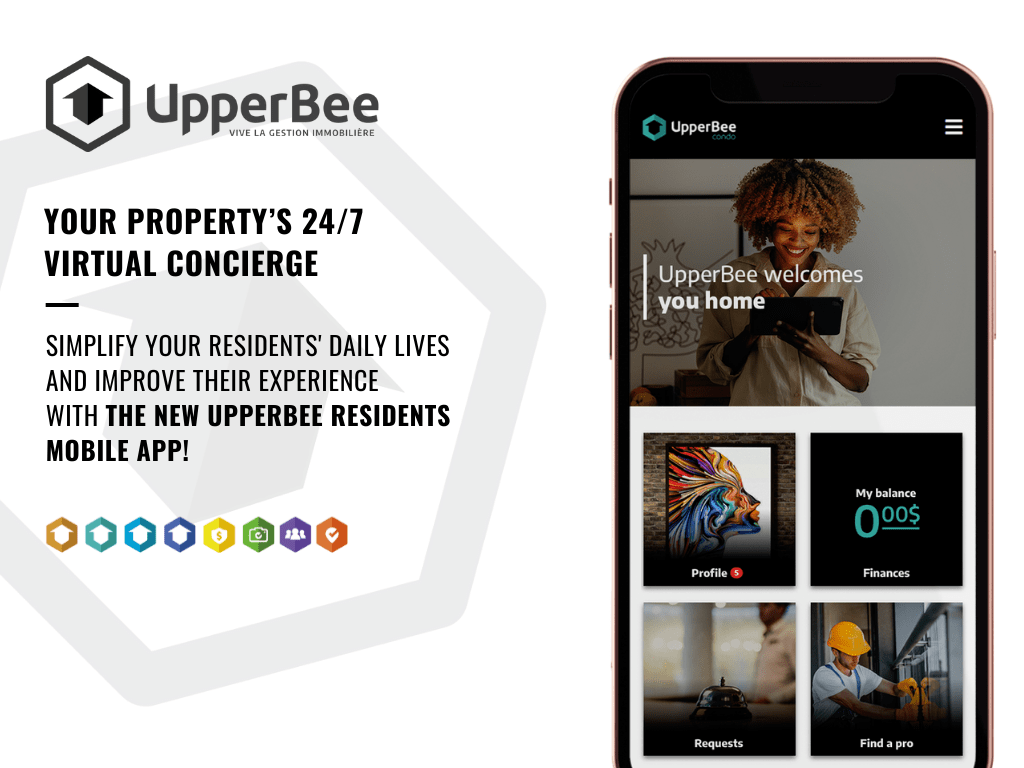 28 July 2022 | living environments, Milieux de vies, property manager, Resident, Résidents, Société de gestion immobilière | Condo, Manager, Rental, UpperBee
We are excited to share with you the latest evolution of UpperBee's redesigned mobile app that is more user-friendly than ever.
Distinguish yourself by offering your residents access to a mobile app that they will no longer be able to do without. With its state-of-the-art interface, this revised and improved version of UpperBee's Mobile App allows residents to manage everything from their cell phone: book amenities, request services or track the delivery of a package, all in a few clicks. Not to mention, take advantage of the many promotional agreements for the benefit of your residents negotiated by UpperBee.
More than ever, UpperBee allows building managers to optimize communication with their residents; thanks to its platform that brings together all the necessary features and tools for living well in their building.
Learn more about how you can simplify your residents' daily lives and improve their experience.
Easy, centralized communication with your residents
As you know, communication with your residents is essential.
This new version of the UpperBee Residents Mobile App allows your residents to access the same information as before, but in an up-to-date visual environment where information has been reorganized and is now more easily accessible. The experience of your residents, whether they are tenants or owners, will is greatly improved and you will be able to benefit from more effective and efficient management of your buildings. Your time savings and the optimization of your management activities will contribute directly to the increase in your profitability.
With the UpperBee Residents Mobile App, residents will be able to directly access the essential information of their building at a glance:
All the information is gathered in one place, including: the details of the unit, the parking spaces, storage locker(s), entrance chips, regulations, the declaration of co-ownership, leases, etc.;
Each resident can update their profile, correspondence address, emergency contacts, vehicle information and insurance policy;
Easily communicate with their manager, owner or board of directors and access all the useful contacts of the building in one click;
Receive communications and important information: elevator breakdown, coordination of window washing, scheduled maintenance and repairs, opening of the pool, or to raise awareness among residents about the rules of life of the community;
Consult their statement of account, outstanding balance, pay their condominium fees or rents;
Consult availability on calendars and book the services and amenities offered by the building, common areas, reception room, gym, sauna, urban chalet, aqua fitness classes, etc…
Access all documents stored in the virtual library and made available to them by the manager, their owner, or the administrators of the co-ownership: invoices, purchase orders, offers, contracts, notices, letters, technical documents. They will access useful information about services, building equipment, such as user manuals for equipment, appliances, and systems in their home: how to program a thermostat, replace the battery of a smoke detector, use their washing machine and more;
Make requests for services, report a problem on the building or request various services such as: reprogramming of the intercom or access system, information concerning common expenses, report a violation of the building's by-laws, etc.;
Receive an email or text message (SMS) alert when they receive a package or an important message from the building guard, door attendants or security guards. Be notified and document who picked them up and keep an inventory of packages in stock;
FAQ: By making available to your residents the answers to the most frequently asked questions in the FAQ module you will save yourself work. Consulting them will allow them to get the important information to access services, understand the rules of the building and solve the little things that arise daily. They will be able to learn from other residents who have asked the question before them.
UpperBee allows you to easily centralize and optimize all the relevant information for sound property management. The UpperBee Residents Mobile App is an essential communication tool to keep your community informed and stay in control.
To simplify communication and improve your residents' living experience, encourage them to discover the UpperBee App for Residents and invite them to download it, it is free and accessible on both the App Store and Google Play.
» Here are the links to communicate to your residents:
Note: For managers, the older version of the App, which works in offline mode, remains for the exclusive use of managers and will be downloadable as "UpperBee Manager" from the App Store or Google Play Store.
---
Comments
---
Do you like this news?
Don't hesitate to share it!