Track&Fix by UpperBee is an excellent tool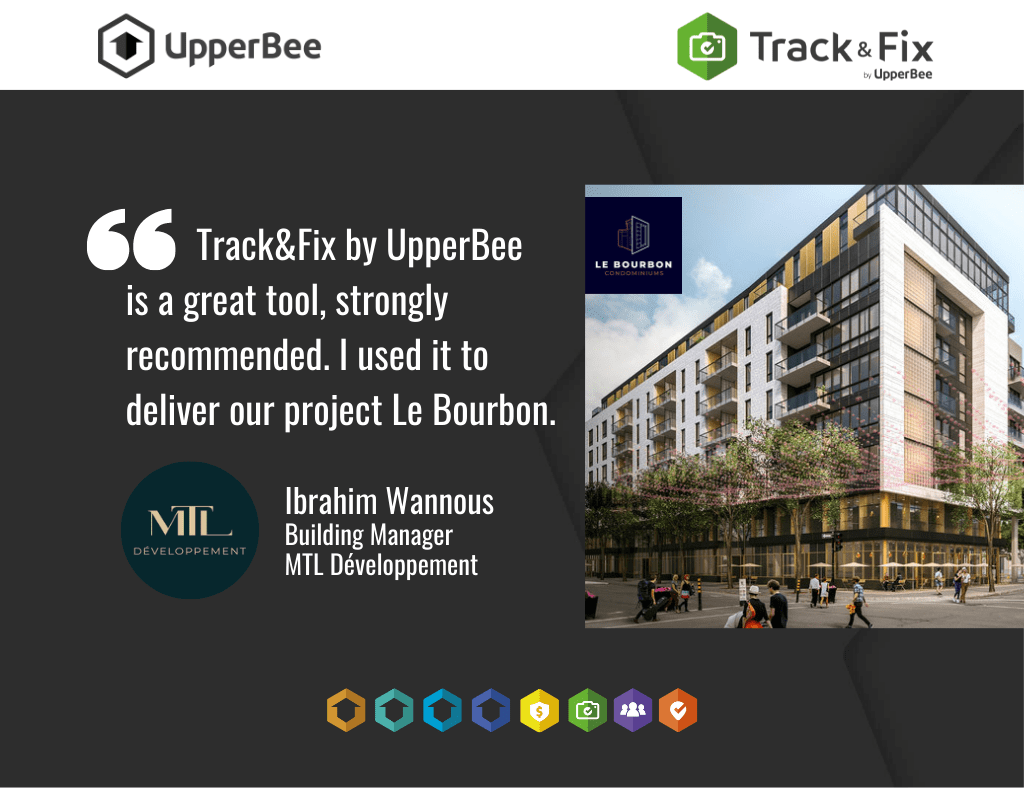 30 November 2021 | Inspection | Track and Fix
We gave the floor to the users of the UpperBee platform, and more particularly to the users of Track&Fix. Here is the feedback from MTL Développement.
MTL Développement chose Track&Fix by UpperBee to support them in their unit delivery activities of their latest major project Le Bourbon.
MTL Développement is a renowned real estate developer, based in Montreal and created in 2014. They engage in the construction and acquisition of residential projects in high-demand areas, mainly in downtown Montreal, and contribute to the creation of enriching living environments in attractive neighbourhoods:
"While respecting the highest ethical standards, our company aims to become a real estate leader in Montreal and Quebec. We are confident in the value we deliver through our superior products, contemporary concepts and state-of-the-art design, as well as our commitment to innovation, creativity, quality and service."
The team aims to become the best real estate developer in Canada, promoting high-end service to its customers, and has set itself apart by their four guiding principles of: "Innovation, creativity, quality and service that allows us to exceed expectations for our future projects."
The MTL Développement team chose the UpperBee platform and the Track&Fix tool to support it in the delivery of its latest project, Le Bourbon:
"Track & Fix by UpperBee is a great tool, strongly recommended. I used it to deliver our project Le Bourbon.
Ibrahim Wannous, Building Manager at MTL Développement."
Thank you to the entire MTL Développement team, we are proud to collaborate with you and support you in your projects!
Le Bourbon is a nine-story luxury residential tower comprising a hundred units, indoor parking, electric vehicle charging stations, community bikes, a rooftop pool, and a private gym. Le Bourbon is located in the heart of downtown Montreal at 1570 Sainte-Catherine Est, in the Village.
The building offers more than 11,000 square feet of commercial space on the ground floor. It is located near the Beaudry, Papineau and Berri-UQAM metro stations. Car-sharing vehicles will be housed in the garage and made available to residents. Le Bourbon overlooks a protected park.
Our scope of intervention? And why MTL Développement chose the Track&Fix solution by UpperBee
Site inspections and the receipt of work are steps that should not be overlooked and can be a source of stress or conflict.
Are you a real estate developer, general contractor, site superintendent or project manager? How to anticipate and better manage your pre-reception inspections, inventory, building visits and regulatory inspections?
Track&Fix  is a cutting-edge technological tool developed by UpperBee, which integrates with leading construction software. Designed to allow rigorous monitoring of construction deficiencies and problems to be solved, Track&Fix allows your employees to conduct professional and structured inspections directly on site using their mobile devices, with or without an Internet connection.
The inspection application for real estate integrates with leading construction software like Procore  and  BIM 360.
Track&Fix  advantages:
The mobile application offers your teams great flexibility and unparalleled speed of execution. No need to wait for the return to the office to ensure the entry of inspections on computer – everything can be done directly on the construction site via cell phones or tablets.
Inspections are simpler and easier than ever. No need to print inspection lists since all the information is in your mobile device. Photos, comments, and signatures are at your fingertips! Deficiency lists and inspection reports will be instantly accessible by your team and service call resolution can begin immediately.
Perfect for all in-process inspections
Track&Fix allows all types of inspection: end-of-stage inspection (foundations, electricity, etc.), periodic follow-up inspection, pre-acceptance or completion inspection, instant service call, etc.
The tool allows you to professionalize your condominium and new home pre-acceptance inspections, have better control of your management operations and improve communication between stakeholders. It should be noted that thanks to Track&Fix, the notary can also be automatically informed of these follow-ups, which also speeds up the legal process of the transaction. Corrective work is thus better planned, accelerated and you ensure the satisfaction of your customers.
To learn more about Track&Fix, the best tool to conduct your on-site inspections and improve your communications, visit our website. One of our specialists can organize a personalized demonstration according to your needs. You can  schedule your demo by clicking here.
---
Comments
---
Do you like this news?
Don't hesitate to share it!