UpperBee gets a makeover and launches new version of its resident portal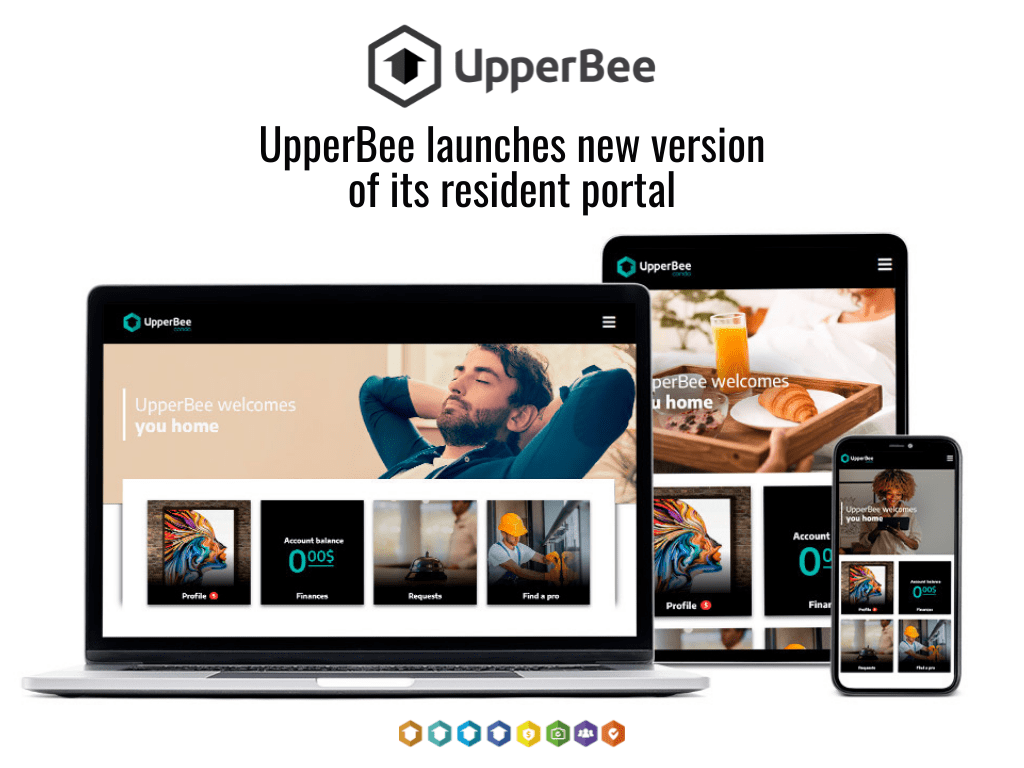 30 March 2022 | Gestion immobilière, logiciel, Proptech, Resident, Résidents, software | Condo, Manager, Pay, Rental
Always attentive to your requests and with the objective of making your life easier, the UpperBee software suite has recently been enriched with UpperBee Pay: The simple and integrated payment solution to accelerate the collection of rents and condo fees – Simplify the payment of your suppliers and other stakeholders.
We are pleased to share another evolution: a new more user-friendly web and mobile portal with a fresh design for all residents. This new portal allows your residents to access the same information as before, but in an updated visual environment where the information has been reorganized and is now more intuitive and easily accessible. The experience of your residents is improved, and you will be able to benefit from the more effective and efficient management of your buildings. Your time savings and the optimization of your management activities will contribute directly to an increase in your profitability.
As a manager, owner, or member of a board of directors of a syndicate of co-ownership, you will be able to choose and personalize the photos and messages of this new welcome. This will allow you to enhance your building, its common areas and its external environment.
Residents will be able to access the building's essential information directly at a glance:
Consult their balance, rent to pay, balance of condo fees awaiting payment…
Make reservations for common areas, gym, or reception room for example
Make requests for services
Consult all the documents of the building…
Now find a PRO with UpperBee!
Another novelty, residents, whether they are co-owners, owners, or tenants, can now access the list of all suppliers registered with UpperBee Experts and thus benefit from many special and exclusive offers reserved for UpperBee customers.
Indeed, resident now have access to the suppliers referenced in the UpperBee Experts network which has more than five thousand (5,000) suppliers, from window cleaners, to painting services, handyman, dog walkers, trainers or sports coaches, housekeeping staff and much more.
This will now make it easy for residents to find professional service providers by accessing UpperBee's local network of providers. It should be noted that this network is destined to evolve and soon be enriched with complementary services and exclusive partnerships providing advantages specially negotiated for you.
Want to know more and discover this portal? Log in to discover this new welcome, a real dashboard and monitoring of your building.
UpperBee, with its expertise in innovative technology solutions, enables you to streamline your operations, reduce the workload traditionally faced by property managers, while meeting your clients' ever-increasing demands for proactive management services.
All of UpperBee's built-in features are designed to support you in consistently delivering superior customer service.
Contact us for more information.
---
Comments
---
Do you like this news?
Don't hesitate to share it!