UpperBee is an innovative player, involved in its industry, and partner of the largest associations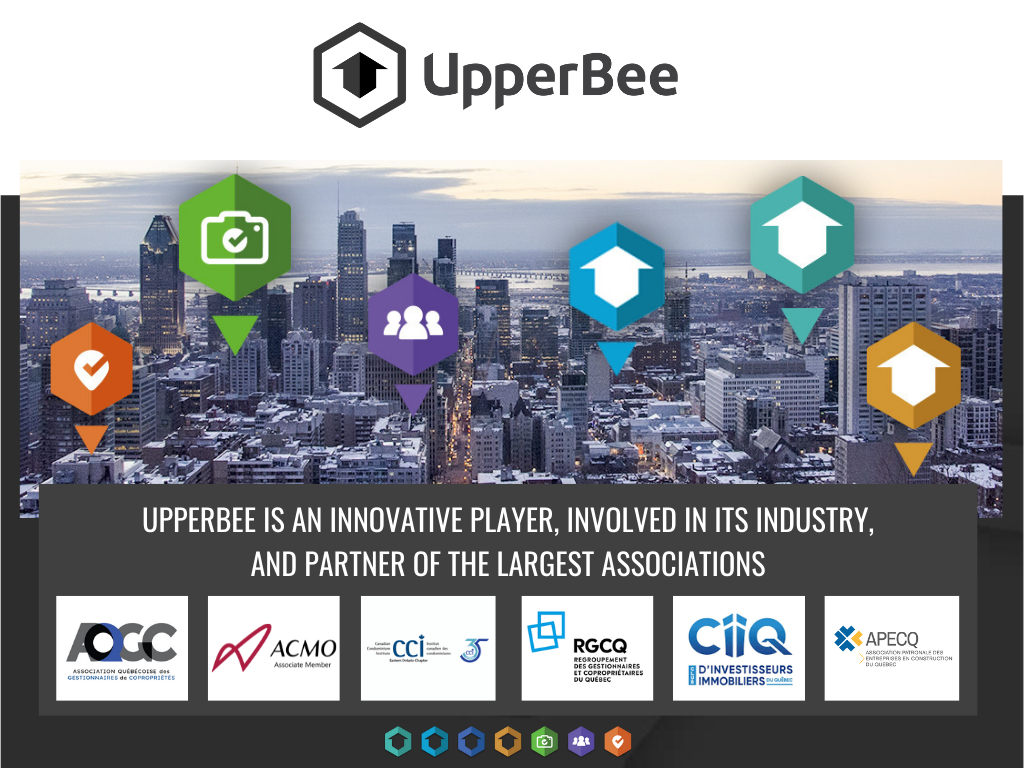 28 October 2021 | property management, software |
UpperBee has been around since 2007 and is the publisher of the most powerful all-in-one online software solution for the management of all types of residential real estate properties. Particularly renowned in North America, the software is recognized for the breadth and depth of its functionalities, both financial and operational, its ease of use, its transparency, and the quality of its support to users.  
UpperBee is the only all-in-one management platform that supports managers in their activities, but also in their development. Unique on the market, UpperBee is a tool designed and developed by professional managers for owners, managers, portfolio, and real estate professionals.
UpperBee, always on the lookout for new developments and the evolution of the industry 
By being a partner of the largest associations, UpperBee aligns itself with its ambitious development strategy and continues its commitment alongside managers by getting involved in its industry. This allows it to consistently provide superior customer services and equip itself to meet industry challenges and the changing regulatory environment, whether for condominiums or rental residential buildings. 
Property managers and owners play a key role in the real estate industry and help create living environments that are valued by everyone: residents, tenants, owners, co-owners, and administrators. UpperBee's goal is to support them daily and offer the best services to residents.
Here are the Associations of which UpperBee is a partner: 
AQGC – ASSOCIATION QUÉBÉCOISE DES GESTIONNAIRES DE COPROPRIÉTÉS
The Association Québécoise des Gestionnaires de Copropriétés (AQGC) is the association that brings together the largest number of professional condominium managers in Quebec. Its purpose is to establish condominium management standards, promote the profession of condominium managers, and to establish an ethical framework.
ACMO – ASSOCIATION OF CONDOMINIUM MANAGERS OF ONTARIO
ACMO is the only professional association in Ontario dedicated to supporting and promoting the condominium management profession. ACMO's mission is to improve the quality and performance of condominium managers, management companies and the services they provide. For over 40 years, ACMO has been an engaged community that offers expertise, education, resources, networking, and support. 
CCI – CANADIAN CONDOMINIUM INSTITUTE EASTERN ONTARIO
The mission of the Canadian Condominium Institute is to promote the interests of groups involved in condominiums across Canada: unit owners, boards of directors, managers, government authorities, lenders, etc.  The CCI fulfills this mission by providing leadership and expertise in areas related to the condominium industry, including: 
Provide education through seminars, conferences and courses, publications to improve the development and understanding of condominiums;

 

Improve communications with the public regarding condominium issues;

Represent the interests of condominiums at all levels of government;

 

Through CCI National, establish and maintain contact with similar associations at local, national, and international levels to exchange information for the mutual benefit of all groups involved in condominiums;

 

Promote integrity and professionalism throughout the condominium industry.

 
CIIQ – CLUB D'INVESTISSEURS IMMOBILIERS DU QUÉBEC
The Club d'investisseurs immobiliers du Québec (Real Estate Investment Club) has more than 30,000 members. Its mission is to give real estate investors access to a multitude of resources that help them move faster towards achieving their goals. The Club is dedicated to training and networking. It is headed by Yvan Cournoyer, its president, and Jacques Lépine, its founder.  They alone have over 55 years of experience as real estate investors and 35 years of experience as expert coaches and trainers. 
LEARN MORE ABOUT THE REAL ESTATE INVESTMENT CLUB
APECQ – ASSOCIATION PATRONALE DES ENTREPRISES EN CONSTRUCTION DU QUÉBEC
APECQ is a multisectoral association that promotes the development of construction contractors through the quality of its services and training. 
APECQ is recognized as a multisectoral hub for the construction industry in Quebec, has an efficient business network, and promotes the increased development of a wide range of quality products and services, at the cutting edge of innovation and the evolution of commercial and industrial practices necessary in the construction sector.  
RGCQ – REGROUPEMENT DES GESTIONNAIRES ET COPROPRIÉTAIRES DU QUÉBEC
The RGCQ was created in 1999, it helps co-owners, administrators, and co-ownership managers to ensure good governance of their buildings. The Regroupement provides access to practical advice, references, privileges and discounts, a collective voice, and other services.  
---
Comments
---
Do you like this news?
Don't hesitate to share it!