UpperBee partner with Justicity.com, the 100% online mediation and arbitration platform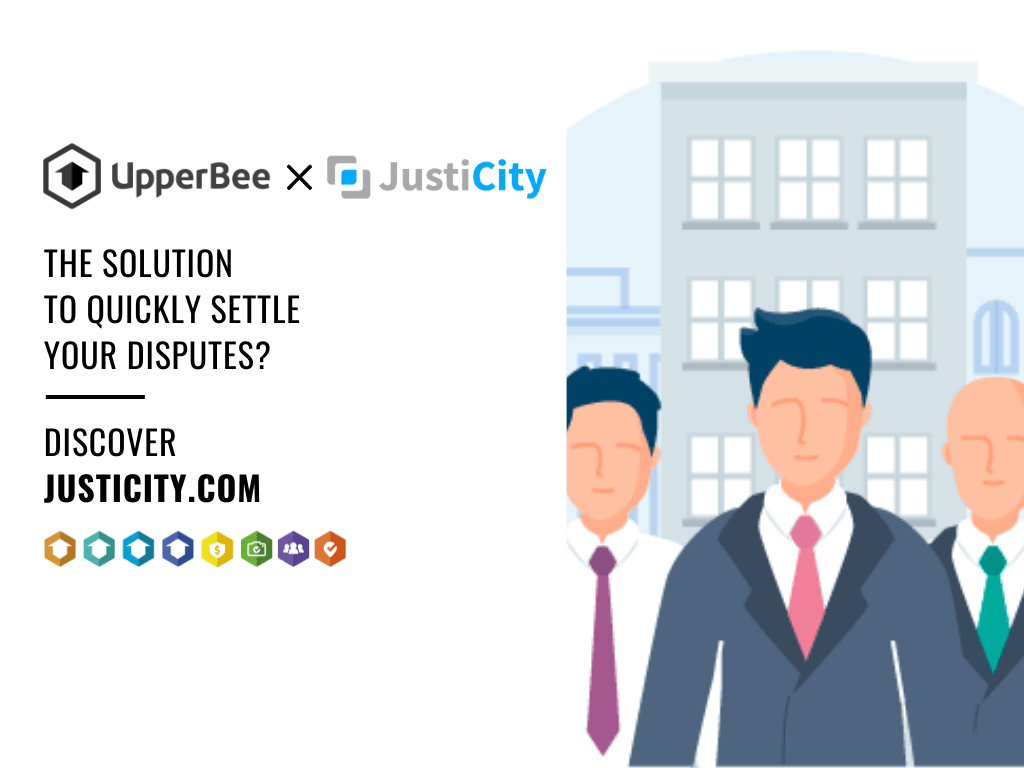 25 May 2022 | Arbitration, Conflict, Médiation, property management | UpperBee
Living in a condominium or in a rental property can be a source of conflict and disputes. Managers strongly encourage a process of exchange and discussion to try to resolve disputes, before embarking on a lengthy and costly legal process. Indeed, conflict resolution processes exist that can be much less expensive and stressful for all stakeholders.
DO YOU KNOW THESE ALTERNATIVES?
In most cases, disputes between owners, co-owners, residents, or suppliers… may be resolved amicably or through the intervention of a mediator or arbitration.
Justicity is a secure 100% online mediation and arbitration platform, to resolve your disputes, conflicts or differences and allow residents to continue living together quickly and economically.
It is a SaaS application that allows users to file a mediation file online, pay the fees by credit card, follow the progress of their case until the mediation session by videoconference with an accredited mediator.
Justicity also has many integrated tools useful to both of the parties, but also to mediators whose task is greatly facilitated.
HOW DOES THE PLATFORM WORK?
Once the agreement is signed, Justicity selects a mediator from among the professionals available on the chosen dates. The latter will contact the parties for validation of the date chosen.
VIDEOCONFERENCE MEDIATION
Both parties receive an email invitation to the online mediation session. On the day selected, they participate, in the presence of the mediator, in the mediation session by videoconference.
DRAFTING ASSISTANCE AND ELECTRONIC SIGNATURE
Justicity simplifies the drafting of the transaction: the recorded data is part of the transaction model that will be submitted for signature electronically.
DOCUMENT SHARING
The management of documents provided by the Parties and their sharing is carried out by a dedicated cloud. These documents are directly available online in the interface and are stored securely.
CHAT CONFIDENTIEL
Justicity also offers the possibility to chat with the parties online thanks to a dedicated messaging system in a secure and confidential way during mediation or in the case of bilateral discussions.
WHO IS JUSTICITY FOR?
The mediation and arbitration platform are accessible to all.
You are a company, you have a problem with a supplier, a customer, a business partner… or you are an individual, and you are having difficulty settling a dispute with your neighbor? would it take too much time and money to go to court?
With Justicity, you are accompanied by accredited mediators and arbitrators to help you reach an agreement and settle your dispute amicably in just a few days.
To learn more and benefit from the specially negotiated offer for residents and buildings in the UpperBee network, access Justicity by clicking on this link or on the image below.

Justicity Overview Video (in french) https://youtu.be/CdbI5VMIr4s
For more information:
Check out Justicity' s YouTube channel. Live broadcasts are regularly organized on various topics related to mediation, arbitration, law, and access to justice.
Justicity regularly produces tutorials on the use of the Justicity tool and other topics concerning mediation, arbitration, or the use of new technologies in access to law and justice.
---
Comments
---
Do you like this news?
Don't hesitate to share it!