Track&Fix, an essential inspection tool for contractors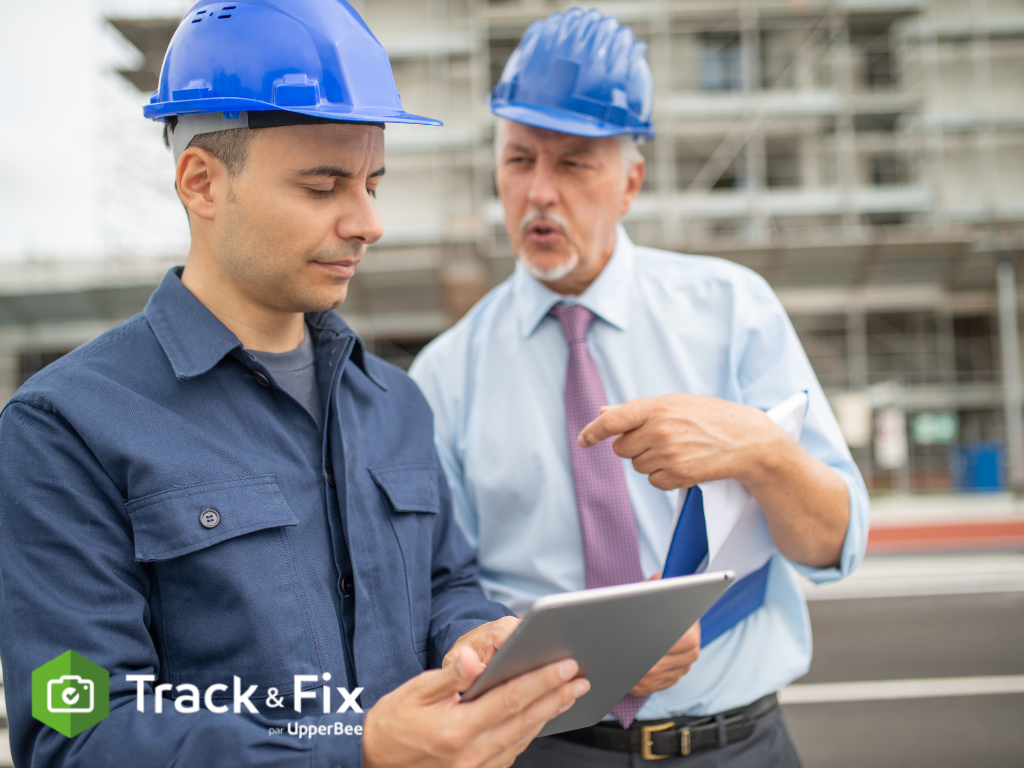 25 June 2021 | Track and Fix
Track & Fix is an inspection software accepted by all new home warranty plans. Our application integrates with major construction software such as Procore and BIM360. 
Discover Track & Fix, the best tool to perform on-site inspections and improve your communications
Acceptance of work is often a source of stress or conflict. This is a step that should not be overlooked, which is why UpperBee's property inspection and tracking software, Track & Fix, allows for rigorous tracking of construction deficiencies and issues that need to be resolved.
Easy to use and accessible on all your electronic devices, the mobile application and web console will allow you to access your data in real time. Track & Fix allows you to professionalize your pre-reception inspections of condos and new homes, to have better control of your management operations and to improve communication between stakeholders. Corrective work is thus better planned and accelerated, and you ensure the satisfaction of your customers.
Why are inspections simpler and easier to perform?
Track & Fix allows your employees to perform professional and structured inspections directly on site using their mobile devices, with or without an Internet connection.
When you are in the middle of an inspection, everything is done directly online with the Track & Fix mobile application:
No need to print out inspection lists since all the information is in your mobile device or tablet.
Take pictures during the inspection directly with your mobile device. They will be automatically added to the inspection report.
Annotate the photos easily by circling the defects you have found: circle scratches on a floor, add an arrow to move an electrical outlet or draw areas to be corrected.
Writing with voice: no need to waste time writing long comments to describe a problem! Track & Fix allows you to use the Speech-to-Text function of your Android or Apple mobile device to automatically write your observations.
Digital signatures: no need to print the report copy to get your customers' signatures. The integrated digital signatures allow you to instantly obtain the signature of the inspector and the clients on your mobile device. They will be integrated directly into the inspection report.
What happens after the inspection?
Once the visit is over, the inspection report and official documents are automatically sent to your clients and to the recipients designated in your templates (general contractor, notary, warranty plan, etc.). Deficiency lists and inspection reports will be instantly available to your team and service call resolution can begin immediately.
Your suppliers and subcontractors will have access to their task lists in real time. They will be able to tell you when work is scheduled, generate purchase orders, enter notes or comments, and tell you when work is complete. This access is free and at no extra cost to them, they do not need to be Track & Fix users.
Constantly updated data, a true collaboration tool
Track & Fix allows your employees and partners to collaborate. Your teams will always have access to up-to-date data from different centralized lists, no more Excel lists that can create confusion or errors between different stakeholders and customers. In addition, the communication history allows you to follow the evolution of a file without having to consult all the stakeholders.
With Track & Fix you increase the quality of your inspections
Our analysis tool allows you to know the most frequent problems, the number of "open" files and the number of days required to close service calls. This information is compiled in a convenient dashboard that is visible to all users.
Track & Fix not only identifies items that need to be fixed, the application also allows you to identify that an area has been inspected and that no items need to be fixed. You ensure your protection in case of future problems and avoid any possibility of ambiguity with the customer if the relationship with him deteriorates. You are thus better protected by using our property inspection tool.
''Since its launch, Track & Fix has established itself as the essential inspection tool for construction: for real estate developers, general contractors, home builders, site superintendents and project managers. It is the ideal technological solution for new construction (condos, townhouses or single-family homes), renovations or property management.''
Interested?
Book a demo and find out how to optimize your inspections and property follow-ups. One of our specialists will be pleased to give you a personalized demonstration based on your needs.
---
Comments
---
Like this article?
Don't hesitate to share it!