Holding a virtual condominium meeting soon? More than 1000 virtual assemblies organized in recent months with Meeting by UpperBee.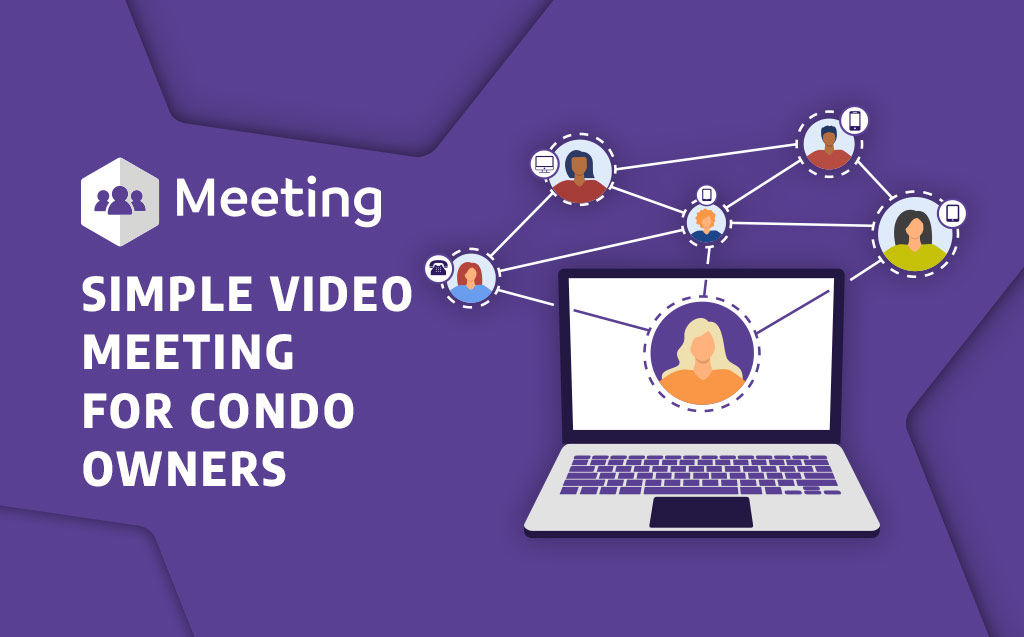 8 April 2021 | virtual condominium assemblies, virtual meeting | Meeting
Many of you have been using Meeting in recent weeks to organize your virtual condominium assemblies.
Officially developed and launched during the pandemic, almost a year ago, in May 2020, the Meeting platform has since been tested and used by the most important condominium managers in Quebec and Canada.
''As a result, more than 75 000 co-owners have already used Meeting to hold or participate in their annual and special meetings of co-owners virtually.  This number of users of the platform provides us valuable feedback and testimonials. With the desire to continuously improve the experience of our clients in the real estate management business, we use this feedback to further improve Meeting and though it the virtual meeting experience of our clients.''
We are pleased to announce that Meeting  by UpperBee has become the most suitable innovative solution for holding virtual condominium meetings. Customer feedback is very positive, and the comments are unanimous – You Greatly Appreciate Meeting!
Here are some of the advantages pointed out by prior users: 10 good reasons to choose Meeting to hold your condominium virtual assemblies:
The platform is easy to use, reliable, and the connection is secure;
You can connect by phone, tablet or computer from anywhere, and the platform can accommodate up to 1000 participants;
No more paper;
No wasted time, no travel. One can be present without having to dedicate 100% of one's attention and this offers more flexibility for example for parents to attend the meeting, even when the children are asleep;
Meeting is adapted to the needs of condominiums and owners' associations for quorums and votes. The management of votes are transparent and their result instantaneous. Once each vote is completed, the result is displayed in number and fraction to the co-owners. You no longer have to compile ballots manually;
Meeting formalizes the meeting process: the decision of proxies, raised hands and issuing the right to speak is facilitated by and integrated in the platform.  Meetings held virtually are more effective, participants must "raise their hands" virtually to speak, and the host of the meeting grants each right to speak. No longer the days when meetings are disrupted, where some people cut off the floor, shout, or speak without having obtained that right;  
Meeting documents, audio and video recordings of the meeting, are retained and simple to access. (because Meeting by UpperBee also offers the ability to record your meetings or phone in for those who do not have access to the internet);
When you are a condominium already a customer of UpperBee Condo™  or  SolutionCondo management platforms ™ the whole process is extremely simple, because Meeting is integrated! So, you can import your assembly information into Meeting with just a few clicks. It's never been easier to hold a virtual assembly! Here's a three-step reminder: https://www.upperbee.com/en/meeting-upperbees-and-solutioncondos-property-management-software-a-match-made-in-heaven/
Meeting is also a standalone solution and can be used independently of the UpperBee Condo™ management platform;
Holding your meetings virtually with Meeting saves you money: costs are optimized: No more room rental or travel costs.  The platform's tariffs are listed online, starting at only $149, and the assistance of a professional is offered when needed.  This training service before and the accompaniment during your meeting of a professional are optional services that are appreciated by platform users.
Holding a virtual assembly soon? Need to calculate your quorum and the result of the votes? Have you had difficult experiences with solutions that are not adapted to the needs of condominiums and associations of owners such as Zoom, Teams, Skype and other platforms…?
It's simple, think Meeting by UpperBee now!  and organize your meeting virtually with the innovative virtual meeting management platform that is suitable for meetings of 6 to 1000 participants.
Interested? Sign up for a free Demo: https://lnkd.in/dhVGjXv
To learn more about the use of Meeting:
To ensure the smooth taking of your meetings and use of the platform, the UpperBee team has made available to you several videos available in English and French on the Youtube channel UpperBeeTV.
Written guides have also been produced to facilitate participation (https://bit.ly/2UDB0BX)  and participants can test their computer components (sound, microphone and camera) and internet connections before the event (https://bit.ly/2AS1Fnq).
''UpperBee is there for you to simplify your life to ensure the smooth running of virtual assemblies and its success.''
Read also on the UpperBee Blog:
10 tips and tricks to hold an effective virtual meeting  https://www.upperbee.com/en/10-trucs-et-astuces-pour-tenir-une-reunion-virtuelle-efficace/
---
Comments
---
Like this article?
Don't hesitate to share it!