With July 1st approaching, will there be any moves in the condominiums and rental buildings you manage? Yes, there will!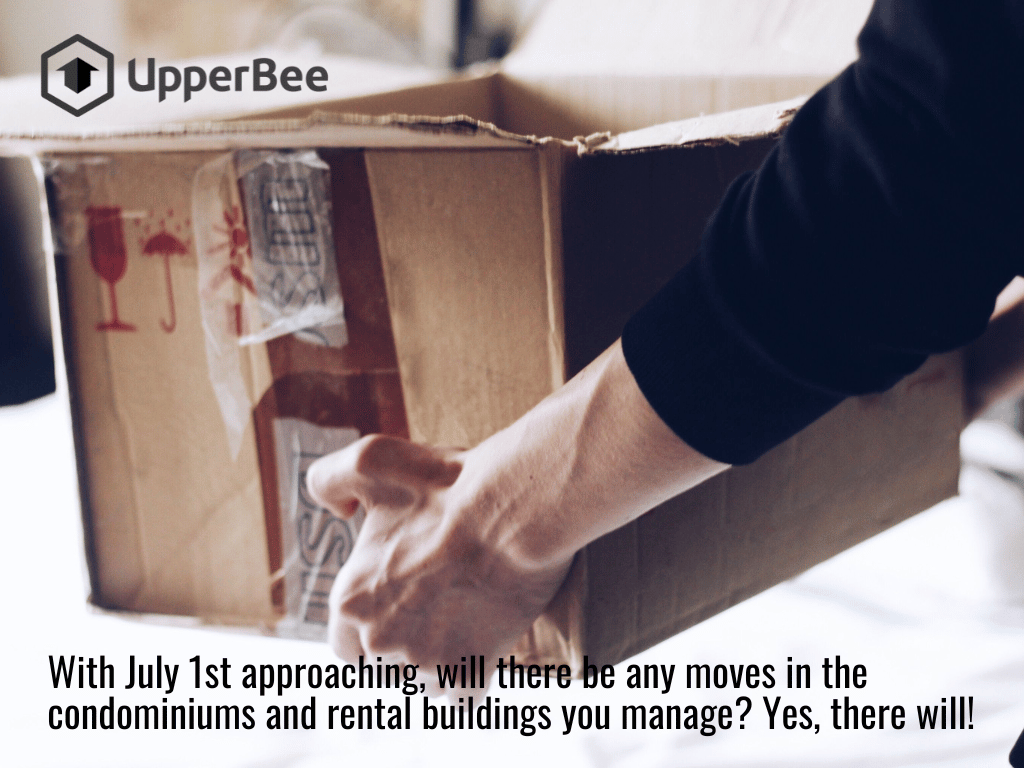 23 June 2021 | Co-ownership, Gestion Immobilière, Moving, Property Management, PropertyManager, Rental properties | Condo, Manager, Rental
Have you considered using all of UpperBee's features to prepare for it? UpperBee can make your job much easier. Are your clients and residents demanding the best in service and communication? UpperBee has all the features that allow the manager to provide outstanding service while maintaining a good relationship with each party.
Moving in and out is a crucial step in the life of a building and can cause a lot of headaches if left unorganized, creating clutter and chaos, or potential conflict if rules are not followed. Nothing is worse than unanticipated trips to and from the common areas to transport residents' personal belongings of all kinds, furniture, boxes… or cluttered elevators that are unavailable for long periods of time…
UpperBee brings together all the information and building services needed to anticipate these situations, to be organized and to easily communicate with all the players involved in the move.
Here is a list of essential items to check before the arrival of new residents.
For condominiums, first of all, remember to refer to your declaration of co-ownership, more specifically to the building's bylaws. If the assembly of co-owners has adopted one or more by-laws to regulate moving, you will find the rules to respect. It's easy to access these bylaws by visiting your building's bylaw book in your UpperBee account.
Everything is usually listed there.
There may be obligations for condominium owners or owners who rent their condo/apartment
The obligation to inform of the date planned for the development
To request the reservation of an elevator. Please note that in some buildings these reservations are made by time slots.
Precisions concerning the place of unloading of the moving truck, where to transport the goods? By the basement, the garage, by the entrance hall? How to reserve a parking space for the movers' truck
Should other residents/co-owners/landlords/tenants be notified and how?
How to protect the premises, lobbies, corridors, covers in the elevator to protect from possible shocks, protection of walls, floors or door frames…
Expenses to be paid for the move, to whom and how much? When should they be paid? Is it also necessary to provide a deposit that will be reimbursed if no damage is done to the common areas of the building?
The person who moves in must have all the accesses: keys to the condo/apartment, but also keys to the hall door, possible locker, mailbox, intercom access codes… Don't forget to get the keys of the people who leave the building! In case of damage, who should the syndicate or the owners contact to obtain repairs?
Think also about the waste, moving boxes… anticipate and inform about where to put them, how to sort them, in some buildings there is an overload if the resident uses too much storage space…
Waste has been left in the common areas? Boxes have been left in front of the garbage room? Parking spaces are cluttered with unauthorized vehicles? Access blocked, elevators damaged? Use UpperBee's violation log to report it.
If moving day is rainy or to clean up the multiple trips back and forth during these busy times… consider planning ahead and booking a cleaning crew.
Consider communicating to new residents/tenants the essential information they need to know when they arrive in the building, e.g., garbage collection, drop-off times and locations, location of circuit breakers, water shut-off valves, etc. Send them a resident handbook from UpperBee that lists everything they need to know.
In addition to parking reservations, elevator reservations, UpperBee provides all means of communication, including an instant messaging service, and access to all useful information for residents: bylaws and condominium documents, resident handbook, query service, reservation calendars…
Everything in UpperBee has been designed to optimize daily life in the building or condominium in one place.
You have the ability to send a message via UpperBee to all residents/tenants/condominium owners or other third parties to remind them of the rules and regulations, as well as manage reservations and keep a complete history of these exchanges.
To save time, UpperBee allows you to create multiple document and response templates to quickly answer residents' most common questions.
Don't forget that UpperBee is also accessible via the Mobile App accessible on iOS and Android devices!
During these busy moving times, this makes it even easier to manage your service requests: efficiently open, respond to and track requests for information and services from tenants, owners, wherever you are.
The features UpperBee has created allow you to create, view, update and complete these service requests across your entire property portfolio. This allows owners and tenants to easily report a problem with the building or request various services such as reprogramming the intercom or access system, booking a facility, reporting a building rule violation, a building disturbance, etc.
Directly in the App, you can then assign these tasks and manage your vendors, and employees including doormen and janitors by assigning them and then monitoring their completion from anywhere from your smartphone and the UpperBee mobile app.
To learn more about UpperBee's features, check out the details.
Or request your free demo!
---
Comments
---
Like this article?
Don't hesitate to share it!