A new major partnership for UpperBee customers with leading hotel chain Choice Hotels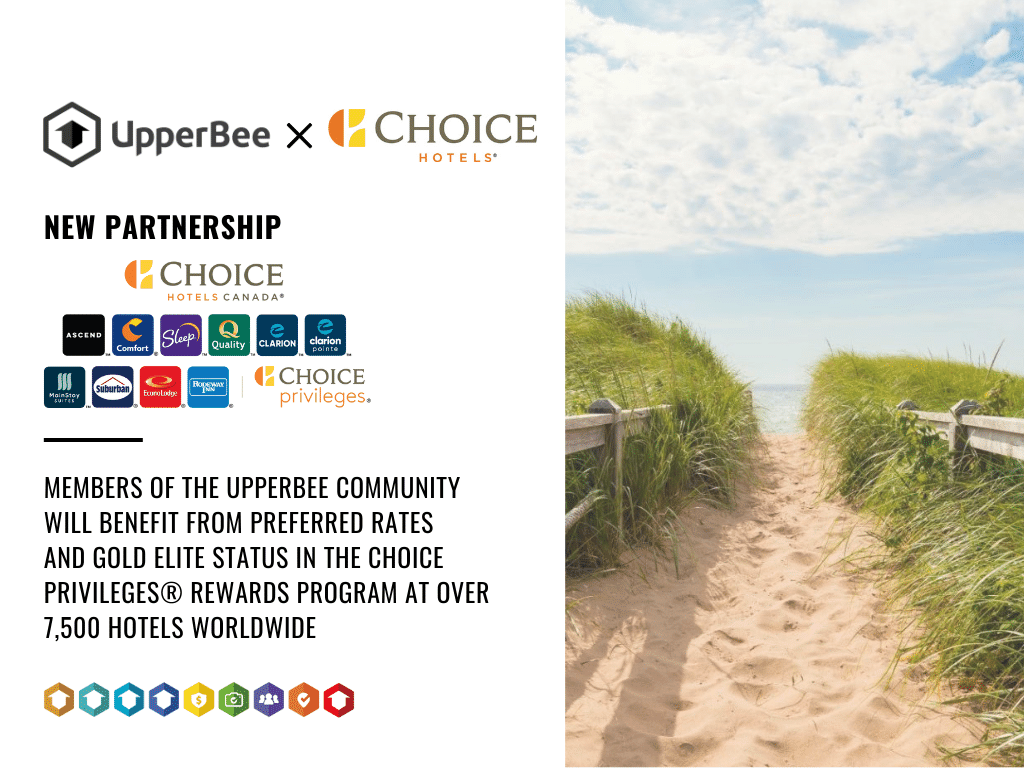 25 August 2023 | Partnership, property management | UpperBee
Memorable stays at great rates?
We are delighted to announce a new partnership between UpperBee and Choice Hotels, one of the world's leading hotel chains.
Choice Hotels offers UpperBee users special rates, negotiated especially for them, with the possibility of taking advantage of other benefits. Thanks to this partnership, you can also benefit from membership of the Choice Privileges loyalty program, and Gold Elite status will be automatically awarded to you on registration. This will enable you to accumulate points, redeem them for free nights, gift cards and much more!
Enjoy great rates for business and pleasure at over 7,500 hotels worldwide.
Choice Hotels® includes the Comfort™, Quality®, Clarion® brands and a few other hotel banners like the prestigious Ascend Hotel Collection®.
Choice has over 335 properties across Canada and more than 7,500 hotels worldwide. Their hotels are conveniently located near airports, business districts and major highways. You'll enjoy free high-speed Internet access, and can start the day with a complimentary breakfast at most hotels in their network.
Thanks to our partnership with Choice Hotels®, you will automatically be awarded Gold Elite status when you enroll in the Choice Privileges® rewards program (please allow 4-6 weeks after adding your UpperBee ID number for Gold Elite status to appear on your account).
This is equivalent to a 10% points bonus on each stay. This rewards program entitles you to exclusive extras and benefits, bonus points, free nights, gift cards…
UpperBee is proud to offer its community access to these new and exclusive benefits. These preferential rates are available to employees, residents (co-owners and tenants) of all buildings managed with UpperBee. If you are a property manager, your employees have access too.
To find out more, visit the "Your offers" section of your UpperBee customer platform to access the preferential rates and obtain the UpperBee special rate identification number, as well as all the information on how to create your account and register for the Choice Privileges program.
---
Comments
---
Do you like this news?
Don't hesitate to share it!