Congratulations to Wilkar Property Management on winning the management of Icône Tour 1 in Montreal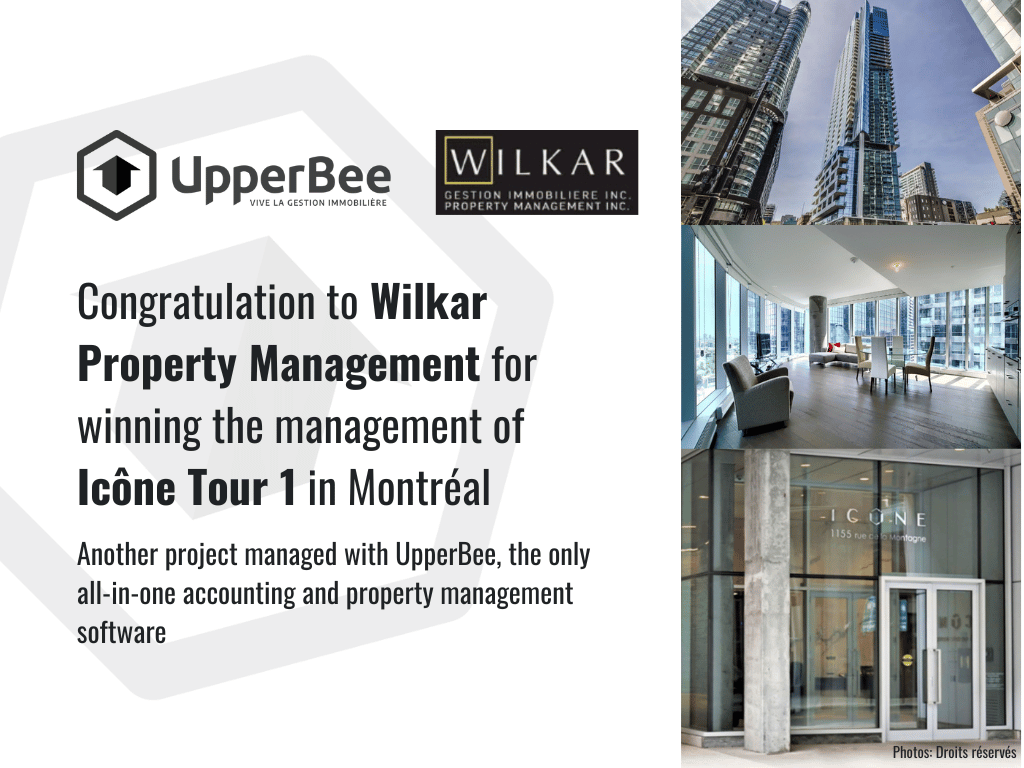 26 September 2023 | condominium, property management, property manager, software | Manager, UpperBee
To manage Icône, Tour 1, Wilkar will rely on its teams of property management professionals, and on UpperBee's innovative technological solutions adapted for today's condominiums management.
Icône condominium Tour 1 is a 38-storey residential tower with 350 units, offering a luxurious living environment in the Ville-Marie district of downtown Montreal. The project offers exclusive access to the best amenities:
Lobby is on the 1st floor with 24-hour concierge service.
The eighth floor is devoted to common areas with a saltwater pool, workout room, sauna, outdoor whirlpool, luxurious terrace, reception room with full kitchen and several tennis courts.
The terrace, with landscaped gardens, has a breathtaking view of the city and river.
The building's roof is fully vegetated and allows rainwater to be recuperated.
Wilkar is a full-service property management company specializing in the management of luxury condominiums. With a dedicated team of professionals, capable of managing large as well as the small condominiums, Wilkar provides personalized, tailor-made service to meet the needs of its customers.
Congratulations to the entire Wilkar team on winning the management of this new project.
We are proud to support leading property management companies in their day-to-day development.
---
Comments
---
Do you like this news?
Don't hesitate to share it!