Provision property management wins the management of Aquablu, Phase 1, in Laval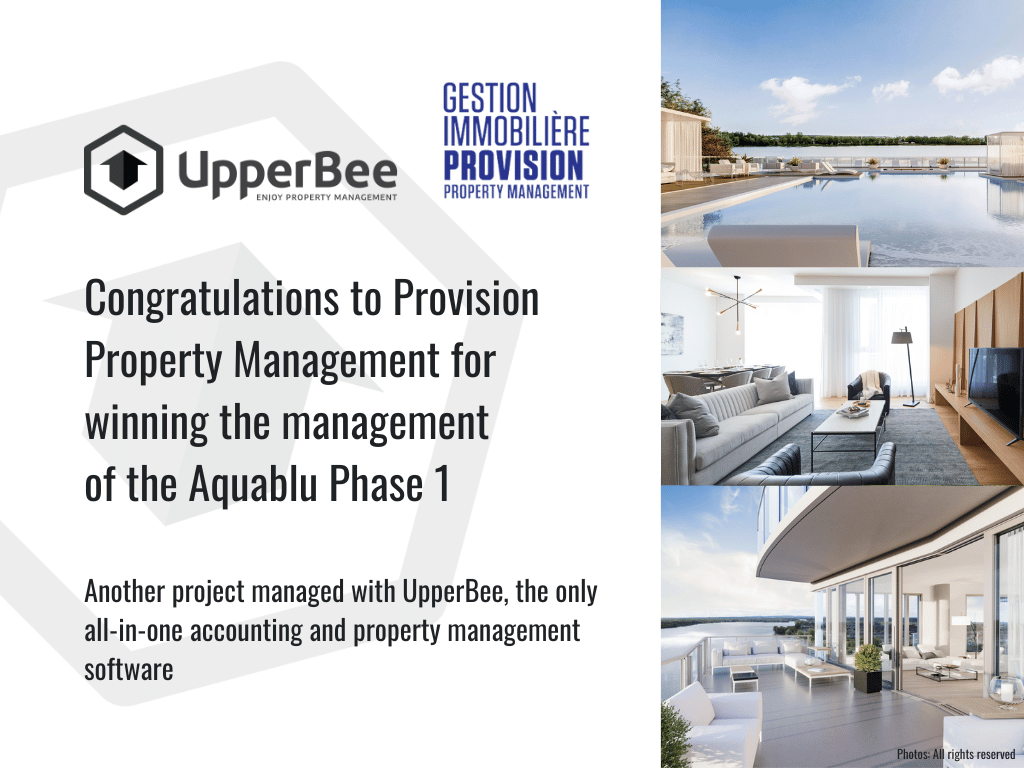 8 August 2023 | condominium, property management, property manager, software | Condo, Manager, UpperBee
UpperBee congratulates Gestion immobilière Provision on winning the management of Aquablu, phase 1, a 74-unit luxury condominium development on the shore of the Rivière des Prairies in Laval.
Gestion immobilière Provision is an experienced, forward-thinking property management company serving the Greater Montreal area. Led by two co-founders: Marc Morin, CPA, Co-founder, President and Senior Manager, and Angie Pelonis, Notary, Co-founder, Vice-President and Senior Manager, the team distinguishes itself by its professionalism and an approach focused on highlighting transparency, honesty, communication, and integrity.
Gestion immobilière Provision offers a complete range of property management services to suit every need: whether your condominium only requires financial or accounting expertise, or simply administrative support for day-to-day building management, or a complete management solution…
Gestion immobilière Provision team manages close to 4,000 condominium doors, with the addition of this project.
Gestion immobilière Provision brings together a team of professionals, mainly from the business and real estate sectors, trusted property managers with extensive experience in accounting and notarial practices.
Aquablu is a complex whose architecture is inspired by the hotel resorts of Miami and Monaco: fountains, pools, green roof and terrace…, built on a site in a private community area of Sainte-Dorothée, with 1,000 feet of south-facing waterfront on the Rivière des Prairies.
The project features have common areas and high-end amenities: multipurpose training room, private reception room, guest apartment, golf simulator and pool table.
In addition, the building sports a 24/7 concierge, Spa/sauna/massage room, private pool-side cabanas, controlled electronic card access system, outdoor and indoor heated pools, and more…
The current Aquablu complex was completed by Canderel. With over 54 million square feet of acquired properties under management and development, and 8,500 residential properties sold since its founding in 1975, Canderel is one of Canada's leading developers, with projects including Tour des Canadiens.
To manage Aquablu phase 1, Gestion immobilière Provision relies on its property management teams, and on UpperBee's innovative technological solutions adapted to today's condominiums management.
We are proud to support leading property management companies in their day-to-day development.
---
Comments
---
Do you like this news?
Don't hesitate to share it!