SolutionCondo obtains the management of Tour des Canadiens 2 and Tour des Canadiens 3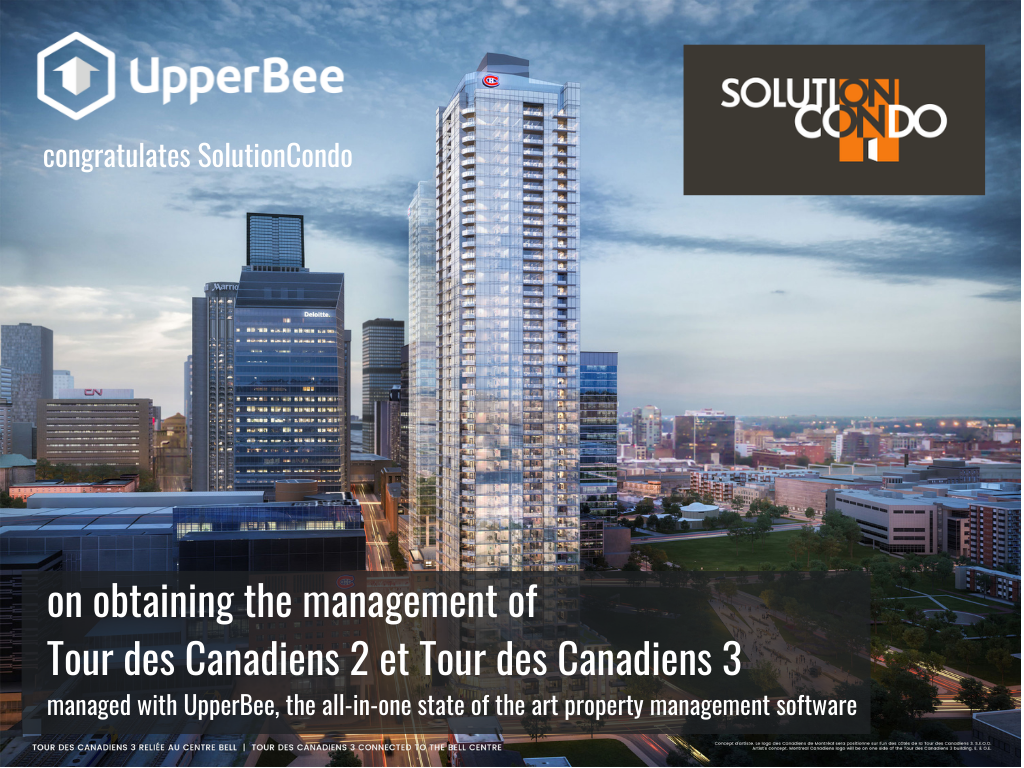 5 October 2021 | Société de gestion immobilière |
Congratulations to SolutionCondo for the management of Tour des Canadiens 2 and Tour des Canadiens 3, which are currently managed with UpperBee Condo, the all-in-one state of the art condo management software.
SolutionCondo is the largest condominium management firm in Quebec and manages all types of condominiums, large and small.  Whether it is a simple stand-alone condominium building, or a complex multi-phase project with several syndicates… The mission of the SolutionCondo team is to ensure the sustainability of buildings, and to encourage effective and efficient management of Quebec condominiums.
Tour des Canadiens 2 and Tour des Canadiens 3, built by Canderel, are emblematic buildings in Montreal, which represent a true visual landmark, and offer a panoramic view of the city. They are part of an ambitious development project and complete the trilogy of the new Quad Windsor neighborhood, based on the legacy of Windsor Station in downtown Montreal, which will eventually offer a number of amenities: a municipal park, direct access to the cultural scene and sporting events, restaurants and stores, new office towers, apartments and more…
Tour des Canadiens 2 is a 54-floor multiuse building with luxury residential, retail, office, and urban park space, with easy access to public transportation. Residents are treated to a "five-star" welcome every day through the luxurious lobby and impressive four-story atrium that opens onto the St. Antoine and Jean d'Estrées street esplanade and provides a gateway to Windsor Station and the Bell Centre.
Common areas include the first lounge bar in Montreal located on the top floor of a condominium complex, a wine bar with a private wine cellar, a state-of-the-art training room, and a game and entertainment room to enjoy the playoffs.
Tour des Canadiens 3 is the third phase of the project and stands at 55 floors and 170 meters tall, making it the tallest all-residential tower in Montreal. Directly connected to the underground RÉSO and the metro, and just steps away from restaurants and stores, the Canadiens Tower 3 is located in the cultural epicenter of Montreal and offers intuitive, high-end amenities, charged with the energy of the Montreal Canadiens at the Bell Centre.
To manage these two major projects, SolutionCondo relies on its teams of property management professionals and UpperBee's innovative technological solutions adapted to the management of today's condominiums.
Élise Beauchesne, President of SolutionCondo:
"SolutionCondo uses the UpperBee platform, the best tool to facilitate the management of condominium syndicates. This innovative management tool allows co-owners, in charge of administration, to perform quality management and consistently provide superior customer service, regardless of their level of knowledge. The integration of the various modules means that the information used by more than one module does not have to be entered in several places. The result is greatly accelerated management."
In fact, UpperBee is the only all-in-one property management platform that integrates the management of your maintenance activities, the payment of rents, condo fees and suppliers, bookkeeping, manages or allows you to upload or produce various documents (invoices, contracts, purchase orders and work orders, etc.), manages your administrative tasks and meetings, allows you to communicate and document all of your exchanges with your landlords, tenants and third parties (e.g.: subcontractors), allows the management of room reservations and other facilities, and much more!
UpperBee congratulates the entire SolutionCondo team!
---
Comments
---
Do you like this news?
Don't hesitate to share it!