Two new condominiums under management by Domis Gestion Immobilière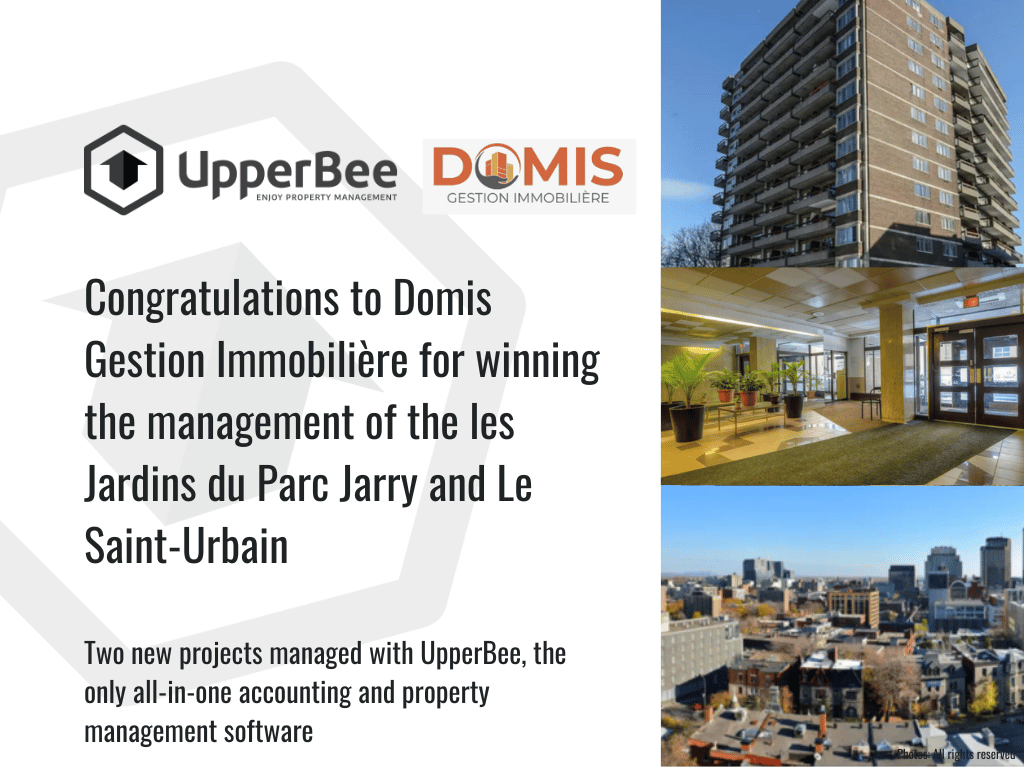 6 September 2023 | condominium, property management, property manager, software | Condo, Manager, Rental, UpperBee
Congratulations to the entire Domis Gestion Immobilière team for obtaining the management of the SDC les Jardins du Parc Jarry and the Saint-Urbain, located in the heart of Montreal, both to be managed with UpperBee, the only all-in-one property management software. 
Domis is a property management company based in Montreal. The management team, led by Wilma Machado, has set itself the mission of establishing and maintaining a management structure that ensures the integrity of buildings, compliance with regulations, rigorous management of finances, projects, and assets, while ensuring the harmony of residents in a healthy environment.
Domis gestion immobilière relies on a team of experts in condominium and income property management. Their knowledge and proactivity are recognized in the industry, and the team is a valuable source of support for condominium corporations and real estate investors. 
The SDC les Jardins du Parc Jarry 1-A and 1-B consolidate over 60 doors and are located around the Villeray, Saint-Michel and Parc-Extension districts. 
Le Saint-Urbain features 30 condos in the center of downtown, near Parc Milton. 
The buildings are located right in the heart of Montreal, in lively neighborhoods with plenty of stores, restaurants, culture and must-see nightlife. 
To manage these condominiums, Domis gestion immobilière relies on its professional and experienced property management teams, and on UpperBee's innovative technological solutions adapted to the management of today's condominiums. 
UpperBee congratulates the entire Domis gestion immobilière property management team on these new projects! 
We are proud to support leading property management companies in their day-to-day development. 
UpperBee, particularly renowned in North America, is the only all-in-one property management platform recognized for the breadth of its functionalities, both financial and operational, its expertise, ease of use, transparency, and the quality of the information it produces.
To know more, contact us! 
---
Comments
---
Do you like this news?
Don't hesitate to share it!