UpperBee and Track&Fix referenced in the "JeBatimatech" directory: the reference for the best technological solutions for construction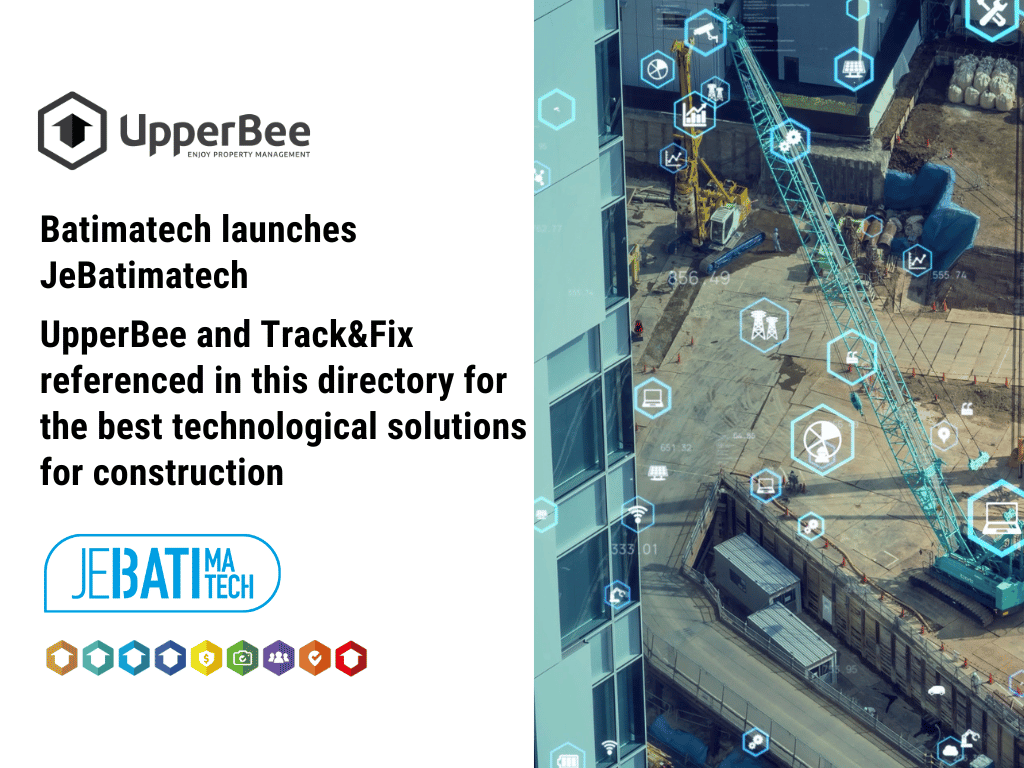 1 November 2023 | Innovation, property management, Proptech, software | Track and Fix, UpperBee
The construction industry is evolving rapidly, with new technologies and innovative solutions constantly emerging. For professionals in this dynamic sector, keeping up to date with the latest advances can be a major challenge.
Consequently, the Quebec government has launched the Offensive de transformation numérique (OTN) (in French only), a strategic initiative steered by the Ministère de l'Économie et de l'Innovation, to accelerate the digital revolution of businesses in all sectors and regions of Quebec.
A collaborative initiative
With this in mind, Batimatech, in collaboration with the French Ministry of the Economy and Innovation, has set up a technology census to list and promote innovative technological solutions and equipment for the construction sector. The new JeBatimatech platform is designed to raise awareness and build bridges between solution seekers and solution providers, accelerating the industry's digital revolution.
Batimatech is a non-profit organization based in Montreal, whose mission is to encourage innovation, collaboration, agility, and the integration of the best digital solutions in the construction sector. This initiative is part of the Quebec government's Offensive de transformation numérique (OTN).
A complete directory of technological solutions
JeBatimatech is a decision-making directory designed to facilitate the search for the best technological solutions and innovative equipment in the construction sector. It offers a goldmine of essential information for industry players seeking to improve their productivity, efficiency, and competitiveness.
The tool has been developed around two main areas: technological solutions and equipment. So, whether you're looking for state-of-the-art construction project management software, a scanner to model and design surveying plans, an application with cameras to monitor the progress of a worksite in real time, or an exoskeleton to prevent injuries on the worksite, JeBatimatech has the answers.
A customized approach
It's more than just a company directory, it's a personalized tool. JeBatimatech has implemented an innovative search approach that allows solutions to be filtered according to specific needs. With 70 analysis criteria established by expert committees, it's easy to find the right solution for your project.
UpperBee referencing
We're proud to have taken part in this project, meeting all the requirements of the JeBatimatech directory. UpperBee is now listed in this directory, alongside Track&Fix (our innovative pre-delivery inspection application), as an accounting and property management technology solution. We are convinced that our property management expertise can help construction industry players to optimize their operations.
Discover JeBatimatech
The construction industry is constantly evolving, and keeping abreast of the latest technological advances is essential to staying competitive. JeBatimatech will be an invaluable resource for finding solutions that professionals rely on to make their projects a success.
We wish to congratulate the entire Batimatech team, and in particular Nicole Kirschner, for their commitment to finding innovative solutions. Their work has resulted in the creation of an online platform rich in information and references for the construction industry.
UpperBee, leader in its industry, the first technological solution for accounting and property management to be referenced
We are proud that UpperBee is the first accounting and property management technology platform to be referenced in this JeBatimatech directory for the best technological solutions and innovative equipment in the construction sector.
This referencing is proof of our industry leadership and our commitment to redefining property management thanks to our innovative software tools. Our solutions are already having a significant impact on the digitization of property management in North America, and we are determined to keep pushing the boundaries of efficiency and innovation in this constantly evolving field.
---
Comments
---
Do you like this news?
Don't hesitate to share it!