UpperBee expands in the U.S.: Florida tour not to be missed!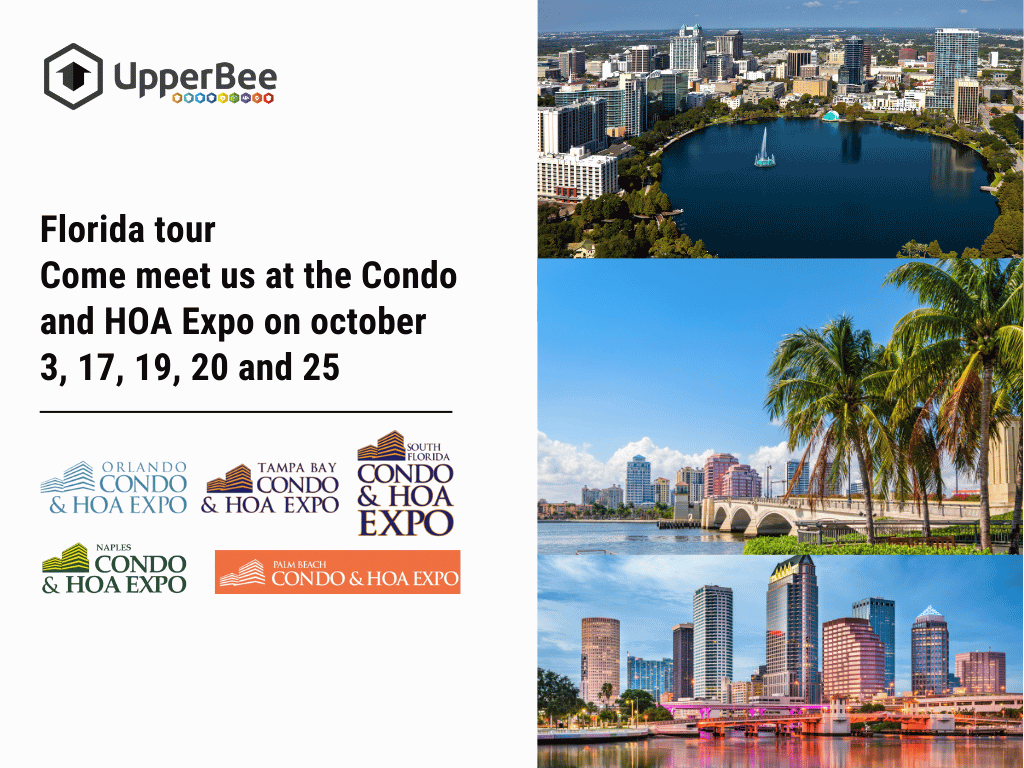 27 September 2023 | condominium, Copropriété, Gestion immobilière, logiciel, property management, property manager, Proptech, Proptech, Salon, software | Manager, Pay, UpperBee
The condo and HOA expo is the leading trade show and conference for property owners and property managers.
As UpperBee continues our expansion into the U.S. market with our flagship product UpperBee Manager, and our electronic collection and payment solution UpperBee Pay, the team looks forward to meeting you.
Meet us on the following dates in October 2023:
We will be present at our booth and all networking sessions. We look forward to reconnecting with our industry colleagues, experts in the sector and to meet anew in a face-to-face setting.
It will be a great opportunity to showcase UpperBee's recognized expertise in innovative technological solutions in accounting and property management.
Particularly attentive to the demands of its customers, UpperBee is already making a difference in the digitalization of real estate in North America and is the most powerful suite of accounting and building management software for property management, specialized for the management of buildings of all sizes.
True to its position as an expert and leader, UpperBee is constantly innovating to offer integrated, collaborative, and accessible solutions on the same platform, adapted to the needs of its clients, real estate professionals and the evolution of the real estate market.
Our cutting-edge software suite is clearly part of the digital shift in real estate with its enriched and innovative functionality. UpperBee evolves by constantly adapting to the best standards of quality and security of technology, and other new functionality will continue to emerge in the days ahead…
A good reason to meet the team at this event!
Want to know more:
Mark Bush, Vice-President – Business Development and Marc Gobeil, Senior Account Executive will be on hand and available to get to know you, and exchange ideas.
We are excited to participate, do not hesitate to send us a message to organize a meeting.
---
Comments
---
Do you like this news?
Don't hesitate to share it!