UpperBee partners with higher education institutes to advance knowledge in property management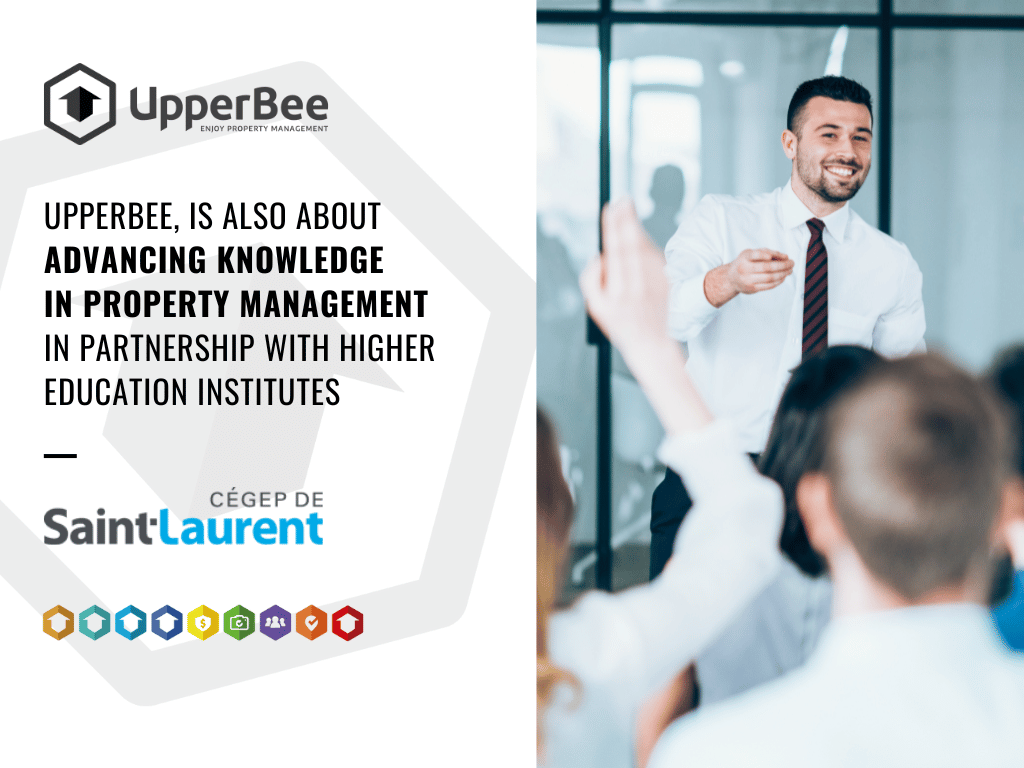 6 September 2023 | property management, property manager, software | Manager, UpperBee
On Wednesday, September 27, the UpperBee team will once again meet with the property management students at CEGEP St Laurent, at the invitation of Professor Fouad Adouani, BAA, MBA professor in Real Estate Management.
It is another opportunity for Martin Savoie, UpperBee Sales and Customer Experience, to share our experience in field, demonstrate the UpperBee technology platform to the students and faculty, and show them how UpperBee helps and supports property managers daily.
''Property management is a fascinating sector for many reasons. It is a field in which many people can find their niche, whether they feel more confident with administration, technical, accounting, or other related fields. To contribute to these passions by presenting how techniques and procedures can be brought into the 21st century through technological progress, is an incredible feeling. ''
''It is a great experience to be able to share our property management expertise and discuss with students how technologies can help while improving the buildings being managed residents' experience! Each time we meet the students, we see that we have a great new generation of managers, who are interested and passionate, already familiar with the tools and impressed by the breadth of UpperBee's functionalities.''
CEGEP St Laurent offers two training programs leading to an Attestation d'Études Collégiales (AEC):
Attestation d'études collégiales (AEC) in property management
This 720-hour program is designed to train condominium managers. It is offered on a part-time basis.
Information and admissions (in french)
Attestation d'études collégiales (AEC) in real estate management
This 900-hour program is designed for people with an interest in real estate management.
Information available on the website. 
Information available on website (in french)
The entire UpperBee team is proud to be committed to share and advancing knowledge in real estate management in partnership with higher education institutions and helping to train tomorrow's real estate experts.
Thank you Fouad Adouani, BAA, MBA for invitation and hospitality!
A CAREER WITH UPPERBEE?
Would you like to combine technological innovation, teamwork, and property management? You could join an innovative grow that places customer satisfaction at the heart of its priorities and is recognized for the quality of its products. Get in touch with us!
STUDENTS AND RECENT GRADUATES
We encourage young talent, and many of our employees are former interns and recent graduates. So, if you are a student, there is a good chance you will see an internship offer on your school's website. If not, send us your application!
---
Comments
---
Do you like this news?
Don't hesitate to share it!