UpperBee partners with Whitemont Financial Services, a new service offered to members of the UpperBee community, with exclusive mortgage offers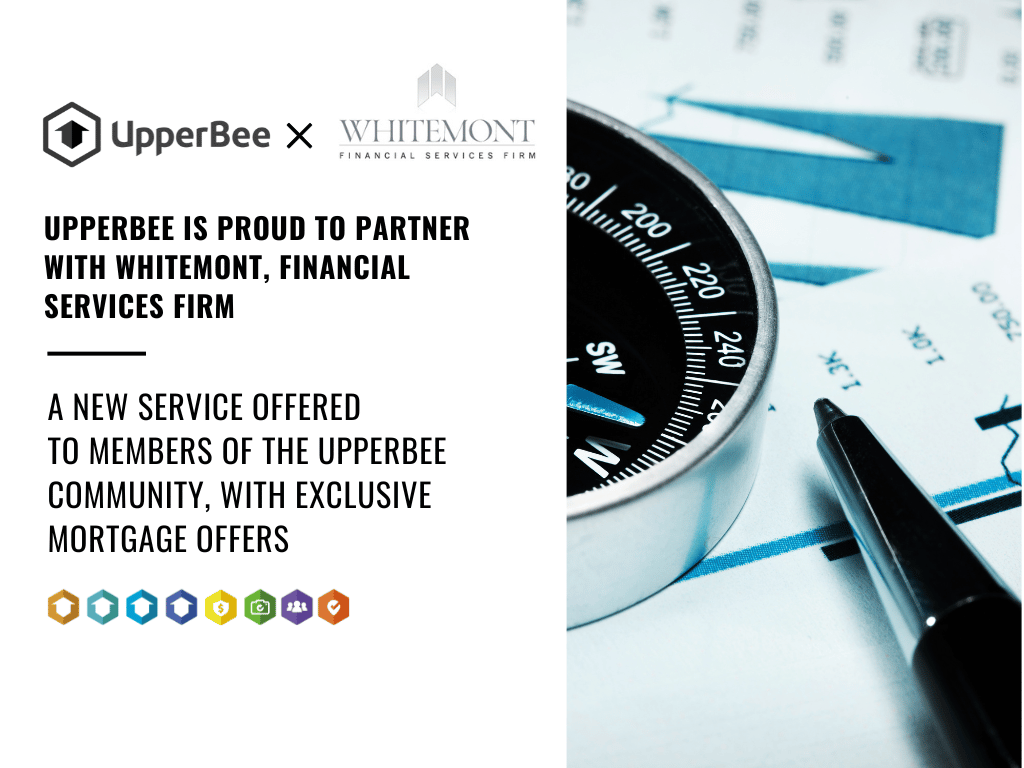 20 December 2022 | Partenaire, Partnership | UpperBee
Founded in 1999, WHITEMONT Financial Services Inc. is an independent financial services firm headquartered in Montreal with offices in Quebec City, Rouyn-Noranda and Saguenay.
Their goal is to guide you through the most important purchase of your life by avoiding costly mistakes and allowing you to obtain the best terms and conditions. Thanks to their strategic partnership with the mortgage brokerage firm Planipret, Whitemont mortgage brokers are able to present you with an exclusive mortgage offer.
EXCLUSIVE MORTGAGE OFFERS
Free consultation to analyze your situation
Analysis of your borrowing capacity
Advice for first-time buyers
Service your existing mortgage
Market analysis
Unbiased advice
Liability management advice (debt consolidation)
Tax strategies to make your interest tax deductible
Best rates available
NEGOTIATE YOUR MORTGAGE WITH US
Our services are free for you, as our compensation comes from the financial institution you choose. 
We have access to a very large number of financial institutions, which sets us apart from the competition. 
We offer you a $100 gift coupon, if you recommend us to a member of your family or a friend who uses our services.
 
PURCHASE
Our goal is to guide you through the most important purchase decision of your life by avoiding costly mistakes and getting you the best terms and conditions.
 
RENOVATION
By refinancing your property to carry out renovations, you could increase its value and its longevity, while respecting your budget.
 
REFINANCING
Mortgage refinancing involves re-borrowing against the equity in your property. Equity is the difference between the market value (how much you could sell your home for) minus your current mortgage balance. It is currently possible to refinance up to 80% of the value of your property.
 
PROGRAMS
Your Planiprêt mortgage broker is the ideal person to talk to about the different programs that exist when you buy, renovate, or finance a property. (Self-Employed Program, Newcomer Program, Secondary Residence Program, 5% Cash Program, etc.)
 
RENEWAL
Do not make the mistake of signing your institution's offer without speaking to a Planiprêt mortgage broker. We will be able to assess your entire situation to find you the best mortgage loan that will be adapted to your current and future needs, all at the best rates and the best conditions.
 
DEBT CONSOLIDATION
The benefit of doing this with a mortgage through refinancing is definitely the terms of the loan. Debt consolidation involves putting all your debt in one place so that you make one payment per month. Generally offered at a more advantageous rate than credit cards or a personal loan.
 
COMMERCIAL
Planiprêt commercial is able to process several types of financing including: multi-housing (ideally 8 or more units), industrial, business transfer financing, construction of residential projects, etc.
For personalized information on these exclusive mortgage offers, contact the Whitemont team by completing the form available directly on the UpperBee platform in the "Your Offers" section.
---
Comments
---
Do you like this news?
Don't hesitate to share it!