Sapphire Condominium Management chose UpperBee to support its growth and development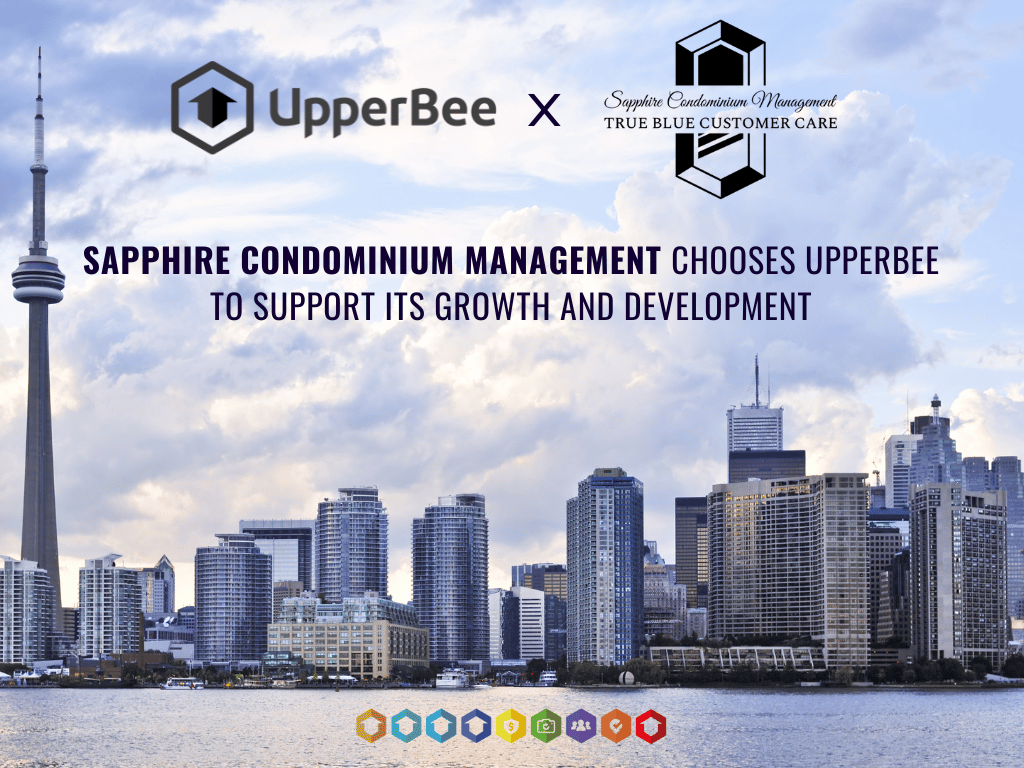 31 October 2023 | condominium, property management, property manager, software | UpperBee
Sapphire Condominium Management is a leader in providing professional condominium management services to London, Sarnia & surrounding areas of Ontario.
Denise McAsey is the CEO, a General Licensee and holds a Registered Condominium Manager designation, complemented by a team of other knowledgeable licensed staff.
Michel H. Klaus, Chief Technology Officer, is a Limited Licensee Manager currently enrolled in the CMRAO courses working toward his General Licence.
The presence of Benjamin Marshall as their Assistant Property Manager adds significant value to all their customer service efforts. His extensive background in the customer service industry not only brings this specific expertise but also a genuine understanding of the importance of communication, responsiveness, and proactive problem-solving.
In their day-to-day operations, they strive to provide transparency, responsiveness, and professionalism. These principles not only meet the regulatory standards but also contribute to building trust and long-lasting relationships with their clients.
Exceptional customer service is the bedrock of Sapphire Condominium Management's values and sets them apart in the industry.
Key reasons why your Condominium Corporation should consider partnering with Sapphire:
Expertise: The team possesses a wealth of knowledge and experience in condominium management, enabling them to navigate legal and operational complexities with precision.
Dedication: They are committed to providing personalized and responsive service, tailored to the unique needs of each Condominium Corporation they manage.
Transparency: They prioritize transparency in financial matters, ensuring that all financial records are meticulously maintained and readily accessible to their clients.
Communication: Effective communication is the cornerstone of Sapphire's approach. The company maintains open lines of communication with Board Members and unit owners, keeping all stakeholders informed and engaged.
Value: Sapphire strives to optimize operating budgets, reduce costs, and enhance the overall value of your condominium property.
Compliance: They are well-versed in the regulatory framework governing condominiums in Ontario and work diligently to ensure compliance with all relevant laws and regulations.
Denise McAsey, CEO/President, explains:
''In addition to our commitment to excellence, we offer a robust software platform, UpperBee, that places technology at your fingertips. This platform provides your Condominium Corporation with easy access to all pertinent information, including financial records and reports. With this technology, you can make informed decisions swiftly and efficiently, enhancing the overall management and transparency of your condominium community.''
The team at Sapphire Condominium Management, a team that is dedicated to being at the forefront of the industry, told us what they liked about UpperBee and what made the difference:
'' UpperBee is the one and only Condominium Management Software I would recommend. Everything I have always wanted and more.''
Michel H. Klaus, Chief Technology Officer, explains:
''The properties we manage, have been overwhelmed with the awesome service and software we bring to the table. It is really hard to bring something new to the industry, and Sapphire is trying to hit it out of the park.
UpperBee has everything you need to provide transparency and a high level of communication to your Owners and Boards; even if transparency is really difficult to pull out of the dark that the industry has kept it in for the last 20 years! People want transparent financials and communication, and then are not sure what to do with it when you hand it to them. ''
''You have to train them to think differently, and Sapphire had to do that too. What is really nice is to work with UpperBee and be proud of the service we provide. All I want is to be able to come to work each day and be proud of what I do. We are doing that.
In any case, the challenges of our businesses are very real, and UpperBee has been amazing helping us deal with those challenges.
Your team has been amazing, and 100% supportive. Each day when we walked in with our list of questions, and they answered every single one of them. However, I am not sure that the representative working with us did not need his water bottle filled with vodka instead of water though. ?
So, thank you!''
Thank you, Denise McAsey and Michel H. Klaus, and the entire Sapphire Condominium Management team for your trust, we are proud to collaborate with you and to support you in your development!
We invite you to explore the benefits of partnering with Sapphire Condominium Management.
The team would be pleased to discuss how their tailored services can benefit your Condominium Corporation. Please feel free to contact them at [email protected].
UpperBee brings together thousands and thousand independent management clients and also counts among its clients some of the largest Canadian real estate management firms, including SolutionCondo, Wilkar Property Management, T.S.E. Management Services, HPDG, Gestion Immobilière Domis, Gestion Immobilière Provision, Lifa Gestion Immobilière, Kastello Immobilier, Trivium Property Management, many others, and of course Sapphire Condominium Management.
UpperBee was founded in 2007 by a team of property management professionals, accountants, and software engineers – A well-established management platform, here to stay!
Do not fall behind, contact us, and let us show you why UpperBee is the solution for you by arranging a demo.
---
Comments
---
Do you like this news?
Don't hesitate to share it!