UpperBee Pay, a simple payment solution to set up and pay!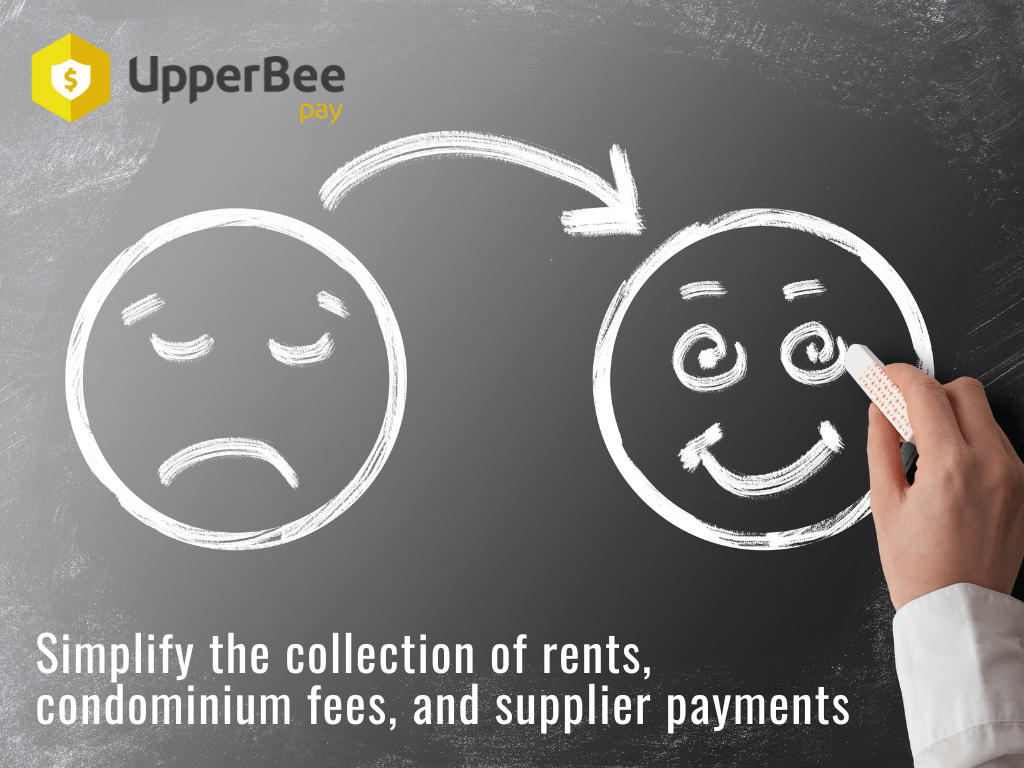 7 June 2022 | condo fees, online payment, property management, Proptech, Rent, Suppliers | Condo, Manager, Pay, Rental
A few weeks ago, UpperBee strengthened its offer with the launch of UpperBee Pay, to always better support you and allow you to provide superior quality services to your customers.
Given the context in which we operate (ever-increasing customer demands, ever-increasing regulatory requirements, etc.), we have designed this simple and integrated payment solution to meet the needs of residential rental property owners, condominium syndicates and their boards of directors, as well as those of property managers and service providers.
The goal of UpperBee Pay?
Make you more productive by using an online payment solution fully integrated with the accounting system of all your buildings managed with UpperBee, which accelerates the collection of rents and condo fees, simplifies the payment of suppliers and other stakeholders.
Many managers and buildings that use UpperBee have recently integrated UpperBee Pay into their management process.
The UpperBee team, attentive to its customers, and anxious to always better support them, wanted to take stock with SolutionCondo in order to obtain feedback from the teams following the integration of Pay into the management processes. SolutionCondo is now the largest condominium management firm in Quebec, managing different types of condominiums, single condominiums, large buildings, but also condominiums that bring together several syndicates.
Elise Beauchesne CPA, CA, Adm.A, President of SolutionCondo, shared her first observations:
"The feedback from the accounting teams is positive and enthusiastic. It's really simple and quick to set up. This solution has the advantage of being 100% integrated with UpperBee Condo and UpperBee Manager. This allows us to collect condo fees and simplify payment from suppliers or other stakeholders we work with.
I can already see that we have gained in productivity and reliability, using it because it is fully integrated into the accounting system of all the buildings, we manage with UpperBee.
The accounting teams quickly adopted it. It is a payment automation solution that simplifies their daily lives, limits repetitive time-consuming tasks that have no added value. Eventually, we were able to free up time for others. Finally, we were able to free up time for other tasks, our accountants are more available to do their work in close proximity with our clients and this allows us to improve our quality of service. »
We were able to discuss with the operational and Pay user teams within the Financial Department of SolutionCondo and share their feedback on the use of Pay in their daily lives.
Anne-Claire Pinel de Grandchamp, Accounting Supervisor at SolutionCondo explained to us concretely the improvements in the operational tasks of accountants:
"Unlike the authorized direct debit payment (PPA) service of Canadian banks, with Pay it is not necessary to connect to another portal to complete transactions. In fact, everything is done from the building management portal or from UpperBee Manager.  Time is saved because information and actions are centralized. You can see the status of deposits, view payment refusals (NSF or other) and billing is integrated with UpperBee.
Paying our suppliers or receiving money has never been easier and faster.  Everything is done in one place and electronically.
We no longer need to print hundreds of cheques to pay suppliers, prepare shipments, put them in envelopes and no longer have postal charges. Suppliers receive their payment directly to their account within 2-3 business days after approval by the signatories. With Pay's integrated electronic payment, we enter the cheque specimen once and each time two signatories have given their consent, it is sent to the provider's account automatically, we have nothing else to do.
Same for the payment of condo fees by PPA, the co-owner gives his agreement once and then it "rolls alone", every month, automatically the amount of fees to be paid is deducted and is displayed on his statement of account.
And a big plus: the use of Pay reduces the risk of fraud since syndicates have almost eliminated the use of checks.
We no longer have unsigned cheques, made out in the wrong order, lost… We have limited the costs of posting cheques to the bank and considerably reduced the time lost by the teams for these treatments: receiving, sorting, and opening mail, checking cheques, entering accounts, creating paper deposits, then going to take everything to each bank in each syndicate, waiting on the spot for the person to make the deposit and checks and finally the time to clear the cheques…
Finally it is effective, fast, simple, economical, and ecological! »
Would you like to have more control over your payments?
Contact us, transfers are free for a limited time
---
Comments
---
Do you like this news?
Don't hesitate to share it!