Understand and prepare your company for the new obligations of bill 25 with UpperBee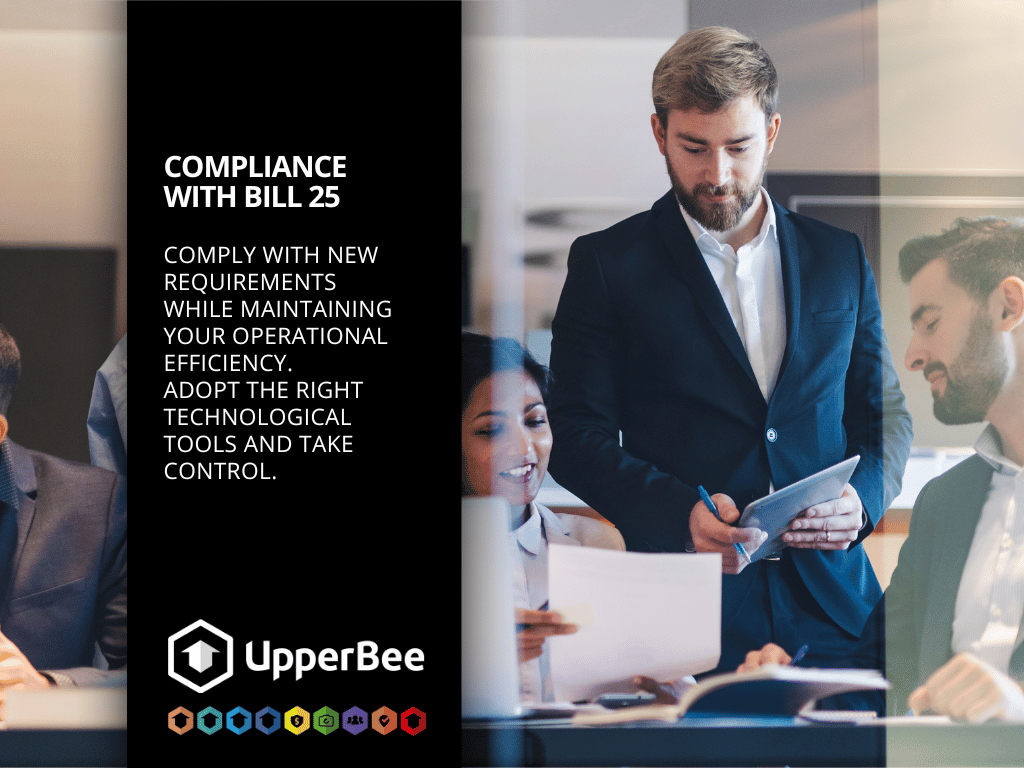 22 September 2023 | Bill 25, Gestion Immobilière, gestionnaire immobilier, Property Management, PropertyManager, sécurité, security, software | Manager
Property management is constantly evolving, and with the entry into force of Bill 25 on September 22, 2023, new obligations regarding the protection of personal information are added to the responsibilities of companies in the property management sector.
This article explains our understanding of Bill 25 and how it impacts on your business and, above all, how UpperBee can help you comply with these new obligations while simplifying your daily operations.
Bill 25 in context
Bill 25, enacted to protect individuals' personal information, imposes strict standards for the collection, use, and retention of this data.
Property managers must take this Bill coming into force seriously!
Bill 25 particularly impacts property management companies that regularly deal with the personal information of condominium syndicates, board members, residents, co-owners, or tenants, etc. – in effect every property management company that manages condominiums or rental units.
Effective Date and Implications for Property Management Companies
As of September 22, 2023, new obligations are added via Bill 25, and you will have to comply with them. This involves not only a thorough review of your internal processes, but also transparent communication with your residents, co-owners, and tenants, regarding the collection and use of their personal information.
» Reminder of the main provisions
The new provisions in force on the protection of personal information
Personal Information Governance Policies and Practices:
Condominium syndicates, rental property owners and property managers will have to put in place policies and practices that govern the management of personal information. These guidelines shall include rules for the retention, anonymization, or destruction of personal information once its original purpose has been fulfilled, in accordance with the retention requirements prescribed by Bill 25.
They will also have to define the roles and responsibilities of the board of directors, the owner of a rental property and the staff of management companies with respect to the protection of personal information while it is in their possession, as well as the mechanisms for handling complaints related to the protection of this information.
New transparency obligations:
Each syndicate of co-owners and owner of a rental property will be required to make public a privacy policy, written in simple and understandable terms, when it or its manager collects personal information through technological means. Any changes to this policy must be clearly indicated.
UpperBee makes it easy to implement your personal information policy that you must have adopted by September 22, 2023. You are a client manager of UpperBee?  We have implemented a privacy and consent policy. Contact us to learn more and get it for your company.
UpperBee: Your Partner for Bill 25 Compliance
Implementing a personal information policy that complies with the requirements of Bill 25 may seem complex, but with UpperBee, it is simple and effective. Our platform integrates features specifically designed to help you comply with Bill 25 and protect the personal information of your customers, residents, and co-owners. Thanks to UpperBee, you have a software tool designed to meet your needs as a building manager, that incorporates features that meet the requirements of the Bill.
Personal information destruction policy simplified with UpperBee
Bill 25 requires a policy for the destruction of personal information when its useful purpose has been fulfilled. This complex task becomes simple with UpperBee. You can centralize and effectively manage the destruction policy, ensuring that sensitive information is deleted in accordance with legal requirements. Indeed, all information concerning inactive customer accounts will be automatically deleted by UpperBee after six months.
Centralization of personal information
UpperBee makes it possible to centralize all the personal information of co-owners and tenants, because it is stored in one place, and not scattered across several tools, on different computers, in several lists or files, or various software.
Benefits of this centralization in terms of transparency and accessibility are gained by all parties involved.
UpperBee's centralization facilitates management and guarantees transparency, allowing all parties involved to access relevant information in complete security. You will not need to manage multiple storage locations and check their compliance. Each user will be able to consult their personal information on their profile in UpperBee, which will also simplify the task of managers. Note also that UpperBee allows you to finely configure the access management aspect for your employees. Not all members of your teams have access to all the information provided in the software – access to only the information an employee needs to do their job.
Management of new obligations and communication
Transparent communication is essential to comply with the new obligations of Bill 25.
How can UpperBee help manage the new obligations related to Bill 25, including questions asked of the information manager?
The UpperBee platform allows all users to have access to the information necessary to respond to requests for information quickly and compliantly. UpperBee allows you to manage questions posed to the information officer efficiently.
These new provisions reflect the commitment to the protection of personal information and require strict compliance on the part of property management companies, syndicates of co-owners and their administrators, as well as owners of rental properties. To stay up to date on these regulations and guarantee data protection, it is essential to closely monitor their implementation and ensure that they are respected.
Bill 25 brings significant new constraints to property management.  However, UpperBee clients can approach this transition with confidence and serenity. Our property management solution not only supports you in meeting these new obligations, but also in optimizing your daily operations.
UpperBee is committed to supporting our customers through this transition, ensuring that our software solutions meet the highest standards of privacy protection.
Adopt the right tools for compliance with Bill 25 and take control.
For more information about the provisions of Bill 25 and how UpperBee can help you comply with them, please do not hesitate to contact us. Your legal compliance is our priority.
See also:
Warning and Responsibility
UpperBee would like to point out that the information provided in this article is for informational purposes only. They do not constitute legal, professional, or financial advice.  Laws and regulations are constantly evolving, and individual situations may vary. Therefore, UpperBee cannot guarantee the accuracy or completeness of the information presented in this article. Readers are encouraged to consult their legal, accounting, or financial advisors for advice specific to their situation.
Under no circumstances shall UpperBee be liable for any consequences arising from the use or interpretation of the information contained in this article. Readers are encouraged to exercise discretion and adapt these contents to their particular needs.
No liability can be attributed to UpperBee for any damage or loss arising from the use of this information.
UpperBee reserves the right to update, modify or delete all or part of this article at any time without notice. Readers are advised to regularly check the latest information related to the laws and regulations applicable in their jurisdiction.
---
Comments
---
Like this article?
Don't hesitate to share it!