UpperBee is all the accounting tools you will need integrated with a comprehensive set of property management and community engagement tools for efficient management of your buildings in one place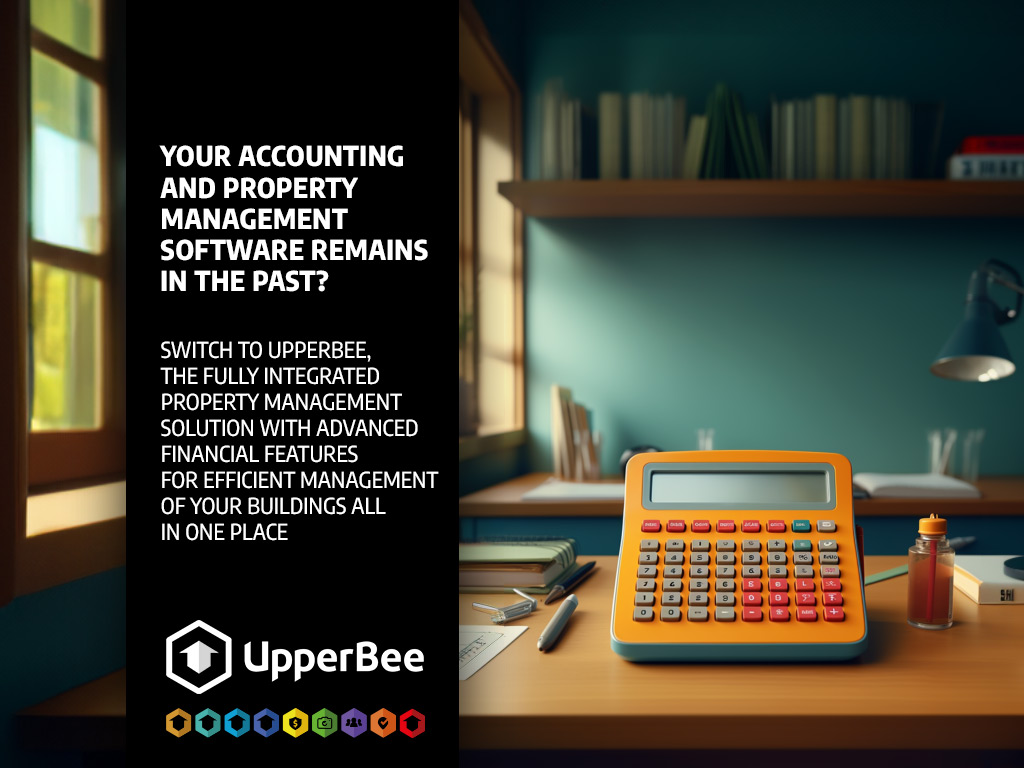 7 September 2023 | Condo, Manager, Rental
We recently introduced our UpperBee Manager platform to several clients who wanted to change their property management software.
We discussed with them the reasons why they were looking to change, and several explained to us that their issue was the accounting aspect of their property management software was either incomplete or non-existent.
What we heard:
''On the accounting side, it's not great, the features are too limited. You have to manage the accounting elsewhere in another software. ''
''We have access to certain accounting components, but for complete accounting with the financial statements, we have to generate them with another software. Therefore, work is duplicated. ''
''In fact, our current software does not have a full version with all the accounting and finance features, and for what there is there are several aspects that are not "user friendly" or that are not compliant according to our accounting managers.''
''We cannot do year-end accounting closings or reconciliations. These features do not really exist. ''
''Our teams are tired of having to use, on a daily basis, several more or less integrated software applications that ultimately waste us time and money... ''
When you are looking for property management software, it is essential to find a solution that also integrates accounting to offer you a complete, seamless, and efficient management experience. This approach requires the involvement of your accounting or financial teams. This is where UpperBee stands out by offering a complete property management and accounting software solution, specially adapted to the management of rental properties and condominiums, 100% integrated, accessible online 24/7, anywhere on any device.
Real estate accounting reinvented
UpperBee distinguishes itself by offering a full range of accounting and financial features specially developed and adjusted to the needs of property management. Our software includes all traditional accounting functions, such as journal entries, bank reconciliations, accounts payable and receivable, as well as real-time financial statements, including the balance sheet and income statement, and associated notes.
Advanced financial features for your most complex needs
Professional property managers are looking for access to powerful tools to manage the most complex issues of their clients and residents. Our fully integrated platform includes traditional accounting functions, but UpperBee really shines with its advanced financial features that also allow you to manage invoice approval, payments, budgets, and the most complex cases requiring accounting entries. With UpperBee, you will never be limited by the financial complexity of your managed portfolios.
You can manage your finances, evaluate and collect common charges and rents (UpperBee Pay), pay your bills, reconcile your accounts, automatically charge recurring fees, compare budgeted results to actual results, and much more!
Optimized accounting management for your condominiums or rental properties
What makes UpperBee unique are its features specially developed for the management of condominium or rental properties. Here is an overview of the benefits that our software offers you:
Complete financial management: Manage your finances easily, by evaluating rental income and condominium common charge collections, tracking expenses, paying bills… and reconciling your accounts accurately;
Automated billing: UpperBee simplifies invoicing by automating recurring charges, saving you time while avoiding human error;
Budget tracking: Compare planned budgets to actual results for in-depth financial analysis, providing a solid foundation for informed decisions;
Simplicity and efficiency: Designed for ease of use, UpperBee allows you to manage all aspects of your property accounting, even if you are not an accounting expert.
The advantage of an integrated accounting and property management platform. The crucial difference
What really sets UpperBee apart from other property management software on the market is our commitment to providing a fully integrated solution. Unlike other solutions, UpperBee was designed from the ground up by managers and accountants, to meet the specific needs of property managers, whether it is the management of rental properties or condominiums.
Whether you manage rental properties or condominiums, you do not need to juggle different software. We understand the specific accounting complexities of our industry and have developed a platform that combines all the essential aspects of property management and the accounting of it in one place. You do not need to spend extra money on separate accounting software, and extra time working with two or more systems – with UpperBee, everything you need is included in one platform. Everything is centralized, simplified, and consistent. Saving you time and reducing the risk of errors!
Improve your accounting and property management with UpperBee!
If you are looking for a complete and integrated property management software with accounting specifically adapted to condominiums or rental properties, UpperBee is the ultimate solution. With powerful features and ease of use, an available Support team, regular training, help videos on features…
UpperBee will allow you to improve your processes, your control, transparency, and your efficiency in the management of your buildings and will support you in your growth.
Contact us today to find out how UpperBee can change your approach to accounting and property management for the better, with technology designed by accounting and property management professionals.
Finally, if you wish to migrate a condominium or rental property to an UpperBee licensed manager (or another owner), simply notify us and we will transfer your building including all its accounting, administrative and maintenance history to this manager in less than 48 hours for a small fee!
Here are some of the accounting features of our platform:
Pre-authorized debit processing of your management fee;
Invoicing and collection of rents and condominium fees;
Create annual and special budgets that include operating expenditures and reserve funds, project contributions and automatically calculate the associated unit common charges, and more;
manage deposits, collect rents and condominium fees using pre-authorized third-party debit features;
Automatically make all accounting entries required for you;
All bills and credit notes for your properties in electronic format;
Define multiple customizable financial statement formats;
Establish a customizable chart of accounts;
Journal entries;
Automated bank reconciliations;
Charge special fees or charges – takes the accountant out of the accounting;
Manage all accounts payable and receivable;
Time tracking and invoicing tools for charges outside of contracts;
Tracking and invoicing of your consumables and ancillary costs;
Automatically generate tax forms;
Rent Increase Calculator;
Creation of a harmonized chart of accounts that includes account consolidation.
---
Comments
---
Like this article?
Don't hesitate to share it!